Behind the Mascot: Meet VorTex the Tornado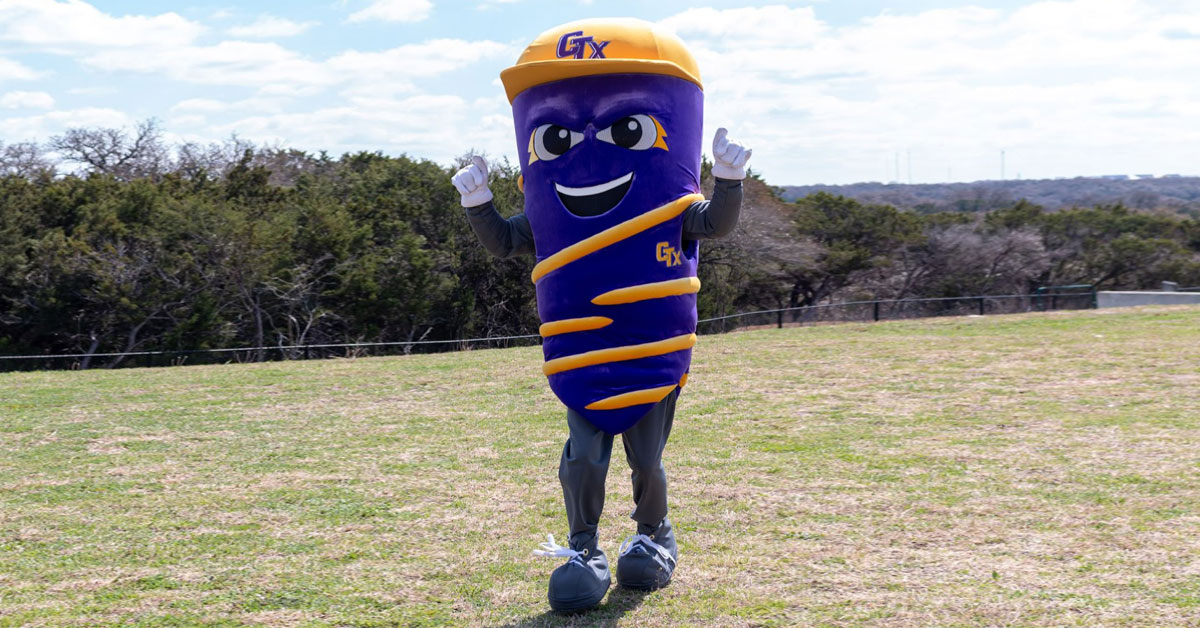 The official Concordia University Texas mascot is VorTex the Tornado. Many see VorTex spinning around campus, offering students a friendly "woosh"!
But do you really know VorTex?
We recently sat down with VorTex to learn more about the mascot's life-changing adventure at Concordia University Texas. It was, of course, a short interview since VorTex cannot remain still for very long.
What is your official name?
My name is VorTex the Tornado.
Where are you from?
My father and mother met as cumulonimbus clouds over Missouri. They moved to a supercell over Texas, and I was born in Austin in 1995.
That's when I became Concordia's new mascot, the fourth in the University's history. I touched down at Concordia's historic downtown Austin campus and haven't left the University since.
When the winds of change led the University to move campuses to Northwest Austin, I didn't hesitate to come along.
What is it like being a mascot?
The whole thing has been a blur. It's one life-changing adventure after another. Some days it feels like I'm a completely different person.
My responsibility is to encourage my fellow Concordians with school spirit. It's a lot of pressure, but that's what defines me (literally).
The University's spirit slogan is "woosh!" The most effective way to rally everyone is by wooshing. Learn how to woosh!
What is your favorite thing about Concordia?
My favorite thing about Concordia is the tight-knit community. I was blown away by the incredible welcoming I received at CTX.
It's easy to get plugged in. You can worship God with the community at daily chapel. You take courses with many of the same people and get to know them well. Your professors know your name and are committed to helping you succeed.
There are also events throughout the year, such as Concordia Crossing (the CTX community celebration) and Homecoming & Family Weekend, where you can meet alumni, faculty, staff and fellow students.
What is your favorite color?
It's purple. No, it's gold. No, purple. It's a tie between purple and gold.
What is something new that you have learned?
I've been interested in developing my knowledge about technology, specifically the cloud.
With the support of a mascot like VorTex the Tornado, it's easy to see why our students choose to become Concordia Tornados. Start your life-changing adventure at Concordia University Texas today!