Black History Month Events at Concordia University Texas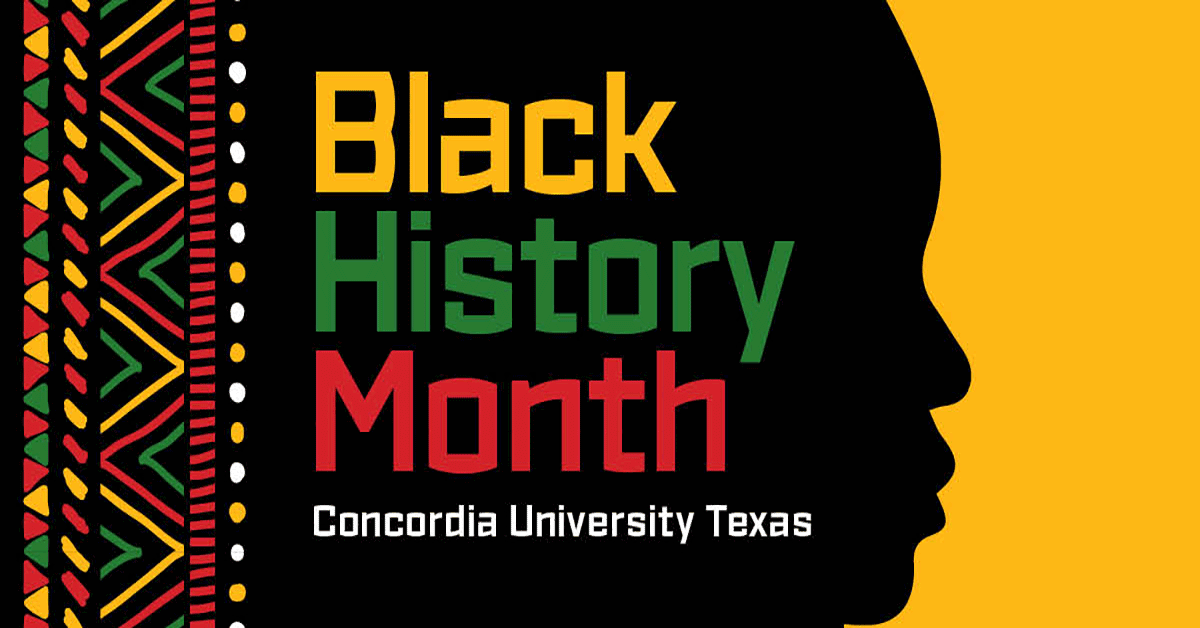 [Written by Dr. Gregory Coleman, Assistant Professor of English]
In observance of Black History Month, Concordia University Texas is hosting a month of events and activities, and you're invited.
What Is Black History Month, and Why Does It Matter?
Have you ever wanted to know why we celebrate Black History Month?
Please join us as Drs. Matt Bloom and Gerard Boling discuss the origin and continued importance of black history at CTX. This event is open to the CTX community.
When: January 28
Where: Chapel
Coffee & Community: Faculty Diversity, Equity and Inclusion Reading List
Please join us for chapel followed by a special Coffee and Community in Luther Park, where President Christian will discuss a new initiative being developed by CTX Faculty in collaboration with the Library and Human Resources. We will be raffling off prizes. There are several opportunities to win so be sure and get there early! This event is open to the CTX community.
When: February 3, 10:30 a.m.
Where: Luther Park or Livestream
Mapping Black Entrepreneurship
Please join us for a special presentation by Whitney Kotlewski, one of the founders of Black Girls MAPP, a community-focused group at ESRI that connects and empowers women of color in GIS, enabling marginalized communities to visualize issues and equipping them to make informed decisions. A recent recipient of The American Association for Geographers (AAG) Diversity and Inclusion Award, Mrs. Kotlewski, will talk about her original BG MAPP initiative, a crowdsourcing app that maps black-owned businesses in California, as well as her experience working as a user experience (URX) architect for ESRI, a leading geographic information system company. This event is open to the CTX community.
When: February 10, 4 p.m.
Where: C-238 or Blackboard
A Memorial Reading Tribute to Toni Morrison
Very few authors have managed to capture the entrepreneurial spirit of black Americans like Ms. Morrison. Please join us virtually as your CTX Faculty gather to read excerpts from various works by one of America's greatest authors to celebrate her birthday and memory. While she will be missed, we will always treasure her work.
When: TBD: Check Calendar
Where: Blackboard
2nd Annual Black History Month Panel Discussion: "The Black Entrepreneurship in the 21st Century"
Please join us for a panel discussion featuring local black business owners who will discuss the challenges and triumphs of being a black business owner in the 21st Century. The event will be preceded by an open-air market featuring products made and sold by our panelists as well as a free raffle with many prizes!
When: March 11, 6:30 p.m.
Where: Chapel and Welcome Center