Black History Month Stories: Nate Araya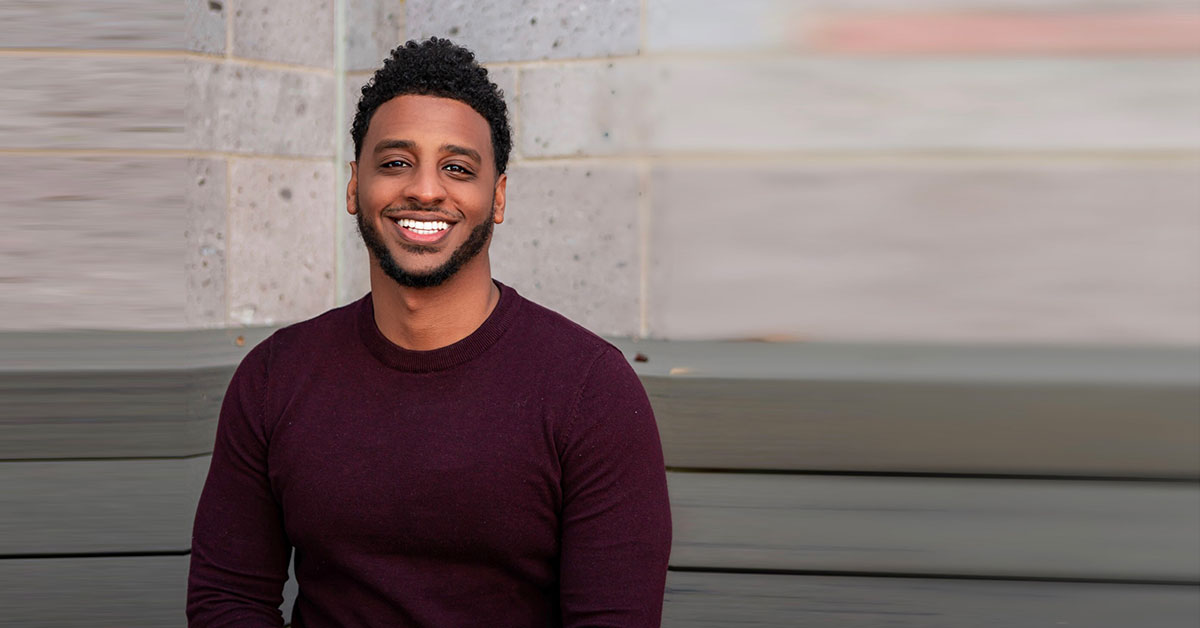 In observance of Black History Month, Concordia University Texas has gathered stories from faculty and staff about the work they are doing in the CTX community and beyond.
Nathan "Nate" Araya
Born in Dallas, Texas, to parents from Ethiopia, Nate Araya is a filmmaker, entrepreneur, Concordia professor and CTX alumnus who graduated with a Bachelor of Arts in Mass Communication/Media Studies.
Araya's business partner, Damawi Tesfaye, was born in Ethiopia and came to the United States of America when he was 10 years old. Araya and Tesfaye launched Ground Zero, an East African coffee company passionately focused on community impact.
What inspired you to create the Ground Zero Coffee and Podcast brand?
We launched Ground Zero and opened our virtual doors on April 12, 2020, during the COVID-19 pandemic with a purpose to help keep our community motivated in quarantine with East African coffee, educational resources and empowerment tools while working from home in comfort. The coffee beans come from family-owned farms, fully natural and sorted by hand.
Tesfaye and I started this business because we saw a need for representation and ownership within the coffee retail space for black diasporas. We want to inspire our community to be more than consumers of culture, to be active owners and high-level contributors within it. So, we entered into the coffee retail space in order to offer the representation needed on the other side of the counter — to inspire and build our community as owners and conscious coffee contributors of culture in order to impact our community.
As a company, we want to model and prioritize purpose as well as profit through a social impact business model centered around coffee by harnessing our buying power as conscious coffee consumers. What we buy is just as important as where we buy it from and what we are buying into. Every dollar we spend today is like a vote we cast for the type of world we want to live in tomorrow.
Describe the connection between Ethiopia and coffee.
Ethiopia is the birthplace of coffee and is a place revered for its coffee beans. The country and the greater East African regions produce some of the best single-origin coffees in the world.
Coffee is so important to Ethiopians that they will literally spend hours each day drinking it. Ethiopia's coffee ceremony is the culture's most important social connection.
Coffee is important globally too. It is integrated into everything we do, the center around which business meetings, social gatherings, entrepreneurial initiatives and more take place. Ground Zero is a representation of all those beginnings, an offering that symbolizes the start of something new and great.
How do the proceeds from Ground Zero benefit the community?
Within two months of launching Ground Zero, we've donated 20% of profit from coffee purchases to help and protect front-line healthcare workers in Ethiopia fight against COVID-19.
The contributions from Ground Zero, our extended global partners and the nonprofit EDTF Emergency COVID-19 Mitigation have helped provide 6.6 million exam gloves, one million surgical masks, 19,000 protective clothes, 42,000 respirator masks, 10,000 nasal oxygen cannula, 2,000 face shields and 420 thermal thermometers.
We have also produced two free online community empowerment events that have reached over 30,000 people on Facebook focused on raising awareness on COVID-19 relief nonprofit organizations and providing free education on practical tools for improved living within financial literacy, tech, enterprise, brand building, creativity, and health and wellness.
Our hope is to help our community remain healthy and hopeful through this pandemic — to see this moment in time as something we can all grow through together. We want our community to leave this pandemic better than the way they came into it.
We invest in programs that provide economical and agricultural empowerment toward our coffee farmers in East Africa. We also provide our community with access to educational resources through impactful content and programming.
The Ground Zero Podcast offers tips and tools for better living through art, culture and enterprise. Each guest on the show reveals how they started from ground zero and explains their creative process, shares stories on their past/on-going struggles and provides practical tools for their success.
What do you want to accomplish with this brand?
We are here to educate and contribute tools that will help our community build an enterprise around their art. We want black creatives to continue being innovative with how they monetize the connection that their art produces between them and their audience, mobilize their community towards their own created and curated retail experience, and create a vertically integrated economic system around their story, culture and art.
I want our work with Ground Zero to fund and fuel sustainable impact initiatives that provide education, resource and access to underrepresented communities worldwide.