Celebrate Concordia 2021: Meet Melissa Pope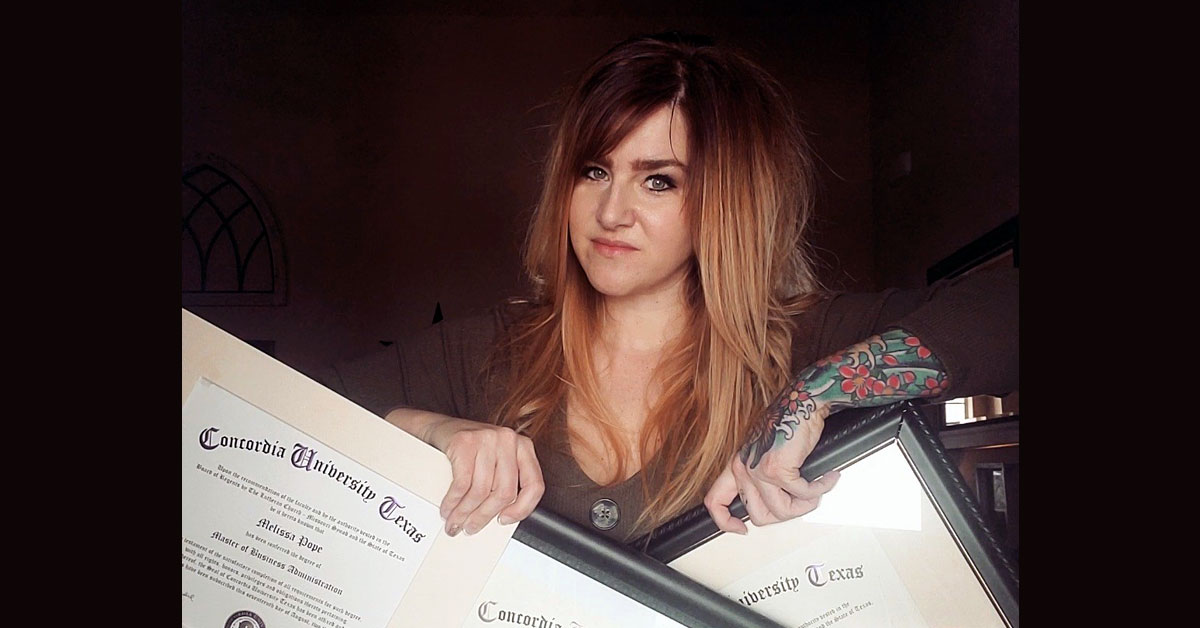 Concordia Crossing is an annual celebration of all things Concordia University Texas. During the weekend of festivities, the annual fundraising event, Celebrate Concordia, recognizes alumni and donors for their service to the Church and community with three prestigious awards.
In this short blog series, we will introduce you to the honorees and share how they have made an impact on their communities.
Melissa "Missy" Pope, a Concordia alumna, business owner and active community member, was honored with the Emerging Leader Award.
The Emerging Leader Award is given to a person who exemplifies the mission of Concordia, displaying exemplary work ethic and living a life of faith. This year, Missy Pope received the Emerging Leader Award.
Concordia Alumna
Once Pope completes her Doctor of Education from Concordia, she will be the first-ever four-time graduate of the University, earning her associate, bachelor's, master's and doctoral degrees at CTX. She has grown with the University, attending the historic downtown campus, the Lamar campus and the main campus in Northwest Austin.
She is also the first in her family to go to college. After entering the workforce out of high school, Pope decided to earn a degree. She chose Concordia because the University offered night classes, allowing her to work in the daytime and study at night.
"Concordia was there with me from the beginning," Pope said. "I hope that I inspire my family to earn a degree and to earn it from Concordia."
Because of Concordia's small class sizes and caring professors, Pope gained mentors, some of whom still mentor her today.
Launching Pope Consulting
With God-given talents for auditing, Pope launched her company Pope Audit Group LLC, which provides audits, consulting services and fraud investigations for Texas public school districts.
She serves as the principal, and since its beginning, the Austin-based organization has worked with more than 400 public schools and found millions of dollars in additional funding for districts.
Scarlett Tucker, Pope's friend and an attorney with the company, emphasized that Pope works diligently to ensure that the money raised by students in public school districts goes to students. "She takes this personally," Tucker said. "It speaks volumes about what she prioritizes and what's important to her."
At the center of her drive is her faith in God. "She's a woman of deep faith," Tucker said. "She finds ways to see God and recognize Him and honor Him."
Giving Back
Pope leverages her business to serve others. "She has such a heart for philanthropy and giving back," Jeff Frosch, the director of CTX Alumni Relations, said. "She is committed to constantly bettering not just herself but also her community and her alma mater."
Pope and her team have volunteered with Foundation Communities, a nonprofit that provides affordable housing and free on-site support services for people in need.
The Pope Consulting team has provided gifts for families and individuals over the holidays for multiple years, donated school backpacks and supplies for kids across Austin and served hot meals for residents in one of the nonprofit's communities.
"Missy is a leader who engages with others and ensures our Austin neighbors have the resources they need to reach their full potential," Meghan Hein, the community building volunteer coordinator, said. "We at Foundation Communities are thankful for her service and leadership."
She also supports Concordia's Master of Business Administration School Finance & Operations (MBA SFO) program, created in partnership with the Texas Association of School Business Officials (TASBO). Pope is both an alumna of the MBA SFO and a member of TASBO.
"We were so excited when we learned that she wanted to give back through a scholarship," Dr. Elise Brazier, director of the Concordia MBA, explained. "She was the first one to give back to students in the SFO concentration."
Missy Pope in Her Own Words
"I want to thank you all for this award, but it would not be possible without the University," Pope said. "I am an emerging leader because Concordia is an emerging leadership university. I want to be to other people what Concordia was to me. I want people to feel that they matter, that they're important and that there will be a support system that surrounds them."
Concordia University Texas congratulates Missy Pope and thanks her for her loyal support.