Academics-Mathematics
,
Faculty-and-Staff-Stories
Celebrating Dr. Karen Rhynard, Concordia Associate Professor of Math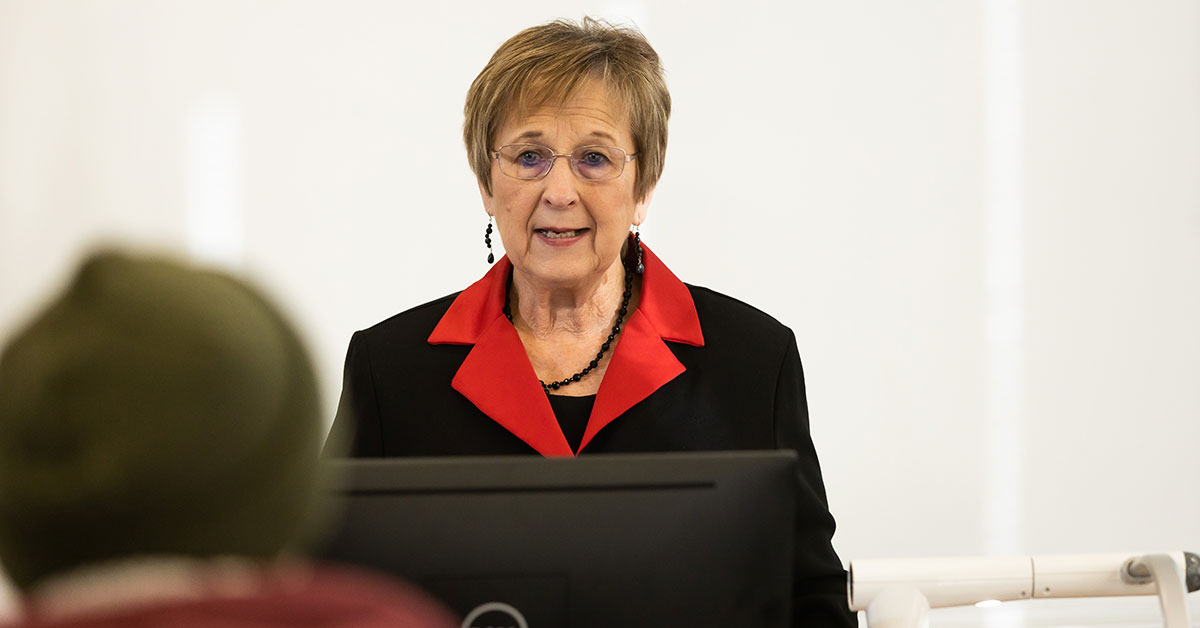 Dr. Karen Rhynard is an associate professor of mathematics at Concordia University Texas. After serving in education for nearly 40 years, Rhynard is retiring. She first joined CTX as an adjunct professor, and in 2011, she became a full-time assistant professor of mathematics.
Retiring as an associate professor, Rhynard's work as a teacher, administrator, colleague and mentor has impacted the lives of countless individuals. We celebrate her meaningful work in the field of education and how she has helped so many CTX students prepare for their vocations.
The Call to Teach
Ever since she was a little girl, Rhynard wanted to become a teacher. She has always been interested in the field of teaching because of the influence of her mother, who was a teacher, and the influence of many of the teachers she had growing up.
In the third grade, Rhynard told her teacher that she wanted to become a good teacher who helped others learn about life. Her teacher encouraged her to pursue the calling to teach.
"I believe that God put me on this earth for a purpose," Rhynard said, "and I felt that my purpose was to teach, whether it be in the classroom, in staff development settings, as an administrator, or as a mother or friend."
Public Education Career
After earning her bachelor's degree in mathematics from West Texas A&M University, Rhynard launched into her calling as a classroom math teacher. Once she graduated with her Master of Education from Sam Houston State University (SHSU), she became a full-time math lecturer at SHSU for six years.
Rhynard has improved the education of students in multiple ways. As a teacher, she helped students build a solid foundation of mathematical understanding. As an assistant principal and principal of primary and secondary schools, Rhynard led educators and other administrators toward the ultimate goal of delivering high-quality education to students. As a mathematics curriculum writer and coordinator, Rhynard ensured that students would be adequately prepared for their future vocations with relevant knowledge.
During her public education career, Rhynard earned her PhD in Math Education from Texas A&M University. In June 2007, she officially retired from her more than 30-year career in public education and transitioned to exciting new opportunities.
Joining CTX
After retiring from public education, Rhynard served simultaneously as a math consultant for school districts, offering valuable insight from her experience, and an adjunct professor for universities, one of which was Concordia University Texas. She joined CTX full time as an assistant mathematics professor in 2011, and we are so glad she made that decision!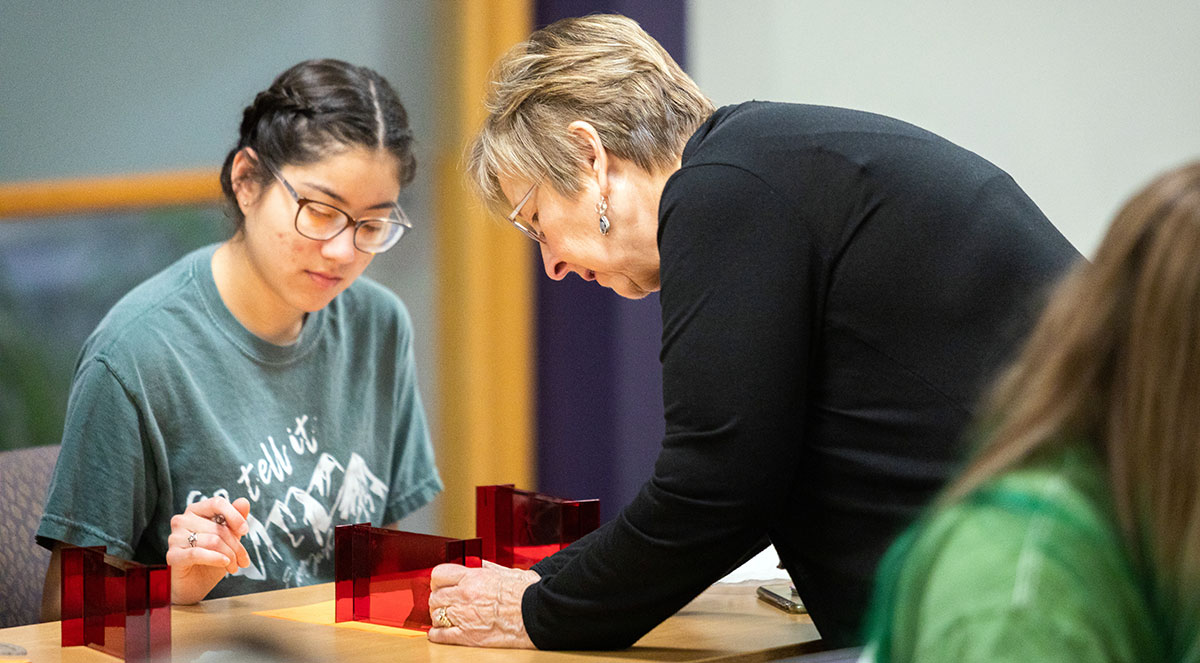 During her nine years at Concordia, Rhynard jumped back into the classroom, helping CTX students reach a deeper and more comprehensive understanding of mathematics. She advanced to become an associate professor, and her presentations at national and state math conventions encouraged lifelong learning among fellow instructors. Outside of CTX, she joined a curriculum audit team, improving public education for students across four states, including Texas.
In the summer of 2017, Rhynard joined the Teacher2Teacher International program and went to Guatemala to provide staff development and to teach students. Leveraging her creativity, Rhynard used hands-on examples and projects to get the kids interested in math. For one of the projects, she had the kids make geometrical shapes with colored construction paper. It was a hit, and the students' faces lit up as they worked on the engaging project.
Meaningful Thank You
Many teachers don't get to see the result of the time and commitment they invest in their students. But Rhynard was blessed to hear about the incredible influence she had on one of her former students.
While in line at a restaurant one day, a man came up and hugged Rhynard. She was surprised, but she quickly realized that the man must have been a former student. He explained that he was one of her students in a high school math class about 30 years ago.
He was the school's star football player who had failed her class for a six-week period. Because of the school's "no pass, no play" rule, the former student had to miss a playoff game. At the time, he was mad at Rhynard and blamed her for failing him, and his frustration led him to believe that he wouldn't ever need a skill like math.
Rhynard invested time in talking with the student, telling him that she hoped he would one day see the importance of mathematics to everyday life. She explained to him that life's lessons consist of more than just making a good grade in math class; they consist of self-discipline in everything, including chores, schoolwork and football.
"I told him that I was concerned about his math grade but more than that about his lack of discipline," Rhynard said. He failed to turn in assignments and didn't take advantage of the resources available to him. "I had not failed him," she said, "but he had failed himself." She encouraged him to keep these thoughts in his mind because he would eventually understand them.
Thirty years later, that same student thanked Rhynard for teaching him all of the math that he knows, which he uses in his vocation every day. He thanked her for the tough lesson of missing a football game because it helped guide him on the right path.
Rhynard achieved her third-grade dream, becoming a good teacher who has helped others learn about life. She has supported students at every level of education.
Moving Forward
Retirement enables Rhynard to devote her full attention to her most meaningful work — being a wife, mother and grandmother.

Family is very important to Rhynard, and her claim to fame is being happily married to her husband, Maury. God blessed Maury and Karen with three boys and 10 grandchildren. Maury and Karen cherish each moment they get to spend with their family.
Karen, Concordia University Texas thanks you for your incredible service to the University and to your students. You've impacted the lives of countless students and colleagues. While we will miss you and your cheerful smile, we pray that you enjoy spending more time with your beautiful family and pursuing your next adventure. Please accept our sincere gratitude and congratulations!