Concordia Crossing Alumni Stories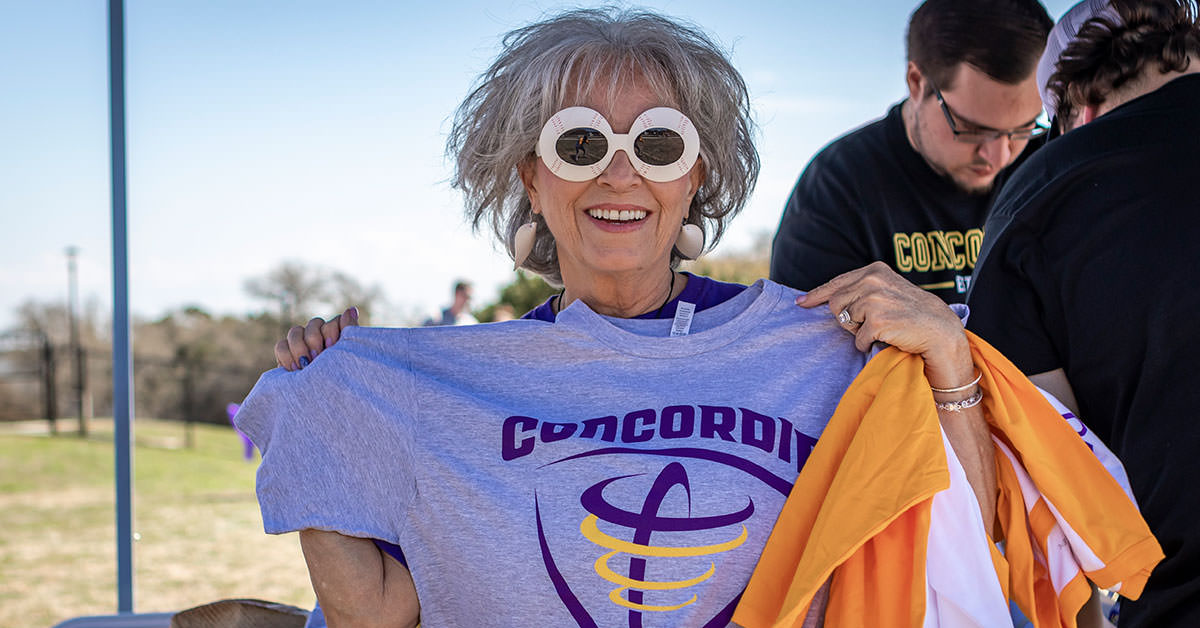 At this year's Concordia Crossing celebration, we had the privilege of hearing from different alumni and parents about their personal Concordia experiences.
Rev. Walter & Bonnie Waiser

During the community reception, Reverend Walter and Bonnie Waiser, '69 alumni, shared some of their favorite Concordia memories.
"We can't see the hallowed halls because they are no more," Mr. Waiser said, "but we can remember."
They reflected on many of the different building on Concordia's original campus including Kramer Hall, where students put the infamous painted rock in front of the doors in efforts to avoid an exam.
The most impactful lesson Mr. Waiser received was in Rev. Dr. Rubke's presidential message, which summarized the entire purpose of our lives - we belong to Jesus Christ so that He may work through us to win the world back to God.
Dr. Kristi Kirk

Our provost, Dr. Kristi Kirk, shared about her time at Concordia as a student and the many people who have helped shape her life, including Dr. Debra Allen and Dr. Don Christian.
Kirk also shared that Dr. Paul Puffe's Old Testament class transformed her life and resulted in her dedication to share the love of Christ with others.
Her loyal dedication to serving Concordia is rooted in the vision statement to make Concordia "the premier university where the adventure of faith, learning and life-changing experiences leads to meaningful work."
Bettie Horn Bendewald

Bettie Horn Bendewald's family has strong ties to Concordia since its founding in 1926. Bendewald was one of fourteen girls who were the first to be admitted to Concordia in 1955, and she participated in many student organizations and activities. It's at Concordia where Bendewald met her husband, Reverend Clifford Horn.
Bendewald has remained actively involved with Concordia since graduating in 1957. "I feel blessed to be a part of it," she explained. Among many other things, she started Concordia's Alumni Association and served as the first president, and she continues to serve on the board.
"The Lord has used me in many different ways," Bendewald said. "It's wonderful what the Lord can do."
Paul Larson

Paul Larson, a 1984 alumni, chose Concordia because it was a good fit for him. The University of Texas at Austin was too big, and Concordia always felt comfortable to him, providing a safe place where he could excel in his learnings, his faith in Christ and his studies.
"When I come to Concordia now, I see the same faces I saw 30 years ago," Larson stated. "I see the same joy in the faces of the faculty and students that I experienced." Larson explained, "The culture is the same and I see Christ's presence here."
Larson loves Concordia's mission of developing Christian leaders and acts as an advisor to the school. He supports Concordia because it offers a place for people who are looking for a safe place to grow in faith and learning.
Kyle & Diane Breaux

At the tailgate, Kyle and Diane Breaux. parents to CTX baseball player Brandon Breaux, shared their experience with Concordia. The Breauxs agree that they can't say enough good things about their experience.
"Concordia makes us feel welcomed," Mrs. Breaux explained, "not like other schools where they make you feel like you're interfering." The Breauxs then rooted on their son and the other Tornados to victory against UT Tyler.