Concordia Crossing 2019 Recap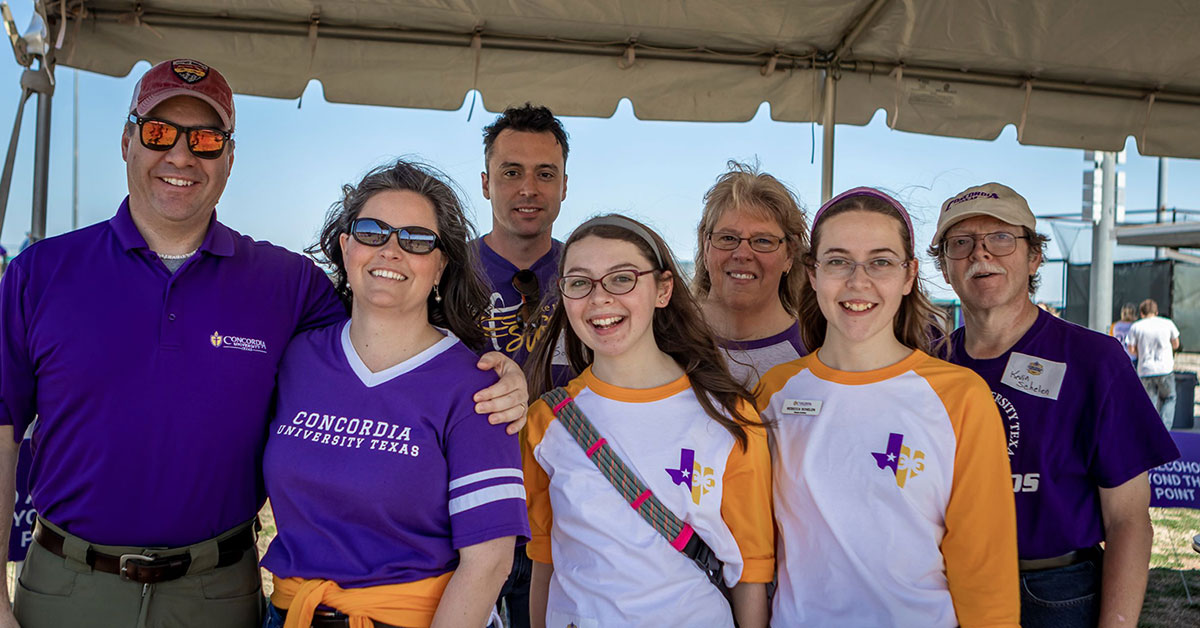 Concordia successfully hosted the third annual homecoming event, Concordia Crossing. Intramural games between alumni and students kicked off the celebration on Wednesday night.
Thursday

Students gathered in Cedel Hall for the career fair with nearly 30 companies around Austin.

Thursday evening was host to many activities, including the inaugural performance of Tartuffe in the Black Box Theater (the first of four performances), the Senior Soiree dinner (for students in the class of 2019) and the Refuge featuring student-led worship.
Friday

Motivational speaker Magie Cook launched Friday's events, sharing her inspirational. Beginning in poverty in an orphanage in Mexico, Cook was recruited to play basketball for the University of Charleston, after which she experienced homelessness. She then received $800 to begin a salsa business, which grew into a multi-million dollar company within four years.
Having sold the company, Cook now travels as a motivational speaker to share her story with people and encourage them. She also uses her time and resources to give back, recently helping rescue thirty orphans in Mexico.

The Alumni Honor Dinner hosted CTX graduates from '69, '94 and '09.
A campfire celebration at Dr. Meissner's farm and trivia night for students and alumni at Pluckers rounded out the evening.
Saturday

Saturday began with a church worker breakfast in the UFCU Student Center to honor professional church workers.
The biggest takeaway for Dr. Grant Carey (the emcee) was the variety of vocations and callings represented by DEC alumni. "Even though they were trained in one way," Carey explained, "alumni are doing all sorts of things out there."

Reverend Tom Handrick, a double alumnus of Concordia ('67, AA '69), delivered the message The Changeless Christ Gave Us the Best Change of All for campus worship.
Handrick reflected on the social, political and economic changes he and his fellow '69 alumni have seen, including the changes to Concordia. To emphasize his point, '69 alumnus Martin Doering performed Bob Dylan's The Times They Are A-Changing.

"Although the changes have resulted in a different name, different location, different buildings, and different faculty and staff," Handrick said, "we are all alive in Christ." The changeless Christ gives us the greatest change of all — becoming a child of God by faith, through grace, in Jesus Christ.
Community Reception

Reverend Walter and Bonnie Waiser, alumni of class of 1969, shared some of their favorite memories of Concordia. Mr. Waiser reflected on Concordia's original campus and the most important lesson he learned at Concordia, contained in Rev. Dr. Rubke's presidential message that summarizes the entire purpose of our lives — we belong to Jesus Christ so that He may work through us to win the world back to God.
Concordia's Provost, Dr. Kristi Kirk, shared about her time at Concordia and the many people who have helped shape her life, including Dr. Don Christian, Dr. Debra Allen and her Old Testament professor Dr. Paul Puffe, which God worked through to transform her life and give her a passion to share the love of Christ with others.
Her loyal dedication to serving Concordia is rooted in the vision statement to make Concordia "the premier university where the adventure of faith, learning and life-changing experiences leads to meaningful work."
Dr. Don Christian, president and CEO of CTX, then concluded the reception with Concordia's future outlook. When describing strategy moving forward, Christian charged everyone involved with Concordia to "let God's hand guide us," so that Concordia can "respond to the needs of the community and the church."
His ultimate goal is to keep Concordia accessible and affordable so that all students have the opportunity to embark on the adventure of faith, learning and life-changing experiences that leads to meaningful work.
Tailgate

The next stop was Tornado Field, where the community gathered for the tailgate, which featured food, music, games and our mascot, Vortex.
A moving moment was during the national anthem; all noise stopped and everyone, including Vortex, put their hands over their hearts and admired the United States Flag.
The Concordia Tornados came back from trailing 4-0 and defeated UT Tyler 11 to 6. They achieved the baseball program's best record of 14-1, the perfect result for the homecoming game.
Plenty of other activities occurred around campus. CAN-DO Missions celebrated 25 years of providing students with opportunities to go on short-term mission trips around the world. Past and current students gathered to share pictures and stories of their trips.
Professor Dr. Sam Whitehead and Zach Stark, Director of Environmental Stewardship, led two groups on a tour of the 250-acre preserve, which is part of the Balcones Canyonlands Preserve.

Afterward, professor Jeffrey Utzinger hosted Concordia Family Feud, a game show where alumni faced off against current students answering various questions about Concordia.
Although the alumni accumulated a lot of points, the students held their ground and won the entire game for a final score of 334 to 286.
Celebrate Concordia

The community gathered in Cedel Hall for Celebrate Concordia, the annual scholarship fundraising event complete with casual dinner and drinks.
Rev. J. Brown ('05), Director of Church Relations, welcomed everyone and began the evening with prayer. After Dr. Kristi Kirk thanked the event's sponsors, Dr. Don Christian shared some of Concordia's recent successes, including obtaining status as an HSI (Hispanic Serving Institution) and ranking in the Austin Business Journal's top 3 MBA programs in Austin.

Ashley Alaniz-Moyer, a non-profit executive and small-business owner, was awarded the Emerging Leader Award for her work in helping students achieve higher education. Rev. Dr. Alan Abel was awarded the Reverend Dr. George Beto Leadership Award for his service in church and communities all over the world.
Guests also heard how Concordia scholarships enabled Haley Entrop, a senior political science major and intern at the Capitol, and her brother to attend Concordia, providing her with more time to spend with her family and serve in the community.
To end the evening, some folks enjoyed a viewing of Tartuffe and others danced the night away on the Pier.
Sunday
The final day of Concordia Crossing began with Concordia Sunday at Redeemer Lutheran Church. CTX Theatre gave their last performance of Tartuffe, and the weekend celebration ended with a concert featuring the Concordia Symphonic Winds.
Thank you to everyone who participated and helped make Concordia Crossing a wonderful and successful event. Mark your calendars for the next Concordia Crossing happening March 6-8, 2020