Concordia Crossing 2021 Recap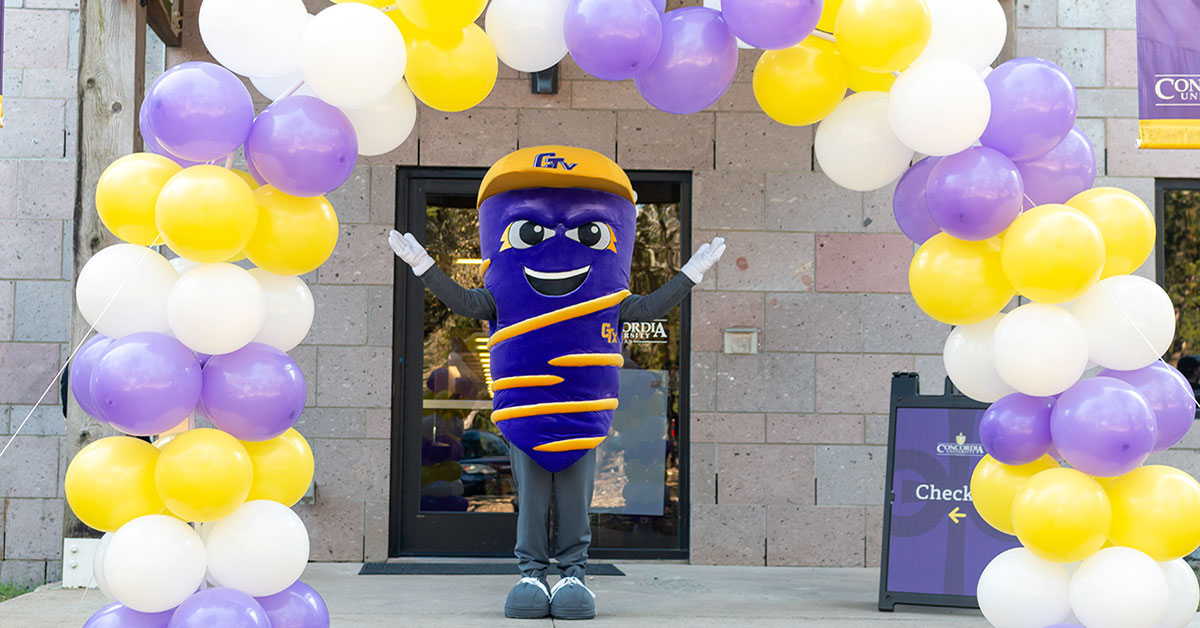 Concordia University Texas transformed into a celebration destination during the first week of March 2021. The University hosted Concordia Crossing, the annual community celebration of all things Concordia.
Whether you want to see how the event went or you attended and want to reflect on the great memories, we've compiled a recap of Concordia Crossing 2021.
Wednesday & Thursday
The weekend of fun began with events on Wednesday, March 3, and Thursday, March 4.
Talent Show
Students, alumni and others gathered to enjoy lots of laughs and watch impressive God-given talents at Coffeehouse: Behind the Scenes.
For this edition of the University's semi-annual talent show, both current students and alumni participated.
Did you miss Coffeehouse? No need to worry. You can watch the show now!
IncubatorCTX Speaker Series
On Thursday, Reina G. Wiatt, owner of Wiatt Consulting Services LLC and generous supporter of CTX, presented the roadmap to entrepreneurial success during the IncubatorCTX Speaker Series.
Sharing insights from 25+ years of experience in accounting and taxes, Wiatt offered a clear path toward launching an entrepreneurial venture and provided valuable tips for people who seek to start businesses.
Trivial Pursuit
Current CTX students, alumni and faculty put their trivia knowledge to the test as they battled for first place in Pluckers Trivia.
Admissions Counselor Brooke Helfers, a CTX 2016 alumna, organized a team of fellow alumni to compete. Ryker Hampton ('16), a team member, said: "The trivia night was a good way to get together with something to do. It gave me nostalgia and made me feel like I was actually there on campus."
The "In Like Flynn" team of CTX faculty members claimed the winning spot.
The Refuge
Members of the CTX community gathered for The Refuge, which is a weekly student-led evening worship service.
Friday
Throughout Friday, March 5, attendees embarked on a tour of the Concordia Preserve, walking among a forest of trees, limestone rocks and native plants.
Campus Worship
Dr. Joshua Chai, an associate professor of Music and university cantor, led Concordia in a unique chapel service: the service of Matins from the Lutheran Service Book.
In the 18th and 19th centuries, Matins became a service to begin the day, especially at schools. Because many were in large cathedrals and spaces, the readings became chants (songs). Following Lutheran tradition, the chapel resounded with song in addition to readings from the Word of God and prayer.
Concordia Softball
The women's softball team took to the field to play a doubleheader against LeTourneau University.
Falling to the yellowjackets in the first game, 3-5, the Concordia Tornados stormed back to victory, clenching a 10-1 win in the second game.
Glow-in-the-Dark Scavenger Hunt
The Backyard, which is located by the CTX Library, became the ultimate destination for a glow-in-the-dark scavenger hunt.
Participants hunted for items with glow sticks to light their way.
Saturday
A majority of the Concordia Crossing events took place on Saturday, March 6.
A small group of guests began the morning with a tour of the preserve. At the same time, recently admitted students and their families attended Be A Tornado Day. During the Admissions event, students and their families learned more about life as a Concordia Tornado, and several students made the deposit to commit to CTX.
Campus Worship
The community gathered once again in the Chapel for campus worship, praising God for His abundant blessings and the peace that all believers have in our Lord and Savior, Jesus Christ.
Dr. Jeffrey Utzinger, the dean of Teaching & Learning, delivered the message, reminding the congregation of Concordia Crossing attendees that true peace is found in Christ alone.
Alumni & Current Student Meet & Greet
New to the Concordia Crossing schedule, the Meet & Greet event joined together current students, alumni, faculty and staff, both in person and online.
Jeff Frosch, the director of Alumni Relations, said: "I was pleasantly surprised that the people on campus were able to interact with the people joining virtually via the monitor in Luther Park. We also had a mix of ages and types of community members participate, including faculty, staff and alumni. It was a beautiful day!"
CTX Softball & Tailgate
After enjoying delicious food in Luther Park, many followed the drumline procession up to Tornado Softball Field to cheer the women's softball team on to victory against LeTourneau University in a 5-1 win.
Attendees had a blast playing cornhole and spikeball. They also played bingo, competing for various prizes, and three people in the stands obtained gifts for sitting in the winning seats.
A collection of student organizations were also there, ready to help students learn how to get involved, along with a caricaturist.
CTX Game Show
CTX professors, current students and staff competed in the CTX Game Show, displaying their knowledge of Concordia trivia.
Sean Richards, a two-time alumnus of Concordia (BA, '14, MBA '18) hosted the show and provided plenty of laughs.
Celebrate Concordia
This year, Concordia's annual scholarship fundraising event was fully virtual. Viewers enjoyed the premiere of the Celebrate Concordia 2021 feature video, "Celebrate Concordia: Annual Scholarship Fundraising Event."
Dr. Don Christian, Concordia's president and CEO, shared highlights about what's been happening at CTX:
Construction began on new residence hall, Regents Hall, that will nearly double residential capacity

Concordia University Texas Nursing Satellite Campus opened in North Austin, featuring state-of-the-art skills and simulation labs

CTX Director of Christian Education program began 21st year
In addition to watching students discuss the impact that donors have made on their lives, the video honored the three Celebrate Concordia 2021 award recipients.
Emerging Leader Award: Missy Pope
Missy Pope, a soon-to-be four-time graduate of Concordia, received the Emerging Leader Award for her exemplary work ethic and display of faith.
Pope is the founder and principal of Pope Audit Group LLC, a business that provides audits, consulting services and fraud investigations for Texas public school districts. Since 2015, Pope and her team have worked with more than 400 public schools, finding them millions of dollars in additional funding.
She also uses her God-given skill of auditing to help others. Her company has supported Foundation Communities for years, providing gifts for Austin families and individuals during the holidays, donating school backpacks and supplies for kids across Austin, and helping serve meals to residents at one of the nonprofit's communities.
Pope also gives back to Concordia, offering scholarships to students in the Master of Business Administration School Finance & Operations (SFO) program. The MBA SFO is a program that CTX delivers in partnership with the Texas Association of School Business Officials (TASBO).
"We were the first MBA program to have this concentration for school officials, and Missy was the first to give back to students in the concentration," Dr. Elise Brazier, director of the Concordia MBA, said. "She's a lifelong learner, and she's the perfect recipient for the award because of her faith, her care, her service of others and her involvement as a community member."
Rev. Dr. George Beto Christian Leadership Award
Bob and Anita Schjerven received the award for their servant leadership in the community and the Church.
The Schjervens have supported Concordia University Texas in many ways. In addition to prayer and regular financial contributions, they established two annual scholarships. The Bob and Anita Schjerven Scholarship awards two students pursuing careers in church work. The Schjerven Business Leadership Scholarship awards one undergraduate Business student and one MBA student.
Viewers heard from students who were impacted by the Schjervens' scholarships, including BBA graduate and MBA student Alejandra Rueda, Education major Rebecca Schelen and MBA graduate Amanda Keeter.
Keeter has corresponded with the Schjervens by letter throughout the years since she graduated. "I feel the responsibility for the investment you [Bob and Anita] made in me, and now I get the opportunity to continue to pay that forward," she said.
Rev. Dr. Ray Martens Award for Service to Christ & Church
Dr. Johnnie Driessner was honored with the award for his commitment to advancing Christian education with his God-given talents.
Originally planning to become a pastor, Driessner discovered as a student at CTX (then called Concordia Lutheran College) that his real calling was to the teaching ministry.
After earning his associate, bachelor's and doctoral degrees, Driessner joined Concordia University - Portland (CU-P) in 1980. Beginning as a professor of Biology, he served the institution for 40 years, serving in a variety of roles, including chief academic officer, chief vision officer, interim president and more.
"He leaned a lot on his Savior, Jesus Christ, and he built an army around him to support him," Dennis Stoecklin, a friend and former colleague, said. "That's how he succeeded and how the people around him succeeded."
Throughout his tenure at CU-P, Driessner leveraged innovation to better serve students. He set up video conferencing sites along the Oregon coast that enabled teachers on the coast to earn their continuing teaching licenses. He also facilitated a collaboration between CU-P and Concordia University Irvine to develop the first online program in leadership.
Driessner praises God for his accomplishments and credits his wife, Kim, as integral to his ministry.
Thank You to the Celebrate Concordia Sponsors
Concordia University Texas thanks our title sponsor, the Texas District LCMS, and our signature sponsors, Regions Bank and UFCU, for making Celebrate Concordia 2021 possible.
Drive-In Movie
Saturday's events culminated in a drive-in movie beneath the stars in Parking Lot C. Cars transformed into personal theaters as attendees enjoyed watching "The Sandlot."
Movie-goers had a fully equipped concession stand to enjoy, including chips, candy, sodas and authentic Italian gelato from Dolce Bacio Gelato & Desserts.
Sunday
Redeeming Grace Lutheran Church hosted a livestream of Concordia Sunday, where Rev. J Brown delivered an encouraging message and shared more about CTX.
Eight people then joined the Concordia Esports Tournament. Five people joined us in person in the fully equipped Concordia Esports Arena, and three competed virtually.
Concordia Esports, collegiate competitive gaming, is the first program of its kind in Central Texas and one of the few esports programs that offers students scholarships.
Concordia University Texas thanks everyone who participated and made Concordia Crossing 2021 a success.