Concordia Esports Co-Champion of 2021 SCAC Championship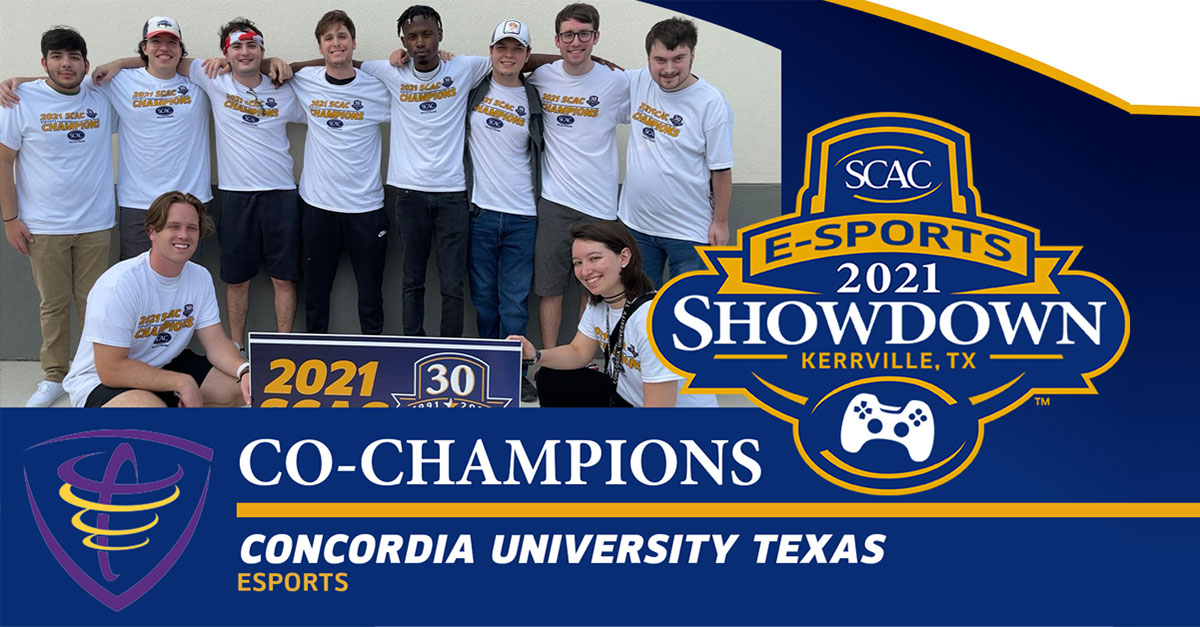 The Concordia University Texas Esports team claimed its first conference championship in April 2021. In the University's first year as an affiliate member of the Southern Collegiate Athletic Conference (SCAC), Concordia Esports secured its place as co-champion of the 2021 SCAC Esports Title.
Concordia Esports Champions
The Concordia Esports team achieved a major victory at the SCAC's 2021 Esports Showdown, which was the first esports showdown the SCAC held and the second-ever esports conference championship at the NCAA DIII level. Schreiner University hosted the showdown on its Kerrville, Texas, campus.
Six member institutions competed, including Schreiner University, Southwestern University, Trinity University and more. Teams receive points based on their rank in each of the following games: League of Legends, Overwatch, Rocket League and Super Smash Bros. Crew.
Concordia University Texas and Colorado College both earned 18 points, finishing as co-champions of the 2021 SCAC Esports Title.
Led by Marc Valdoria, the coordinator and coach of Concordia Esports, the Tornados placed first in League of Legends, beating Hendrix College 3-1 in the championship match. The team also placed second in Rocket League and third in Overwatch.
About Concordia Esports
Added in Fall 2019, Concordia Esports is the first collegiate varsity esports program in Central Texas. CTX is one of the few universities that offers esports scholarships, ranging from $5,000 to $21,000.
Players have exclusive access to the Concordia Esports Arena, equipped with 13 Alienware R8s, Alienware 240hz monitors and Logitech peripherals. The arena also features a dedicated production system for streaming and a lounge area with a projector and two 70" TVs for video-on-demand (VOD) reviews and watch parties.
Concordia Esports players are held to the same academic standards and eligibility requirements as the University's 15 NCAA DIII teams.
Congratulations on your accomplishment, Concordia Esports. Woosh!