Concordia MPH & IncubatorCTX Webinar: Population Health & Workforce Development in Texas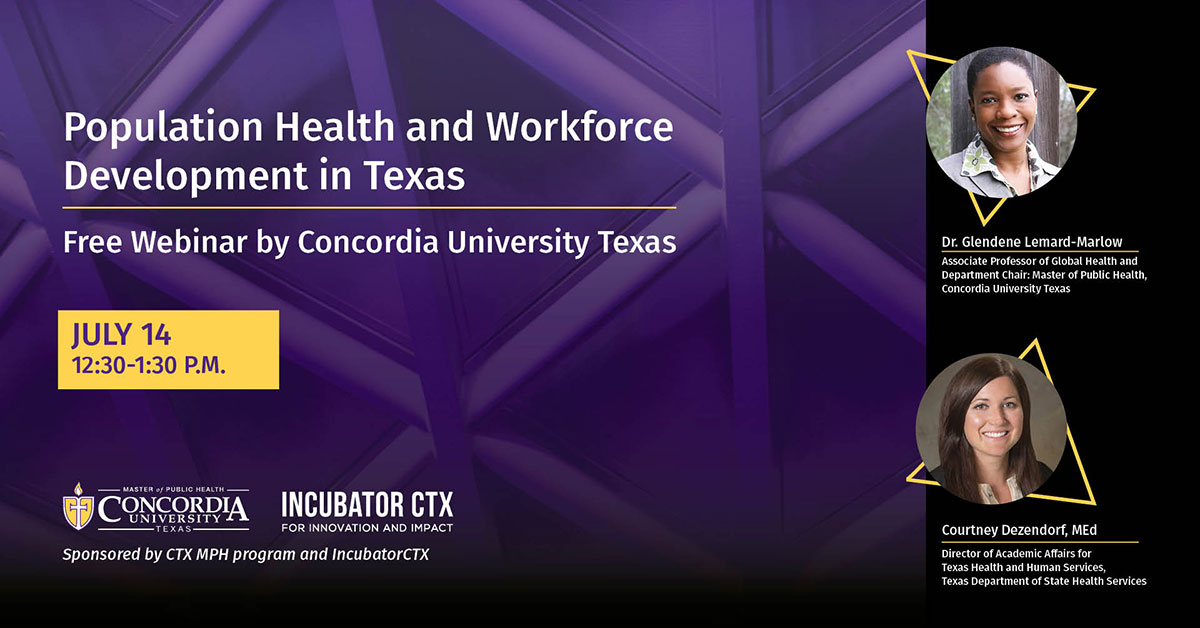 [Written by Dr. Glendene Lemard-Marlow]

Join Dr. Glendene Lemard-Marlow, director of the new Master of Public Health (MPH) program at Concordia University Texas, and Courtney Dezendorf, director of Academic Affairs at the Texas Department of State Health Services (DSHS), for a free webinar on July 14.
Hosted by the Concordia MPH program and IncubatorCTX (an entrepreneurial hub located on campus), they will talk about population health across Texas and the needs and opportunities of the public health workforce.
Population Health & Workforce Development in Texas
In addition to the COVID-19 pandemic, there are many other health concerns for Texans across the state. Texas Health & Human Services plays a vital role in keeping Texans safe and healthy during this time.
Lemard-Marlow and Dezendorf will discuss population health in both rural and urban Texas as well as the workforce development needs and future opportunities for the public health workforce.
When & Where
When: Tuesday, July 14, from 12:30 p.m. to 1:30 p.m.
Where: Zoom
About Courtney Dezendorf, MEd
Dezendorf is the director of the Office of Academic Affairs at the Texas DSHS, which oversees disease prevention, healthcare professional licensing and more. Located in Austin, Texas, she leads a team that administers an Institutional Review Board, Preventive Medicine Residency Program, Blue Ribbon Internship Program, Continuing Education Service and Grand Rounds.
She holds a special interest in workforce and professional development. Dezendorf helped form the Texas Public Health Practice Network, which is a collaborative between six Texas schools of public health and DSHS. The Texas Public Health Practice Network brings academic and practice partners together to develop and train the public health workforce in Texas.
Within the Texas DSHS, Dezendorf serves on the agency-wide Training and Development Committee and as a liaison for the Association of State and Territorial Health Officials workforce development initiatives. She also participates in career coaching for interns. She leverages nearly six years of experience managing student and academic programming at the University of Texas School of Public Health in addition to four years of experience as a health promotion and wellness coordinator.
Dezendorf earned her Master of Education from UT at Austin and her Bachelor of Science from Texas A&M University.
Concordia Master of Public Health Program
*program no longer active
This webinar is part of a series sponsored in part by the new Concordia University Texas MPH program.
The Concordia MPH, a fully online, 16-month program, features and interdisciplinary curriculum with a global outlook and individualized attention from experienced CTX professors, enabling you to make a positive impact on communities and access new leadership roles.