Concordia MPH & IncubatorCTX Webinar: The Value & Opportunities of Public Health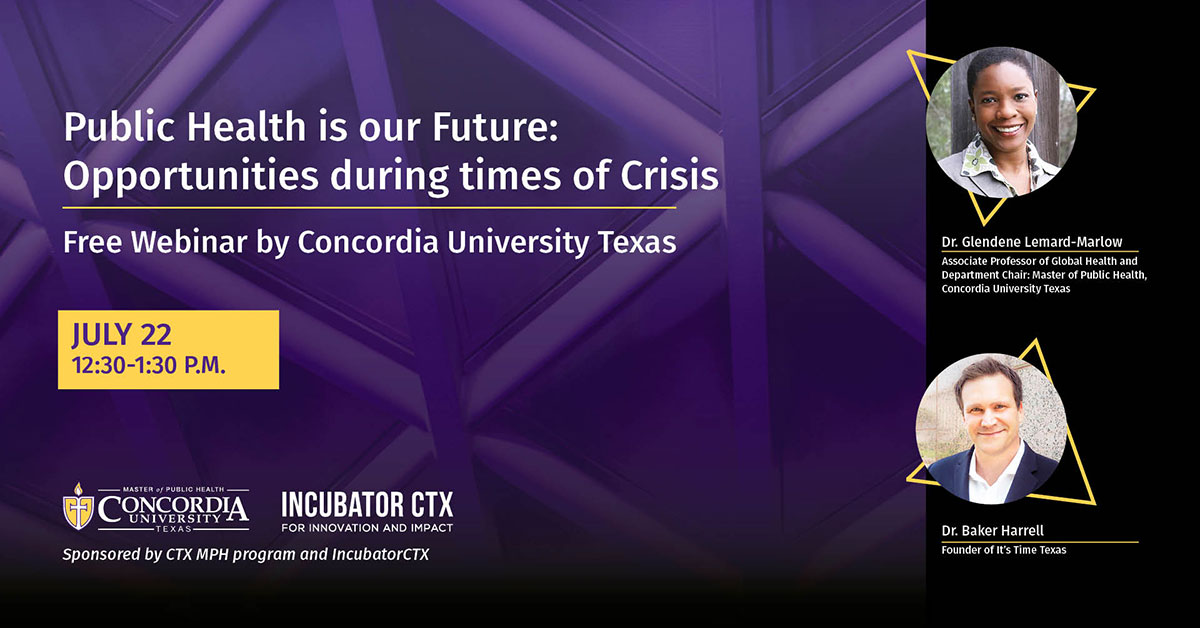 [Written by Dr. Glendene Lemard-Marlow]
You're invited to join Dr. Glendene Lemard-Marlow, associate professor of Global Health and director of the Concordia University Texas Master of Public Health, for a free webinar. Dr. Baker Harrell, founder of It's Time Texas, will join her in a discussion about the importance of public health to every person, vocation and community.
The COVID-19 pandemic has revealed that population health impacts everyone, from the garbage collectors and healthcare workers on the front line to the families learning and working from home. Lemard-Marlow and Harrell will explore how all disciplines connect with public health and how the Concordia MPH can prepare you to become a leading public health professional.
Public Health Is Our Future: Opportunities During Times of Crisis
If you have ever wondered why population health matters or why you should pursue a degree in public health, this webinar is for you! If you have ever wondered how to stay safe and how the public health field helps populations do so, this webinar is for you too!
We are living in a time of crisis as COVID-19 continues to make its way across the United States and around the world. Lemard-Marlow and Harrell will discuss the opportunities that exist in the field of public health during times of crisis. Harrell brings a fresh perspective of how to create positive change as paradigms shift and what we consider "normal" changes daily.
Our world, as we know it, is operating differently, and all vocations intersect at a time like this. Lemard-Marlow and Harrell will discuss how you can be proactive and not reactive and how an understanding and appreciation of public health can help you in your career path.
About Dr. Baker Harrell
Harrell 's background and expertise in collective action, public health and social marketing support the efforts of It's Time Texas (ITT), a statewide health and wellness nonprofit organization that he began in 2014. Since its founding, ITT has become a recognized leader of the movement to establish a culture of health in Texas. This year, ITT will empower more than 1 million Texans to lead healthier lives, build healthier communities and contribute to a healthier state.
In 2019, Harrell received the Texas Health Champion Award from Live Smart Texas and the Michael and Susan Dell Center for Healthy Living. His prior ventures in the public health arena earned the Best Practices Health and Fitness Award from the Texas Department of State Health Services and the Most Promising Initiative Award from the Centers for Disease Control and Prevention and the Robert Wood Johnson Foundation.
Harrell holds a PhD in Kinesiology and Health Education in addition to a Master of Science in Health Education from the University of Texas at Austin. Harrell's doctoral research focused on improving population health through social change, and it was out of this research, coupled with his personal experiences as an overweight child, that ITT was born.
Concordia University Texas MPH
This webinar is part of a series of webinars presented by the new Concordia University Texas Master of Public Health (MPH) program.
Concordia's MPH is a fully online, 16-month program that offers you flexibility and individualized attention from experienced CTX professors. Through an interdisciplinary curriculum with a global outlook, the Concordia MPH enables you to make a positive impact on communities and access new leadership roles.