Concordia University Texas Recognized as Strive Five Partner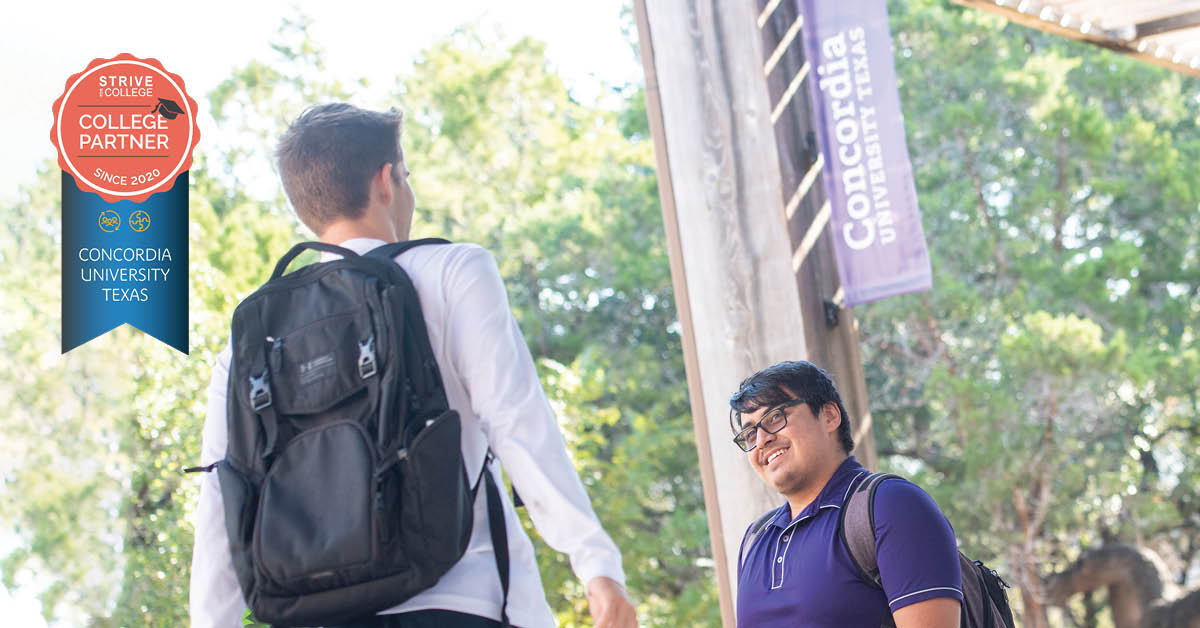 Concordia University Texas has been recognized by Strive for College as a Strive Five partner for the University's excellence in student opportunity and success. Strive for College is a national nonprofit that provides high school and college students with free online mentoring to help them get to college, graduate and begin their careers.
About Strive for College
The nonprofit focuses efforts on "Strivers," which are college-bound students who are the first to pursue higher education in their families (first-generation students) or who come from a low-income household. The program provides students with an extra level of academic, financial and social support to graduate.
Strive for College guides students through the college admissions and financial aid processes, and mentors support students through college to ensure that they graduate and are prepared for career opportunities.
Strive Five Recognition Program
Strive for College believes that all postsecondary institutions (trade schools, colleges and universities) should strive to meet the Strive Five, which are five benchmarks the nonprofit has defined:
Inclusion — More than 25% of undergraduates receive Pell Grants (25% of students come from a low-income family).

Diversity — More than 40% of undergraduates are Black, Latino or Native American.

Affordability — Colleges have a net price of under $13,500 for low-income students ($0-$30K).

Completion — Colleges meet or exceed the national averages for retention and graduation: more than 81% first-year to second-year retention rate and more than 51% six-year graduation rate for Pell Grant recipients.

Outcomes — More than 25% of undergraduates who were from the bottom fifth of incomes as students moved to the top fifth of incomes as adults.
Colleges recognized by Strive for College meet the criteria for at least one of the Strive Five distinctions.
Concordia University Texas Strive Five Partner
Strive for College recognized Concordia University Texas for their work to support first-generation and low-income students. The University is recognized for meeting the inclusion and diversity benchmarks.
At Concordia, you're more than just a number. Our CTX community will support you and your family throughout your entire experience, from application to graduation and beyond.
As a Concordia Tornado, you will gain access to life-changing opportunities that enable you to expand your knowledge, develop new skills and prepare for a meaningful career:
One-on-one support (work with same admissions counselor, student academic planner and student financial planner)

First-Year Experience program (helps you transition from high school to college)

Small class sizes (talk directly with professors in class and during office hours)

Academic Support Center (free support services, including tutoring and accommodations for learning disabilities)

Full range of career services (resume help, job searches, on-campus career fairs, etc.)

Daily chapel and faith resources (to support your walk with Christ)

15 NCAA DIII athletics teams and Concordia Esports team

Easy ways to get involved (Student Activities events, intramural sports teams and 20+ student organizations)