Student-Life
,
Service-Learning
,
Academics-Humanities
Concordia Texas' 17th Annual Service-Learning Week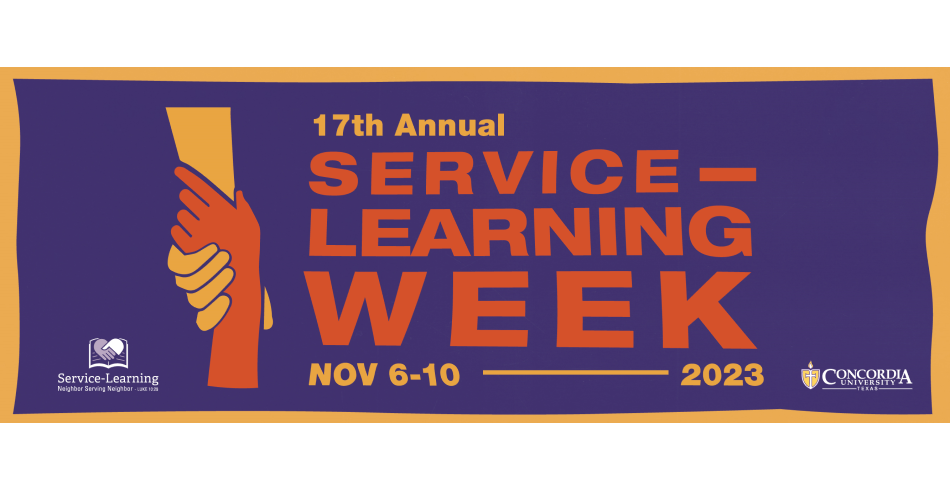 Serving Children in Times of War
Opportunities to Serve and Learn!
Concordia University Texas' annual Service-Learning Week is a time when the Service-Learning Program highlights its mission and calls our CTX community to be "neighbors serving neighbors." The week is full of special events with a focus on a theme related to service and justice.
The theme of the 17th annual Service-Learning Week (Nov. 6th-8th) is Serving Children in Times of War. This theme takes on added significance in the light of the current events affecting children in Israel and Gaza right now. Additionally, Ukranian children have endured life in a war-torn region for more than 600 days, and the recent resolution of civil conflict Ethiopia worsened the already dire water crisis faced by children in that area.
In many places in the world, children who are vulnerable due to their age and legal status experience immense suffering and loss due to violence and armed conflicts. Jesus calls us to care for "the least of these" among us, and in his ministry, he showed deep concern for children.
This Service-Learning Week, join us in learning more about what it's like to serve children living in places affected by war, and how you can take tangible actions to support children in difficult circumstances.
Highlights for this year's Service-Learning Week:
Roots and Wings Festival with CTX Environmental Stewardship: Celebrate Texas Arbor Day and Monarch Appreciation Day by planting native trees and perennials to attract pollinators. November 4th, 9 a.m. to 12 p.m., sign up at concordia.givepulse.com
First ever Campus Clothing Exchange: Serve the environment and help each other by reusing and sharing clothing! Participants are encouraged to bring clothing to exchange. November 7th, 5 p.m. to 7 p.m. in the Incubator (B202)
Special Missions Chapel: Hear from missionaries Bob and Andrea Burnham, who have served in Ukraine for 25 years, and join our campus community as we put together a Basic Care Crate that will be sent to Ukraine and ask God to bless all those who will receive it. November 8th, 10 a.m.
Daily tabling: Stop by our tables between Buildings C and D to see what's happening each day of Service-Learning Week. We will have Ethiopian coffee, a card making activity, sweet treats to celebrate our GEN1 community on National 1st Generation College Student Day (Nov. 8th), free wildflower packets, and more! We will also have a special display focused on the week's theme.
All Day Panda Express Fundraiser: Join us at Panda Express and help us raise funds for the CTX Food and Resource Center! When you order online or in-person, 20% of the proceeds will benefit the Center and allow us to continue purchasing non-perishable items. November 9th, 10:30 a.m. to 9:30 p.m., 7710 N Fm 620, Lot 3, Austin TX
Robert C. Greene Endowed Lecture in Service-Learning with Dr. Karen Chilstrom, a post-Soviet area studies specialist who has participated in humanitarian missions in western Ukraine, will speak on Serving Children in Times of War: A Volunteer's Experience in Ukraine. November 10th, 11 a.m. & 12 p.m. (repeated), Auditorium of Building A
All week long: Learn about and participate in opportunities to serve with Reveal Resource Center, Brookdale Assisted Living, and Cardinal Point Apartments Sign up at concordia.givepulse.com
All week long: Opportunities to learn more about our partnership with Water to Thrive and how you can donate to our 15th well campaign.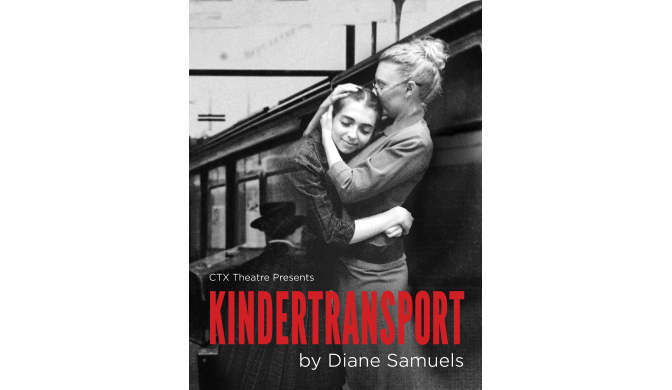 Don't forget to buy your tickets for the fall drama production—Kindertransport by Diane Samuels—which tells a story of Serving Children in Times of War, that of a British rescue mission during WWII in which thousands of Jewish children from various countries were placed in British foster homes.
Kindertransport
The mission of the Service-Learning Program at Concordia University Texas is to "encourage the Christian vocation of service of one's neighbor through promoting and cultivating reciprocal service and learning partnerships among Concordia Texas students, faculty, staff, and the surrounding community as well as with local, national, and international service organizations."
CTX Service-Learning
Supports both academically-based service-learning and co-curricular service-learning opportunities that promote the integration of service and learning in different ways. Check out our website calendar for a full list of events.
Service-Learning Week