CTX Alumna on the Front Line of COVID-19: Deanna Doering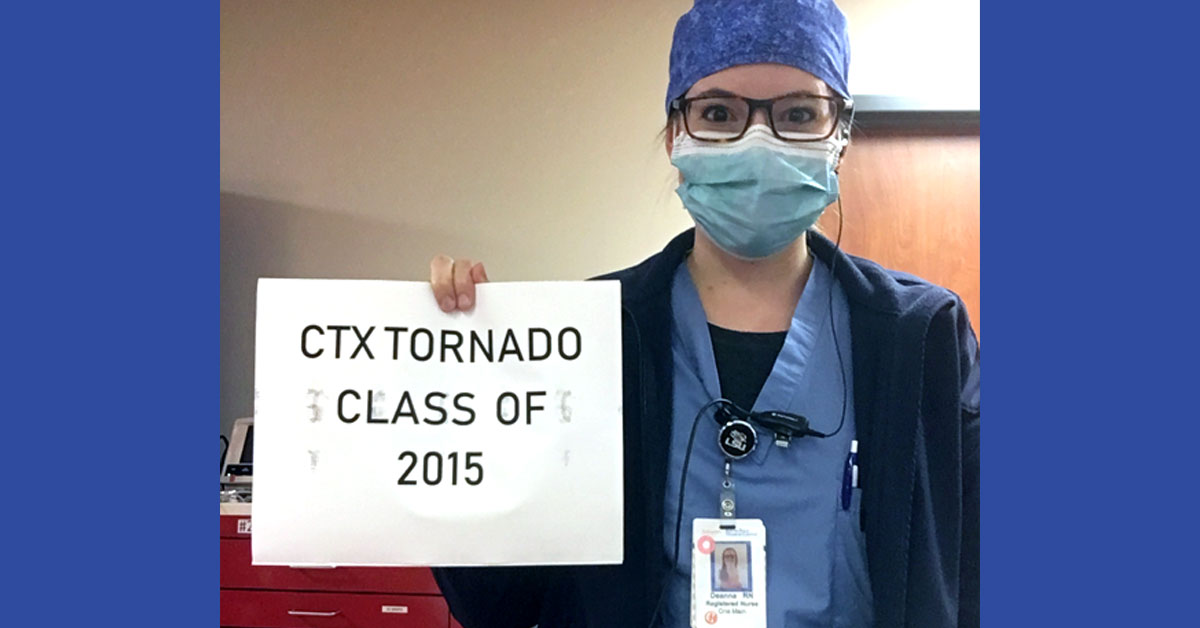 The Concordia University Texas Bachelor of Science in Nursing (BSN) transforms students into nursing professionals who are prepared for life-changing work.
Front-line healthcare workers, including nurses, are working tirelessly across the nation and the world to help treat patients battling the Coronavirus (COVID-19). Deanna Doering graduated in 2015 from the CTX Nursing program and is a registered nurse (RN) serving on the front line of the COVID-19 pandemic. As she helps patients and their families, Doering is pursuing the most important work — sharing the good news of Jesus Christ with others.
[The following responses were written by Deanna Doering.]
Favorite Non-Educational Part About CTX
I worked for Student Life during most of my time at CTX. I made friendships that have lasted long past college. I enjoyed every minute, from planning Coffeehouse (the University talent show) to being an intramural referee.
I found so much joy in showing other students how to get involved and enjoy everything CTX has to offer.
Favorite Educational Part About CTX
I can't begin to describe how thankful I am for the professors I had. They took the time to sit down with me and told me they believed in me. Nursing school is difficult, so I was very blessed with the professors who supported me every step of the way.
Why Did You Become a Nurse?
I have always felt called to be part of something bigger, something to be proud of and to help others when they are in need. Nursing is just one way I live out this calling.
How Has CTX Prepared You for This Profession?
It's difficult to explain, but I believe that the Nursing program at Concordia prepared me to graduate with the knowledge to be a nurse. I knew how to assume my role as an RN and didn't feel like I was still a student.
I have seen many new graduates starting orientation who are missing critical skills and the independence needed to be a nurse. They were unable to transition out of the mindset of a student into that of an RN.
I believe CTX prepared me as a nurse and gave me the confidence to trust the knowledge and skills I have as an RN.
Story About Working on the Front Line of the COVID-19 Pandemic
We are in a different time. COVID patients have exposed the truth that we as nurses know about each other: Nurses are compassionate creatures, who give extra love and care to those who need it, with kindness and pride in our work.
While serving as a charge nurse in a COVID unit has been challenging, I am thankful for the ability to be there for the patients and nurses as we go through this together. Seeing these patients and what this virus does to them has been heartbreaking. Watching families experience loss while not being able to visit their loved ones has rocked the core of who we are as nurses.
The team on my unit and the other nurses in my hospital have been amazing in caring for these patients and their families. We care for them physically, and we also care for them emotionally as we sit with them and try to calm the anxiety and fear we see and feel.
Being a COVID nurse is not something I will likely forget anytime soon. I have been blessed to be one of the last nurses to help care for a patient before they pass. I hold their hand and say a prayer of peace over them with a fellow nurse. I have also been blessed to celebrate those who are discharged and able to reunite with their families. All of this reminds me of the blessing I have to go home after each shift to my husband, and I'm very thankful for this.
How Has Your Faith Impacted You During This Pandemic?
I believe I was placed on the unit I am to share the love of Jesus not only with patients but also with other nurses.
I am reminded of what anxiety and fear can do to my spirit when I am not rooted in my faith. I have had many people reach out and ask how they can pray for me, which shows how far the love of fellow believers reaches. I ask them to pray for not only myself but also for my patients and their families as well as the nurses with whom I work. I ask them to pray for physical and emotional well-being for everyone impacted.
We, as nurses, are affected by this; we are all dealing with some level of anxiety. Thankfully, I have had multiple conversations with the staff about turning that anxiety to the Lord, and it brings joy to my heart.
Concordia University Texas thanks Deanna and all other front-line workers as they serve others.