CTX Alumna's Providing Students Books Within Reach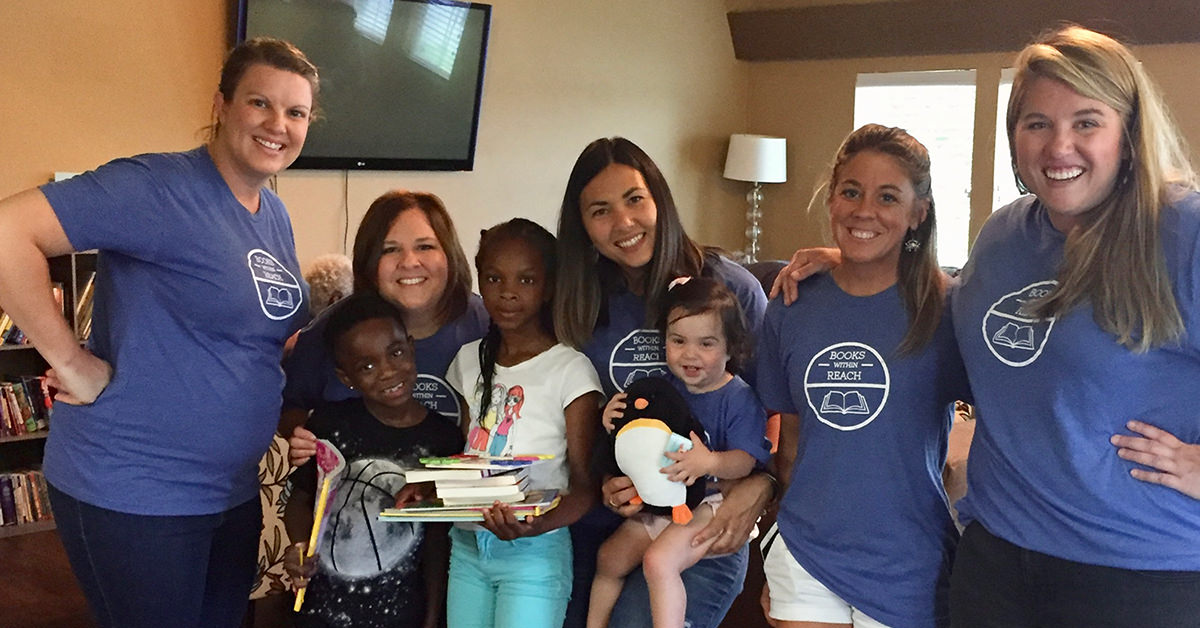 Sara Smart is a third-grade teacher at Parker Elementary School in Galveston, Texas and a 2011 alumna of Concordia University Texas.
She recently launched Books Within Reach, a nonprofit that works to put books within reach of elementary students in Galveston, regardless of their circumstances.
From Chef to Teacher
Initially, Smart planned on becoming a chef and enrolled at the Texas Culinary Academy. However, she found that she wanted to help people, specifically children, so she decided to change her career plans.
Smart fell in love with the campus and small size of the school when she toured CTX, so she transferred here.
Education Professor Sarah Jean Baker was one of her favorite teachers and mentors. She appreciated Baker's influence, style, great sense of balance and family orientation.
In 2011, Smart graduated with a Bachelor of Arts in interdisciplinary studies. At the time, there was a hiring freeze on teachers in the city of Austin, so she found work as an elementary teacher in Galveston, Texas where she currently teaches the third grade.
Serving Beyond the Classroom
When she posted a request for donations of books on Facebook to give to her third-grade class as Christmas presents, Smart was met with overwhelming support from people in Galveston and the surrounding areas.
"The book drive was so successful," Smart said, "that I was able to provide each student in the third grade at Parker with three brand-new books."
Her initial goal in providing books for her students was to help them begin their own home libraries. "Seeing my community and friends rally around my students and support them made me realize that maybe I could do something to support my students outside the classroom as well," she explained.
She began research on the literacy gap in America and was stunned to find out that just 8% of low-income families utilize public libraries. Smart decided to begin a nonprofit to provide books for economically disadvantaged kids and families, particularly those in surrounding apartment complexes.
Books Within Reach
Books Within Reach relies on the cooperation of the community. Whilst walking her dog, Smart met Linda Ercole-Musso, a co-founder of African Childrens Haven, who has become a mentor and unofficial advisor to her.
African Childrens Haven has partnered with Books Within Reach until it is officially established as a nonprofit. Local firemen have built the bookcases they have installed and are interested in helping with future events. Additionally, Smart's co-workers at the elementary school give of their time and resources to help.
Once a bookcase is built and enough books are acquired to fill it, Smart and her team host a celebratory gathering at the location where the bookcase is installed.
Moving Forward
The program has already achieved great success. They recently installed their fourth bookshelf in Galveston and have received thousands of books for the program. In May alone, Books Within Reach brought in 4,331 books.
Currently, Smart is converting one of the rooms of her house into the Books Within Reach headquarters, and she is working on the paperwork needed to become a nationally recognized nonprofit (501(c)(3)).
Smart was awarded the Teacher of the Year honors for her school (Parker Elementary) and for the elementary division of Galveston ISD for the 2018-2019 school year.
We congratulate Sara Smart for her Christ-centered devotion to helping others through Books Within Reach. There are many ways you can help! Make sure to follow Books Within Reach on Facebook for the latest updates.