CTX Alumni Embark on a Life-Changing Adventure in Laredo, Texas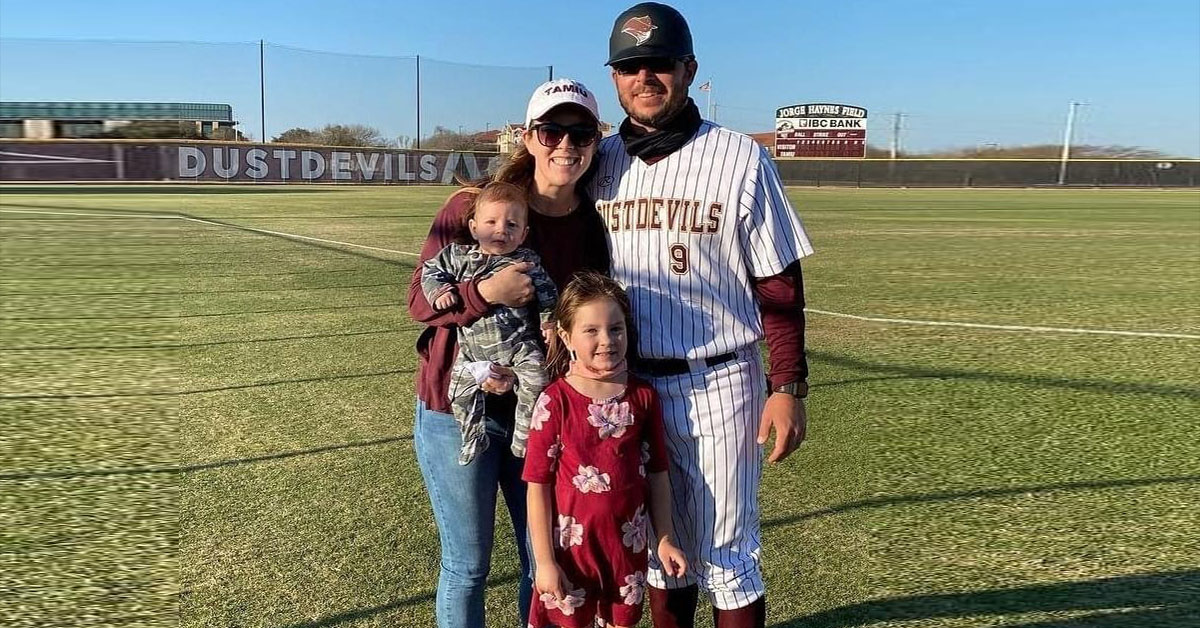 Husband and wife Philip and Sara Tullos Middleton, both alumni of Concordia University Texas, are embarking on a new life-changing adventure. In September 2020, Philip began his role as head coach for the baseball program at Texas A&M International University in Laredo, Texas.
Meet the Middletons
Philip and Sara Middleton received a unique experience at CTX, living at Concordia's historical downtown Austin campus and moving with the University to the new Northwest Austin campus in 2008.
Philip and Sara saw each other many times on the historical campus, but they never met. When the University moved to the new campus, they finally met in February 2009. Working the front desk for Admissions in the Welcome Center, Sara was part of a group of girls on campus who supported the CTX baseball team, which gave Philip the perfect excuse to talk to her. They got engaged on campus in 2011.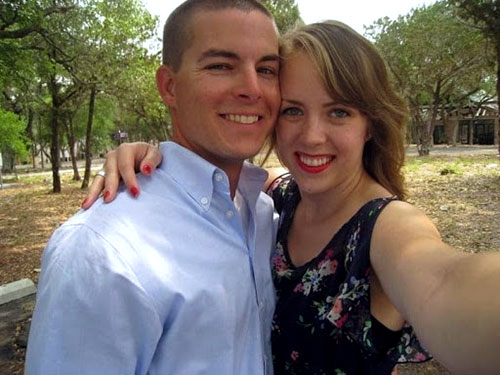 Philip graduated in 2010 with a Bachelor of Arts in Kinesiology, playing for the Concordia Tornados baseball team from 2007 to 2010. He brings 10 years of coaching experience and five years of experience as a scout for the MLB Miami Marlins team to the role.
Sara graduated from Concordia in 2011 with a Bachelor of Arts in Communication. She has nearly 12 years of project management experience and is a certified project management professional (PMP). She has served in her current role as a project manager with Next Consulting LLC for more than eight years.
The Middletons recently discussed their Concordia experiences and the new life-changing adventure on which they have embarked.
Why did you choose to attend Concordia?
Philip: I was looking for a smaller campus and a great baseball program to play for, so Concordia was the perfect fit. Being in Austin, Texas, was a plus too!
Sara: Many of my friends were already attending Concordia, and I was drawn to the small campus and faith-based education. I'm from the Austin area, so I was also looking forward to staying close to home.
How did your experience at Concordia shape your outlook?
Philip: Being around students and faculty who shared similar interests but came from different backgrounds helped me see the world from a new perspective. I learned how faith can guide education and relationships.
Sara: One of the best, and sometimes most challenging, aspects of being a student at Concordia was that the professors always encouraged me to push the limits. I felt like I was constantly seeking to answer the question, "What else?" CTX taught me to think better, think bigger, and then go out and do it.
There was always something to get involved in, even if it meant creating it yourself. The opportunities were endless. These experiences shaped my mind to think outside of the box and be innovative, which are characteristics I utilize in my career.
Who were some of your favorite CTX faculty or staff members?
Philip: I played for some great coaches, including Mike Gardner, Tommy Boggs, Scott Shepperd and Clint Mokry. Some of my favorite professors were Dr. Tom Pate, Craig Peterson, Dr. Don Christian, Dr. Joel Heck and Dr. Duder.
Sara: My favorite faculty/staff members were Jennielle Strother, who was the director of Admissions at the time and is now VP of Enrollment Services; Dr. Abigail Pfiester, for too many Communication courses to mention; and Jennifer Sarver, a former adjunct professor who taught the course Writing for Mass Media.
In addition to your relationship with each other, did you make any life-changing friendships at Concordia?
Philip: I made many lifelong friendships on the baseball team, too many to mention. Two, in particular, were Lance Thompson ('11) and Patrick Mercer ('09), both of whom were my roommates and teammates.
Sara: My closest friends were my roommates and fellow Communication majors, specifically Chelsey Urban Doering ('10) and Kat Asper Schaefer ('11).
Do you have any memorable traditions?
Sara: We have great memories of the historical campus, going to 9:08 (student-led worship now called The Refuge), Keller-Faszholz Field, eating at Texas Hall, living at Harms hall and being students in downtown Austin.
The new Concordia campus gave us an amazing ballpark, opportunities for personal growth and a fresh start.
Would you change anything about your time at Concordia?
Philip: I wouldn't change anything. Concordia was the perfect place for me to earn my degree, play baseball and make lasting friendships.
Sara: I would have talked to the good-looking baseball player (Philip) one of the many times we encountered each other at the historical campus!
Honestly, I would have traded in some of the fun I had freshman year to go to class and study more. (I hope my parents don't read this.)
What are you most excited about regarding your new adventure at TAMIU?
Philip: I'm really excited to be a head coach for the first time.
I was so fortunate to play and coach for some great head coaches, and I've learned something from all of them that will impact who I am as a head coach.
I'm passionate about building programs and cultures, so I'm looking forward to that here at TAMIU.
Are there any lessons or experiences you bring from Concordia to TAMIU?
Philip: Coaches Gardner and Boggs set high standards for the CTX baseball team and always expected us to compete.
We won a share of the American Southwest Conference West title in 2008, a season I'll always remember. Both coaches emphasized doing things the right way, and the results showed.
How do you incorporate your Christian faith with baseball?
Philip: Young men today are under incredible pressure from society, so I feel that it is very important to be a model of faith for them.
Being consistent in my message and actions while giving them every opportunity to talk to me about anything in their lives goes a long way.
The TAMIU president said that you have an outstanding record of building truly successful teams, Philip. What's the secret?
Philip: The only secret is hard work. There is no substitute for rolling up your sleeves and doing the work required to be successful.
Every team wants to have a good culture with total commitment from everyone involved. In my opinion, the only way to get there is to build character through shared adversity, accountability and goals. Possibly the most important thing is to surround yourself with good people.
What's one piece of advice you want to give to current CTX students?
Philip: Get involved. College is the best time to expand your horizons and meet new people. Find a way to get out of your comfort zone by joining a group or organization, supporting an athletics team or adding a minor to your degree. Also, go to chapel!
Sara: Incorporate communication into your education any way you can — verbal, written and nonverbal — regardless of your major. It's essential in everyday life and a key to success in your future career.
We congratulate Philip and Sara on their accomplishments and pray that they and their children enjoy this new adventure.