CTX Alumnus Opens First Touch Soccer Academy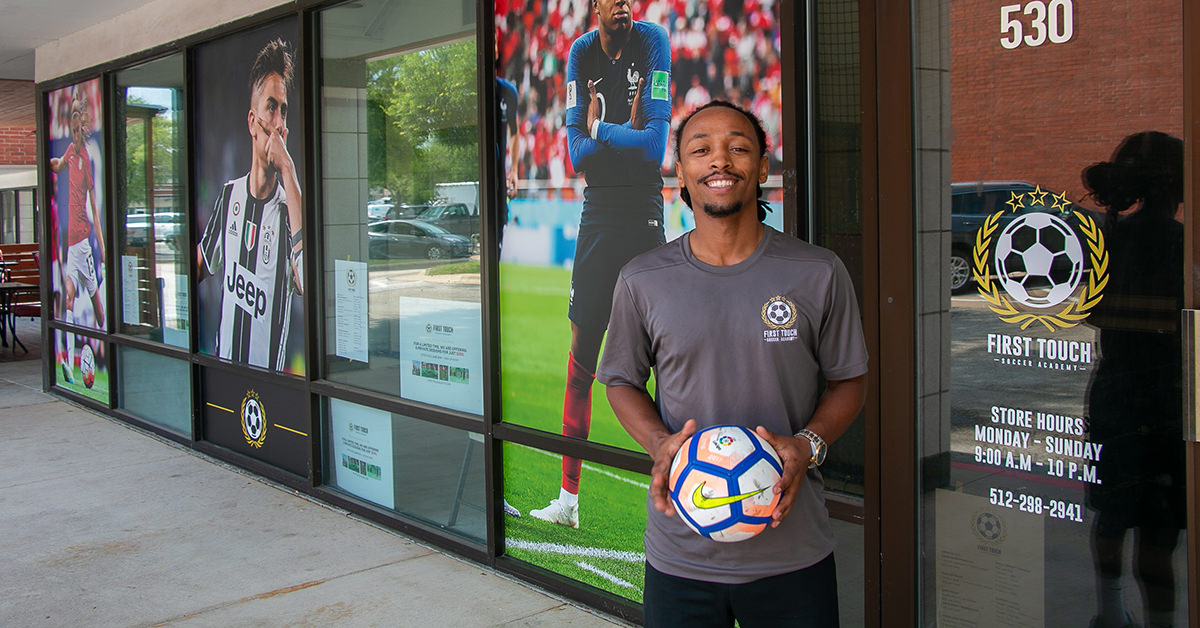 Teddy Vickers, an alumnus of CTX and the men's soccer team, graduated from Concordia in 2018 with a BA in behavioral sciences. He has opened First Touch Soccer Academy just up the road from Concordia University Texas at Lake Creek Square shopping center.
What Is First Touch Soccer Academy?
The academy offers high-quality soccer training at an indoor facility for players of all ages and skill levels. They provide four main services:
Individual training for children and teens to develop their ball-handling skills
Small group training for any soccer player to improve ball control, soccer skills, decision-making, tactical knowledge and conditioning
Fitness training for anyone to improve speed, agility and conditioning
3v3 leagues tournament hosting
How Did First Touch Soccer Academy Begin?
Out of college, Vickers began working for Enterprise while coaching soccer part-time. However, cars aren't his passion — soccer is.
For five years he prayed for God to give him the opportunity to open a soccer academy.
One morning, a man at enterprise learned about Vickers's love and skill for soccer, and he encouraged him to open a training facility.
This is the sign from God Vickers was waiting for, so he drove around that very night looking for properties. He found an available facility off of 620 and developed a business plan to give to potential investors.
He reached out to one of his former teammates to discuss the plan. The teammate called Vickers that very night and committed to investing in the business. Ultimately, he figured out funding within his family, but it's amazing to see the way God perfectly orchestrates every part of our lives.
"Concordia University laid the foundation for me of how to talk to kids and how to talk to adults," Vickers said. "I talk to people to see what their need is and go from there."
What Makes First Touch Soccer Academy Unique?
What sets First Touch Soccer Academy apart from competing facilities is the commitment to developing the whole player.
While teaching kids skills and tactics, Vickers also teaches them to use manners and treat others with respect.
First Touch Academy trains a maximum of six players at once. Smaller groups enable coaches to suit the training session to the player's individual needs and provide each player with more individualized attention.
As a proud father of his two-year-old son, Mattios, Vickers understands the perspectives of both the players and the parents.
"I believe that everybody has potential," Vickers said. "It just takes the right place and specificity to improve."
Interested in getting involved with First Touch Soccer Academy? Vickers welcomes CTX students to contact him for potential job opportunities at info@firsttouchaustin.com.