CTX Alumnus Takes Military, Public and Private Sectors by Storm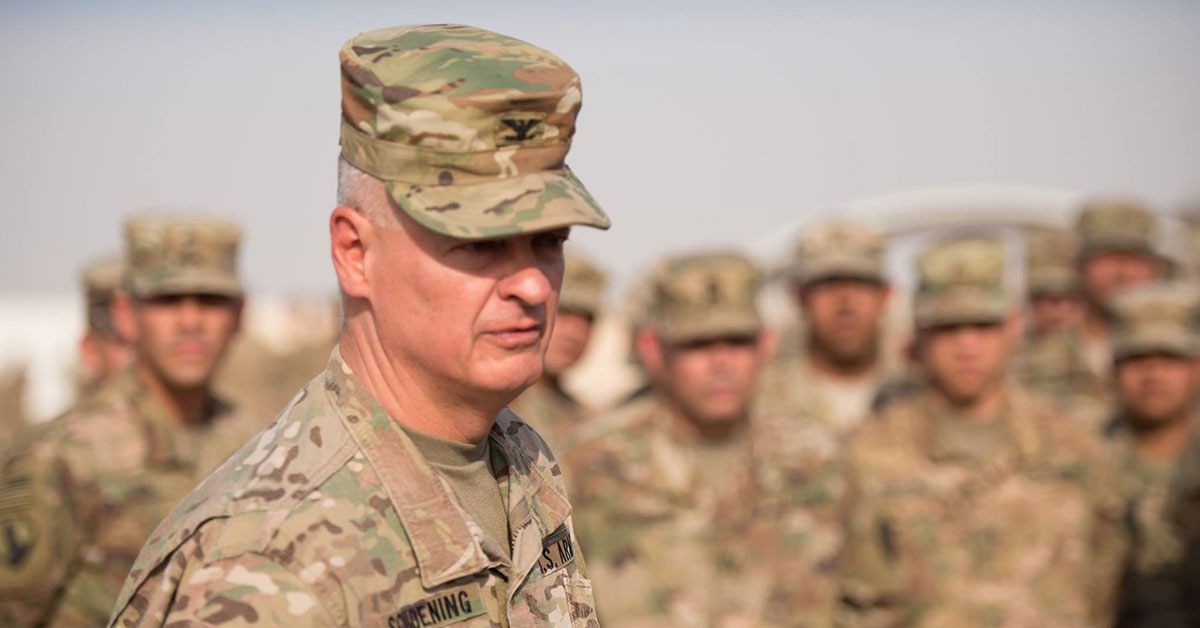 Brigadier General Charles Schoening is a graduate of Concordia University Texas and has served both the civilian and military sectors for more than 30 years. His career is marked by Concordia's core value of lifelong learning.
Getting to Concordia
Schoening moved to Austin to attend the University of Texas. He and his wife, Kay, got married during his first semester and began their family. After a few years, Charles and Kay had three daughters, so he needed to find a full-time job to support their family. At the time, there were no educational accommodations for non-traditional students in the area, so he had to delay earning his degree.
He was hired by Austin Water Utility and eventually joined the Army National Guard to supplement his income. He went through basic training, officer candidate school and an army engineer officer basic course, which encouraged him to earn his undergraduate degree. "I convinced myself that if I was going to finish my degree, I had to start now," he explained.
An ad for Concordia's non-traditional degree programs led Schoening to attend one of the University's open houses. He then met with Dr. Larry Meissner, CTX professor emeritus, who inspired him to move forward with his undergraduate degree in environmental science.
The Concordia Experience
Completing basic training at the age of 29, Schoening wasn't phased being a 32-year-old student in a room full of 20-year-olds at Concordia. However, he found it challenging to connect because the traditional students knew each other.
After his first class, he went to chapel with the other students. "That single moment took away all the stress I had been feeling," he said. "By the time I left chapel, I felt like I was now part of the community. I realized that I shared a Christian bond with the other students." He still talks regularly with some friends he made at CTX.
Taking full advantage of Concordia's liberal arts education, Schoening was focused on gaining as much knowledge as he could. "My experience at Concordia was phenomenal," he stated. "I learned a lot about the environmental sector and also about religion, culture and community." In 1994, he graduated with a Bachelor of Arts in Environmental Science.
"Concordia provided the foundation I needed to be successful in my other pursuits," he said. "There is something about a Christian education that makes you a more empathetic participant in society and business. It provided me with a great perspective to build a more collaborative leadership style."
Civilian Career
Austin Water Utility hired Schoening as a student lab aide when he was attending UT. The organization then promoted him to be a lab technician when he needed a full-time job. Throughout his 23 years with Austin Water Utility, he served as an engineering technician and then became the capital program manager, overseeing $2 billion in engineering and construction. During his time there, he was able to place a few Concordia students into intern positions.
Schoening now works for ARCADIS, a private engineering consulting firm for natural and built assets. As vice president and principal-in-charge for Central and South Texas, he focuses on municipal water and wastewater utilities.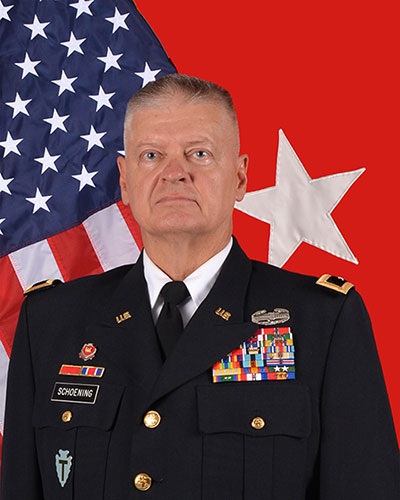 Military Career
With the need for long-term financial stability and benefits to support his family, Schoening joined the National Guard because it allowed him to serve as a combat engineer while continuing to work for Austin Water Utility.
Joining after the Cold War, things were initially calm and required Schoening to serve just one weekend per month and two weeks during the summer. However, September 11, 2001, changed everything. Since then, he has spent nearly as much time on active duty as he has in his civilian career. He has participated in six tours, two in Washington, D.C., and four in the Middle East.
His role in the National Guard has allowed him to see many biblical sites throughout the Middle East. During his most recent deployment to the Middle East, Schoening traveled through Jordan and had the opportunity to visit Mount Nebo. "It was an awesome experience to be standing in the same place Moses stood while revealing the Promised Land to the Israelites for the first time," he said.
Exemplifying Concordia's value of lifelong learning, Schoening has continued to expand his education. He earned a Master of Science in National Resource Strategy from the National Defense University and a Master of Science in Environmental Policy and Management from the American Military University. He also attended Officer Candidate School, after which he was commissioned as a second lieutenant.
Throughout his more than 30 years with the National Guard, Schoening has served in many roles. He was promoted to brigadier general and assistant adjutant general in May 2019.
Advice for CTX Students
Schoening encourages every student to take advantage of the personal development opportunities Concordia offers. He also advises students to learn as much as they can and to actively participate in the Concordia community while earning their degrees.
"What you learn during your time at Concordia will provide you with the firm foundation you need for your future educational and professional endeavors," Schoening said.