Students from Concordia University Texas recently competed at the Texas Collegiate DECA State Career & Development Conference. Four of the five participating CTX students advanced to the international competition in April. This is a major achievement for a new DECA chapter in its third year.
Learn more about CTX DECA.
Leading the Conference
The state conference was held at the University of Texas at Dallas on February 28–29, and around 300 students from across the state competed. CTX junior Shawn Matthijetz was elected last year as the 2019–2020 Texas Collegiate DECA state president, and he was responsible for leading the entire state conference with his team of five state vice presidents.
CTX led the conference in many ways and took home multiple wins.
Major Wins
Four CTX students advanced to the International Career & Development Conference in Atlanta, Georgia, which will be held in April. All five of the students delivered excellent presentations and represented Concordia well.
Shawn Matthijetz won first place in the Sales Management Meeting Individual Case Study Event

Devon Steward placed first in the Managerial Accounting Individual Case Study Event

Jose Jimenez placed second in the Travel & Tourism Individual Case Study Event

Esperanza "Grace" Nemec placed third in the Financial Accounting Individual Case Study Event

Caleb Iversen competed in the Corporate Finance Individual Case Study Event
The CTX students earned a total of ten awards at the conference. Over the course of only three years, the CTX DECA chapter has won nearly one hundred awards.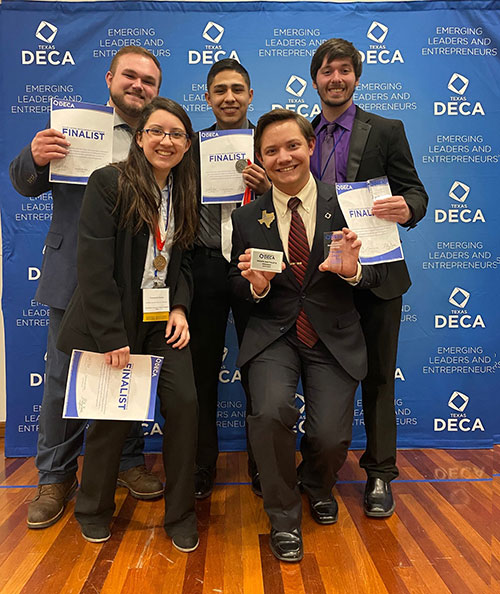 New Leadership Role
As Matthijetz ended his term as state president at the conference, Iversen was elected onto the 2020–2021 Texas Collegiate DECA State Officer Team as one of the five state vice presidents.
Iversen will work alongside the state advisors and the new state officer team to represent Texas Collegiate DECA at the international level. Additionally, he will help plan next year's state conference.
Recent Posts
Join us for these free virtual events in November, presented by Concordia's career center, Vocation & Professional Development.
Join us for the November 2020 Speaker Series, where Gay Gaddis, founder and author, will provide tips on how to succeed in business and life.
Concordia hosted a successful Homecoming and Family Weekend. Get a recap of the festivities.