Culture
,
Student-Stories
CTX English Major Launches the Brookdale Read-To-A-Resident Program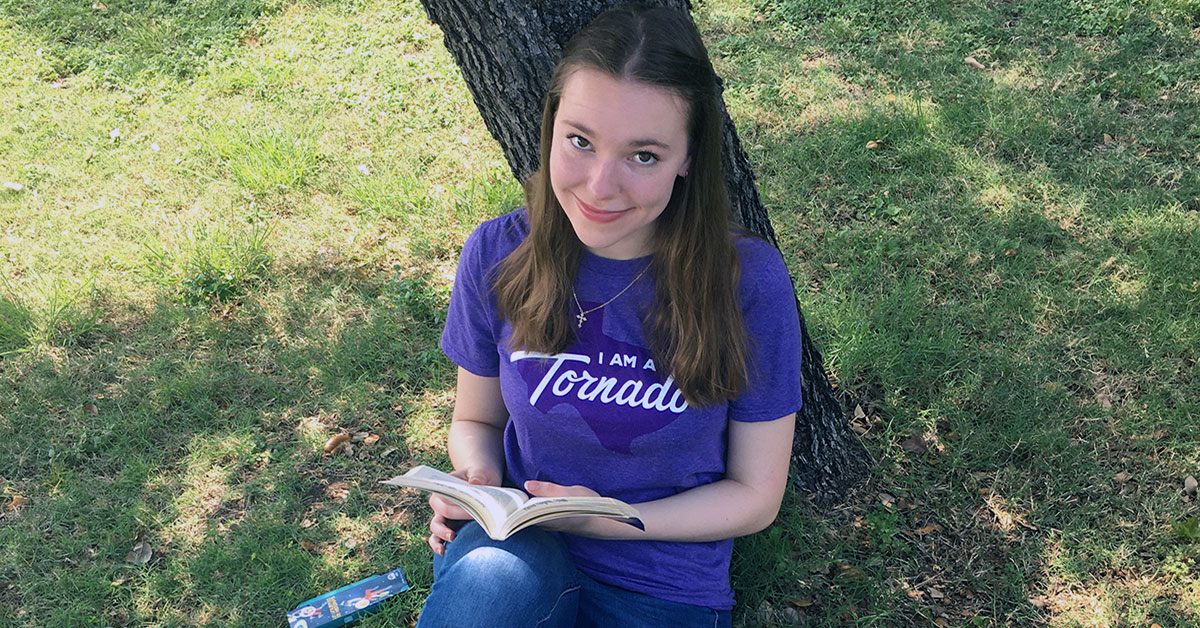 Victoria Leffers is a junior at Concordia University Texas who recently launched a successful virtual program that enables CTX students to continue serving a local assisted living facility during the pandemic. Through the Brookdale Read-to-a-Resident program, Leffers and other CTX students continue to build life-changing connections with the residents.
Choosing CTX
Leffers is from Harker Heights, Texas. When searching for colleges as a high school student, Concordia University Texas was her third choice. However, when touring the top-two universities, she didn't feel that either university was the right place.
At Concordia, she found the community she was seeking. "Everyone was so welcoming," Leffers said. "Those I talked to in the English department and the current students were kind and welcoming. It made me realize that this is where I wanted to be."
Another factor that helped solidify her choice to become a Concordia Tornado was that her sister, Anna Leffers, transferred to CTX. She is grateful to be roommates with her sister, especially during the pandemic.
Joining CTX as a freshman in 2019, Leffers quickly got involved on campus. She joined Service-Learning her first year, which is an organization that offers CTX students abundant volunteer opportunities to serve the local community. She also helps out with the Refuge, Concordia's student-led ministry, and is leading a life group this semester after participating in one her freshman year.
"My favorite part about Concordia is the community," Leffers stated. "I love being part of the Service-Learning community, the Refuge community, the English community. Concordia students are amazing in general. There's a level of mutual compassion and respect between everyone, and it's very inspiring."
A Passion to Serve Brookdale Residents
When she joined Service-Learning, Leffers volunteered with Brookdale Northwest Hills, an assisted living facility. Before the pandemic, she and other CTX students would visit and play games with the residents, getting to know many of them.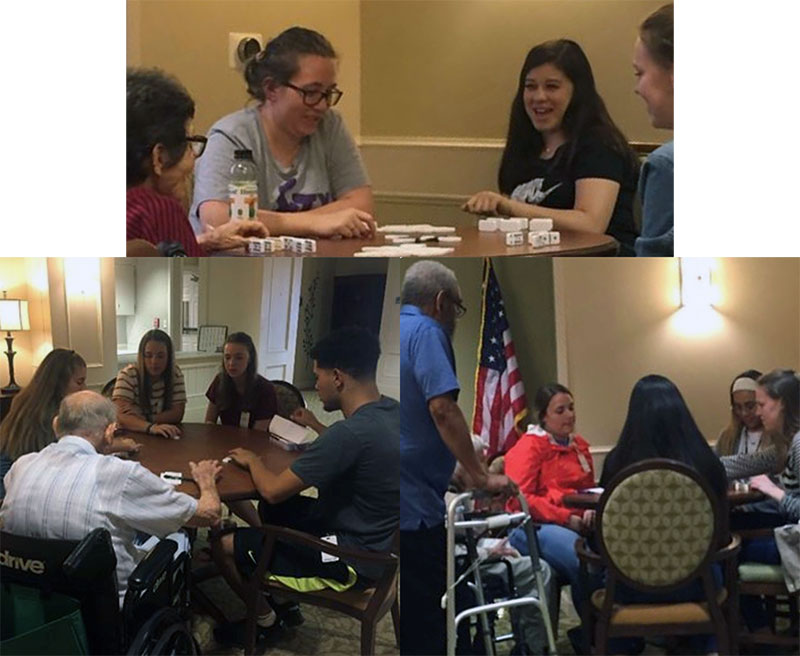 Leffers loved working with the residents, so when the spot to become the Brookdale Service-Learning leader opened up, Leffers applied and got the job.
She was immediately faced with challenges, however, when the COVID-19 pandemic began.
Overcoming the Challenges of the Pandemic
Because the residents at Brookdale are senior citizens, they are categorized as a high-risk community. When the pandemic hit, in-person visits to Brookdale stopped. So Leffers began thinking of ways to continue to support and encourage the residents.
"I wanted to make sure that we were still taking care of them," she said, "maintaining the connections we made with them. The main goal was to ensure that the residents have something to enjoy during the lockdown."
Leffers tried to create a virtual game night, but the facility didn't have enough staff to make it possible. Working with the Brookdale activities director to determine the best way to connect with residents, she learned that many of the residents enjoy listening to books being read aloud.
The idea of a reading program was born. "A reading program allows all of the residents who love reading, including those who may not be able to see, to enjoy reading," Leffers said.
She presented the idea to Dr. Ann Schwartz, a professor of Sociology and coordinator of the Service-Learning program. "Dr. Schwartz helped me get this program up and running," Leffers said. "She helped me think through logistics and other factors to consider."
In September, Leffers worked with Schwartz and Brookdale Northwest Hills to develop the program.
Brookdale Read-to-a-Resident Program
The Brookdale Read-to-a-Resident program launched in October 2020.
CTX students involved in the program record themselves reading a poem, short story, essay or chapter from a book. They introduce themselves to the viewers, read a selected piece and then sign off, typically wishing viewers a wonderful day.
During her internship at a local library, Leffers learned about the restrictions on books. Any material read must be from the public domain. That's why she uses — and encourages all CTX students to use — Project Gutenberg, which is a public domain that offers free e-books. "I love sifting through books, and this allows you to walk through a library virtually," she said.
All videos are sent to Leffers; she reviews them to ensure that the videos work well visually and that the residents will be able to understand the readers. Students make any necessary changes to the videos, and Leffers uploads them as unlisted videos to the CTX Service-Learning YouTube channel. She then sends the links to Brookdale staff, who can play the videos for the residents.
The videos offer a variety of genres, and each resident chooses what they want to hear. The Brookdale activities director told Leffers that the residents have thoroughly enjoyed the program.
This project is ideal for Leffers because she loves reading. She is currently reading "Emma" by Jane Austen to the residents and discovered that one woman looks forward to hearing each chapter. "It makes me happy to know that someone is enjoying the story along with me," she said.
In December, Leffers delivered Christmas cards that CTX volunteers made for the residents, and she created additional videos for residents to enjoy over the Christmas break.
Now, the Brookdale Read-to-a-Resident program is happening once again, and all CTX students are invited to get involved.
How You Can Join the Brookdale Read-to-a-Resident Program
Leffers encourages students to participate in the program. She's anxious for the program to grow and for students to add an even greater variety of genres from which the Brookdale Northwest Hills residents can choose.
If you're interested in joining the program, please sign up through Concordia Service-Learning's GivePulse page. You can also view upcoming opportunities to submit a video and full instructions for the Brookdale Read-to-a-Resident program on Presence.
Concordia University Texas congratulates Leffers and the Service-Learning team on a successful new program!