Concordia University Texas Expands Accelerated Nursing Program Track to Dallas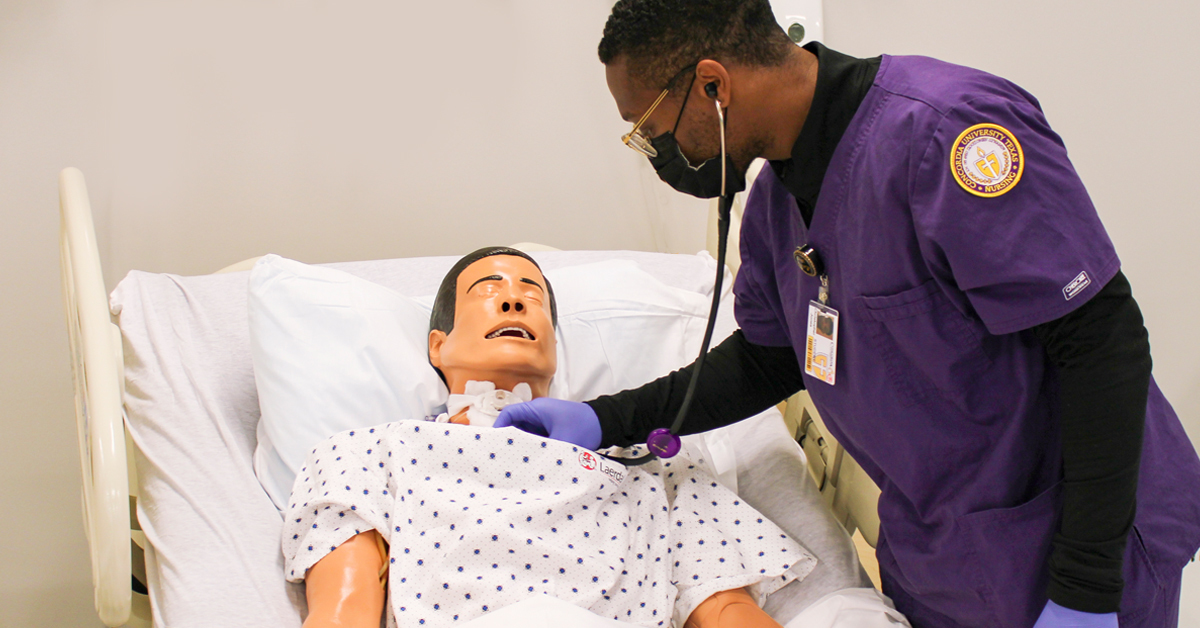 The United States faces a critical shortage of registered nurses (RNs). Did you know that Texas is projected to have the second-largest nursing shortage in the country?
Concordia University Texas is working to help solve this problem by expanding its successful accelerated nursing program track to Dallas.
Here's the Problem: A Severe Nursing Shortage
The U.S. Bureau of Labor Statistics estimates the need for 1.1 million new RNs by 2022 to meet demand. The Texas Center for Nursing Workforce Studies projects the number of unfilled nursing positions in Texas to grow to nearly 37,000 by 2025 and 57,000 by 2032.
What has caused the shortage? It's a multitude of reasons, and one of the most impactful factors is the lack of nursing programs to train students.
"What many people don't know is that despite this looming shortage, many university nursing programs are turning students away," said Dr. Amber Shammas, the senior director of Concordia's College of Health Sciences.
More than 80,000 qualified applicants were turned away from college and university nursing programs nationwide, according to the American Association of Colleges of Nursing (AACN). Why? The AACN cites the lack of nursing faculty, clinical placements, and space as the primary reasons.
How Concordia's Accelerated Nursing Track Helps Solve the Nursing Shortage
The University recently launched the Concordia University Texas Nursing Satellite Campus in Austin, Texas, for the Accelerated Bachelor of Science in Nursing (ABSN) track. By expanding the ABSN track to Dallas, Concordia will equip even more aspiring nurses to enter the field sooner.
The 16-month program combines rigorous online curriculum with hands-on simulation labs and clinical rotations with esteemed healthcare partners in the Dallas area. The program is designed for adult learners who have at least 60 non-nursing credit hours and a passion for helping others.
"It's a win-win for students and the industry," said Dr. Donald Christian, the president of Concordia University Texas. "Our innovative and hands-on curriculum enables adult learners to find their calling in a rigorous program that fits into their schedules while filling the pipeline with the next generation of nurses."
High-Quality Nursing Education
Concordia's Bachelor of Science in Nursing program on campus boasts a 95.24% student pass rate on the National Council Licensure Examination (NCLEX-RN), the exam that grants individuals registered nurse licensure. ABSN students will receive the same high-quality education and training.
Launching the First Dallas Accelerated Nursing Cohort
The Concordia University Texas Dallas Nursing Extension Site will welcome its first cohort of students in January 2022. Prospective ABSN students must have either a bachelor's degree in a field outside of nursing or 60+ non-nursing college credit hours.
Accredited Nursing Program
The Concordia Nursing program meets the approval of the Texas Board of Nursing, and the BSN is accredited by the Commission on Collegiate Nursing Education. The University's BSN and ABSN program tracks prepare students to sit for the NCLEX-RN.
Join Concordia's ABSN Program in Dallas
The new nursing extension site is conveniently located in Farmers Branch, Texas, a city within the Dallas-Fort Worth metroplex. Concordia's ABSN Dallas Nursing extension site will provide real-world experience that helps students build confidence and ensures they have the necessary skills to become nurses.
The state-of-the-art interactive site totals 19,000+ square feet and provides hands-on learning through simulation and skills labs. Nursing students use the same high-quality equipment they will encounter in the workplace.
Students will practice and apply the nursing skills they learn online at the new facility. During the simulation labs, students will work through different patient scenarios based on patient details and symptoms. Unexpected events frequently occur during the simulations, challenging students to respond accurately and efficiently in a fast-paced healthcare environment.
Accelerated nursing students will also apply their knowledge and skills during clinical rotations in partnership with top local hospitals and healthcare facilities.
"Our goal is to give every student access to a quality nursing education while training the next generation of nurses to care for our community," said Tonya Ward, the director of Concordia's Undergraduate Nursing Program.
Why Choose Concordia's Accelerated Nursing Program in Dallas?
You'll have plenty of job opportunities in the Dallas-Fort Worth metroplex.
As one of the major healthcare hubs in Texas, the DFW area is home to multiple nationally renowned healthcare organizations and facilities and employs about 60,000 registered nurses.
Through Concordia's accelerated nursing track, you'll enter the workforce sooner without sacrificing a high-quality education. The CTX ABSN offers:
Flexibility through hybrid (in-person and online) coursework

Hands-on practice through simulation labs

Clinical rotations at top area hospitals and healthcare facilities

Experienced faculty

Three start dates per year (January, May, and August)