Tornado Puts on Largest Youth Retreat in CTX History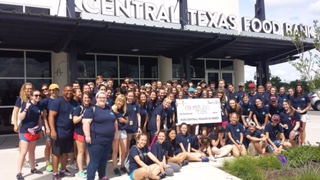 Tornado Emily Hill, a senior, organized the largest Missional Youth Retreat in CTX history this past summer. Eighty students from across the state, as well as a few from Colorado and Tennessee, came to campus for a week of service, worship, learning and exploring vocation and mission.
"Planning it took a lot of work," Hill said. "I spent the whole school year planning, but the key to making it the largest to date was starting the planning process early and reaching out to churches, nonprofits and Austin area businesses early."
She also had to make sure she continued the communications with the various entities throughout the year.
"I learned a lot about planning and executing a large event," she said. "I also learned the power of using your resources and those around you. But what I learned the most is how God can use people of all ages, and events such as this, to really glorify Him and show others Christ's love."
Throughout the week, the retreat served organizations all over the greater Austin area. They prepared meals for the homeless through Central Texas Food Bank, they helped clean up Concordia's Tornado Trail, they played beanbag baseball with the residents at Wesleyan Assisted Living, they worked on Faith Lutheran Church's campus, they played games and did yard work with the disabled at the Marbridge and they prepped meals for the Boys & Girls Club of Georgetown.
"I actually got to attend a Missional Youth Retreat when I was in high school, so when I was asked to be the director of it my junior year here at CTX, I was very excited," Hill said. "What motivated me was all of the students who would be coming. It was something that was really impactful for me before, so I was excited to organize that for others with my own twist on it."
Her professors, Dr. Jacob Youmans and Dr. Grant Carey, helped her organize the event. She also received assistance from members of Concordia's Admissions' team. While the retreat was taking place, Concordia students volunteered as counselors for the week.
"When students weren't serving, they were at worship in the morning and at night, participating in small group time or participating in our nightlife events, such as Main Event, our own tournament game night (knockout and dodgeball) and the Galaxy Moviehouse & Eatery," Hill said.
The theme of the retreat was "to the ends of the earth."
"Meaning no matter where God calls you in life, no matter what job you are doing or who you are around, always spread, show and live out the love of Jesus," Hill explained.
Hill is a DCE major with a minor in Behavioral Science.