Student-Stories
CTX Student from South Africa Makes Most of Liberal Arts Education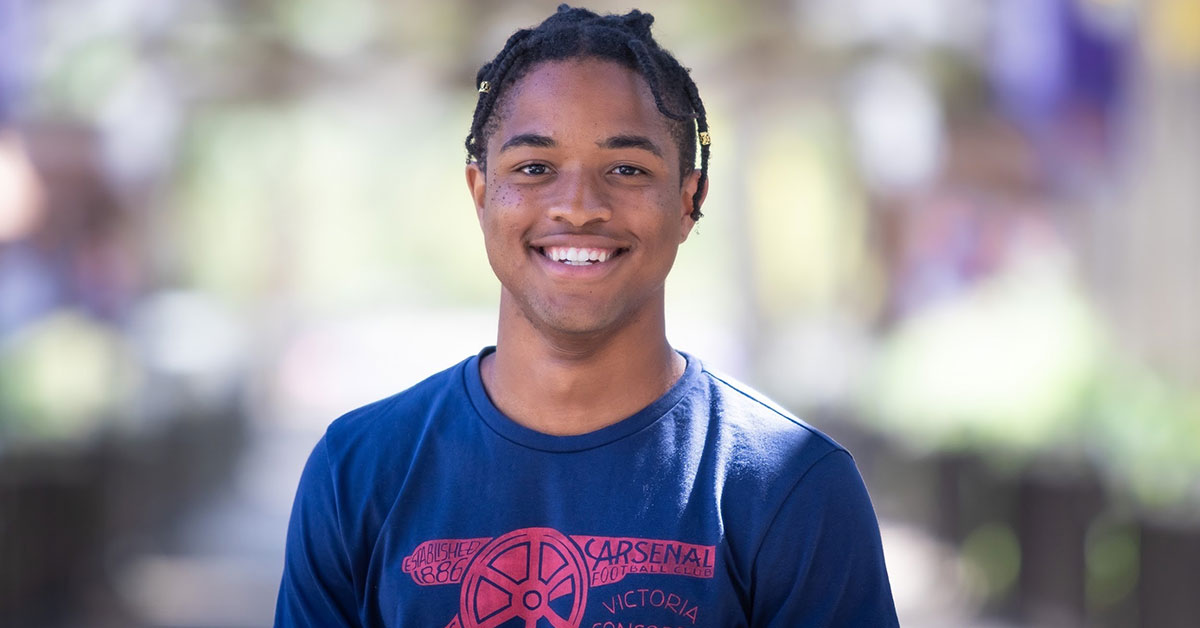 Concordia University Texas is home to students from all over the world. Sibonelo Shezi, a senior English major, is from South Africa, and he is actively involved at CTX. He shows us the value of Concordia's liberal arts education.
Houston to South Africa
Shezi was born in Houston, and he and his family moved to South Africa when he was in second grade. He grew up in Orange Grove, which is a suburb of Johannesburg, South Africa.
Beautiful trees line the street on which he grew up. In the fall, purple flowers from the trees blanket the streets. Johannesburg has more than 10 million trees and is known to have the largest man-made forest in the world. He misses his family, the weather and the food the most.
Coming to Concordia
While playing soccer at a showcase in Florida, Shezi was recruited to play at St. Andrews University in North Carolina. He then transferred to Richland College in Dallas, where his aunt and uncle live.
One of the friends he made on the soccer team connected Shezi to former CTX head soccer coach Corey Miller. After a transition in the CTX men's soccer team, he then worked with current head soccer coach Nick Mims to transfer. Concordia's campus, which is covered with trees, reminded him of Johannesburg and was a factor in his decision to transfer to CTX in 2017.
His favorite thing about Concordia is the personalized attention the University offers. "The small class sizes allow you to talk to your professors," he said. "I really like talking to my professors because they're smart, and I learn from them."
Over Christmas break, Shezi got to go home for the first time in four years and see his family and friends. One of Shezi's friends, Mxolisi, has a YouTube channel for funny skits he develops. While he was there, Shezi starred in a few of the videos.
The Value of Liberal Arts
Shezi is leveraging the value that Concordia's liberal arts education offers students — the opportunity to learn about a variety of disciplines and develop a wide range of skills.
As an English major and Theatre minor, Shezi has developed skills in both disciplines. "I wanted to submerge myself in theatre and learn what it takes to put a production together," he said. Shezi performed in CTX Theatre's fall 2019 production of Goodnight Juliet (Good Morning Desdemona), playing the roles of Othello and Tybalt.
Shezi is also a member of the Black Student Union at Concordia. While soccer practice typically conflicted with BSU meetings, Shezi has been able to attend the meetings his senior year. The student organization hosts events throughout the semester, such as movie night and karaoke night.
Concordia's location in Austin, a creative hub, has provided Shezi with the ability to gain valuable work experience and put the skills he's acquired into practice. He is serving as a media intern this spring at the Public Utility Commission of Texas. He uses his skills to write public relations content and produce engaging videos.
Graduation Plans
Graduating in April, Shezi wants to work in entertainment. He is interested in learning more about the various roles that go into producing entertainment. "I don't want to limit myself," he said. "I want to learn how to direct and be a videographer, and I want to act."
He's also interested in playing soccer at the professional level, and he has valuable connections to professional opportunities.
Advice for CTX Students
Shezi encourages students to learn how to manage their time wisely. "You can be part of groups and get involved on and off campus if you manage your time," he explained. "Do your homework when it's due or before it's due so that you can have time to get involved."
He also advises students to read more. "By reading books, you can learn many life lessons through the various experiences of different characters," he said.
We congratulate Sibonelo Shezi on his upcoming graduation, and we're excited to see how he takes the world by storm.