CTX 101: History of Concordia University Texas Mascots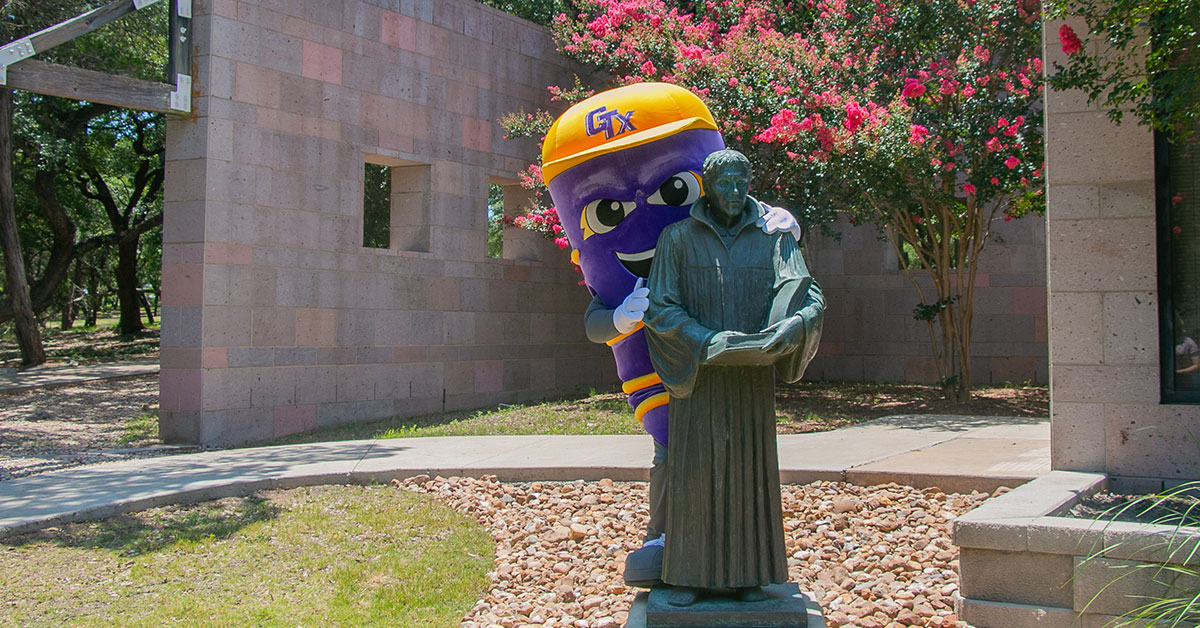 Written By: VorTex
Woosh, Tornados! It's me, VorTex. Did you know that I'm the fourth mascot to represent Concordia University Texas? We've been the tornados for nearly 25 years, which is the second-longest serving mascot in our University's history.
I put together a history of the Concordia mascots, which was a challenge because it's really hard for me to sit still! But I would do anything for the Concordia Tornados.
The Outlaws
The Lutheran Concordia College of Texas was established in 1926 as a high school to prepare young men for seminary and mission work in the Lutheran Church-Missouri Synod (LCMS).
The very first day of class was on October 26, 1926, on a campus in downtown Austin. At the time, the campus was on the outskirts of the city, and the school had just 26 students.
For the first ten years, Concordia competed as the Outlaws, wearing orange and black uniforms.
Years of Mascot: 1926–1936
President: Rev. Dr. Henry Studtmann
The Cardinals
In 1936, Concordia adopted a new mascot and became the Cardinals. By this time, seven classes of young men graduated, and the school survived its most difficult time during the Great Depression. "It was only by the grace of God that Concordia survived at all," President Studtmann said.
The Memorial Gymnasium was built in 1948, providing the perfect place for the Cardinals to compete in sports. It was dedicated to the men in the Texas District who died fighting in WWII.
Years of Mascot: 1936–1951
Presidents: Rev. Dr. Henry Studtmann, Rev. Dr. George Beto
The Stags
Concordia became a junior college in 1951 while maintaining the high school program, and the Stags became the new mascot for the college students. However, the Cardinals remained the mascot of the high school until it was disbanded in 1967.
Throughout the reign of the Stags mascot, Concordia continued to transform:
Women first admitted in 1955
Multiple buildings added, including Birkmann Memorial Chapel and Studtmann Hall
Concordia accredited and became Concordia Lutheran College in 1965
Concordia became four-year baccalaureate college in 1980
Years of Mascot: 1951–1995
Presidents: Rev. Dr. George Beto, Rev. Dr. Samuel Goltermann, Rev. Dr. Walter Rubke, Rev. Dr. Paul G. Elbrecht, Rev. Dr. Ray Martens, Rev. Dr. David Zersen
The Tornados
Concordia officially became a university in 1995 and changed its name to Concordia University in Austin. The school also adopted a new mascot - the Concordia Tornados.
Many exciting things have happened since I wooshed onto campus.
Name changed to Concordia University Texas in 2007
Moved from original downtown Austin campus to Northwest Austin campus in 2008
Tornado Softball Field opened in 2016
IncubatorCTX opened in 2017
Concordia athletics teams have won total of 10 ASC Championships
Concordia became Hispanic-Serving Institution (HSI) in 2019
Concordia Esports added to varsity athletics in 2019
Official University Colors: Purple and Gold
Presidents: Rev. Dr. David Zersen, Dr. Thomas Cedel, Dr. Donald Christian