Join IncubatorCTX for Coffee & Coworking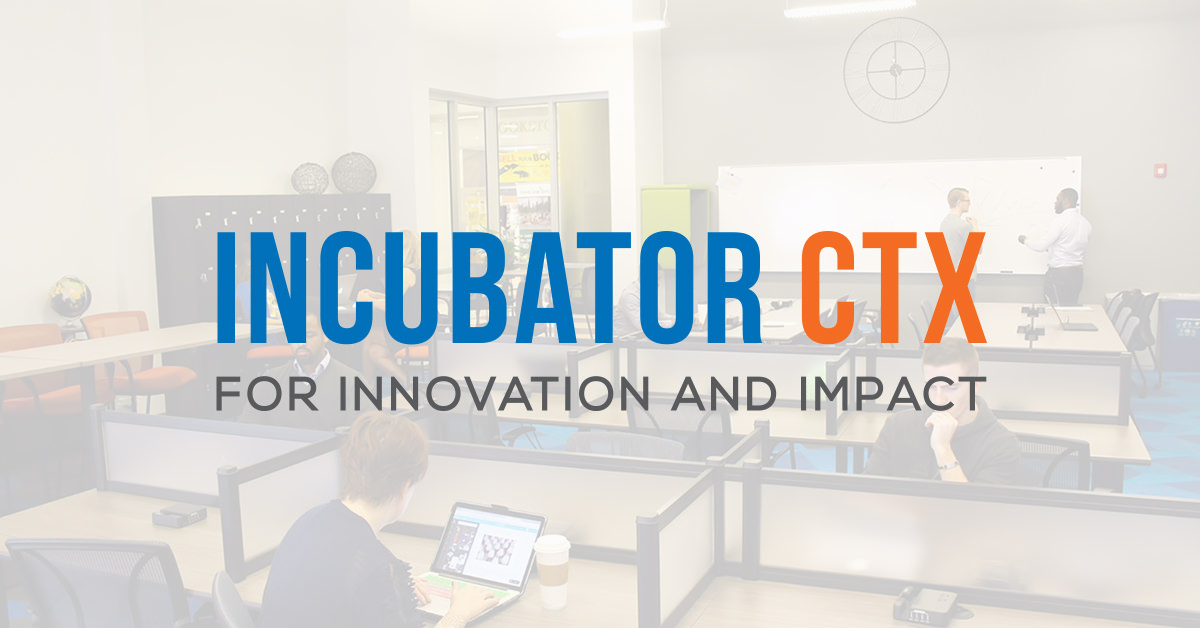 Written by IncubatorCTX Director Kristin Spindler and Intern Lauren Barton
IncubatorCTX's Coffee & Coworking provides you access to a fully equipped coworking space and free coffee from Summer Moon Coffee every Monday and Wednesday in June from 9 a.m. to 5 p.m.
Free Day of Coworking: Wednesday, June 2, 2021
Join us on Wednesday, June 2, for a free day of coworking at IncubatorCTX to see if Coffee & Coworking works well for you.
IncubatorCTX will be open on June 2 from 9 a.m. to 5 p.m. Drop in to check us out. No RSVP is required. Based on Concordia's regulations, social distancing will be in place, and you will be required to wear a mask inside.
Talk with our mentors, students, and faculty while sipping your Summer Moon brew.
Lauren Barton

CTX Student and IncubatorCTX Social Media and Marketing Intern

9 a.m.-1 p.m.
Prashant Joshi

Mentor and Leadership Coach

2 p.m.-4 p.m.
Elizabeth Quintanilla

Mentor and Marketing Expert

10:30 a.m.-12 p.m. and 1 p.m.-2 p.m.
Kristin Spindler

IncubatorCTX Director and Assistant Professor

9 a.m.-11 a.m. and 12 p.m.-4 p.m.
Other June Coffee & Coworking Dates: $150 per person
Coffee & Coworking takes place from 9 a.m. to 5 p.m. every Monday and Wednesday in June:
Monday, June 7

Wednesday, June 9

Monday, June 14

Wednesday, June 16

Monday, June 21

Wednesday, June 23

Monday, June 28

Wednesday, June 30
Register for Coffee & Coworking
In partnership with Summer Moon Coffee, IncubatorCTX will provide you with delicious free coffee. Summer Moon Coffee roasts its organic coffee beans over Texas oak, which gives the coffee a one-of-a-kind flavor. Located across the street from campus, Summer Moon Coffee is a Concordia favorite.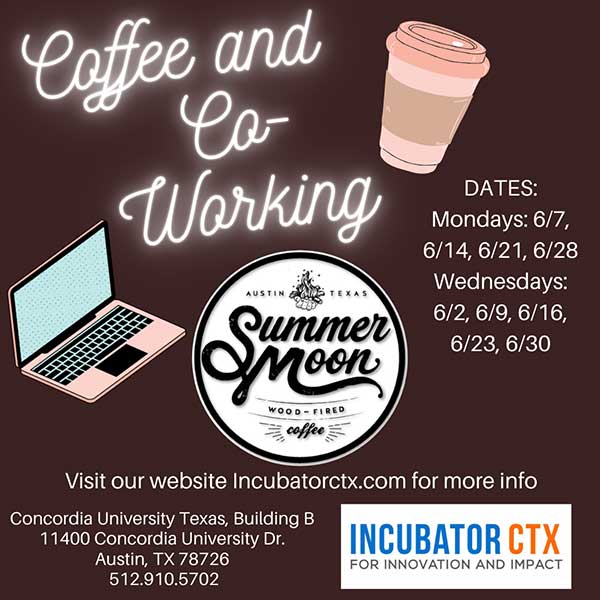 Meet Our Mentors
One of the greatest benefits members of IncubatorCTX enjoy is access to our network of mentors.
Throughout June, different mentors will come to IncubatorCTX. They offer incredible insights into a range of topics, from funding and pitch development to marketing and growth strategies.
We encourage you to bring your lunch and enjoy it at one of the many outdoor eating spots on campus.
About IncubatorCTX
IncubatorCTX is an entrepreneurial hub situated on the beautiful 440-acre Concordia University Texas campus in Northwest Austin. Its convenient location off of RM 620 provides you easy access to all parts of Greater Austin.
IncubatorCTX helps startups and early-stage companies grow and succeed by providing a fully equipped coworking space and support from our team of mentors who offer expertise in a variety of industries.
Whether you're looking for a place where you and your entire team can work, IncubatorCTX provides spaces that facilitate innovation, collaboration, and productivity.
Ask about our private offices, too — perfect for your startup as it scales.