IncubatorCTX Speaker Series: How to Succeed in Business & Life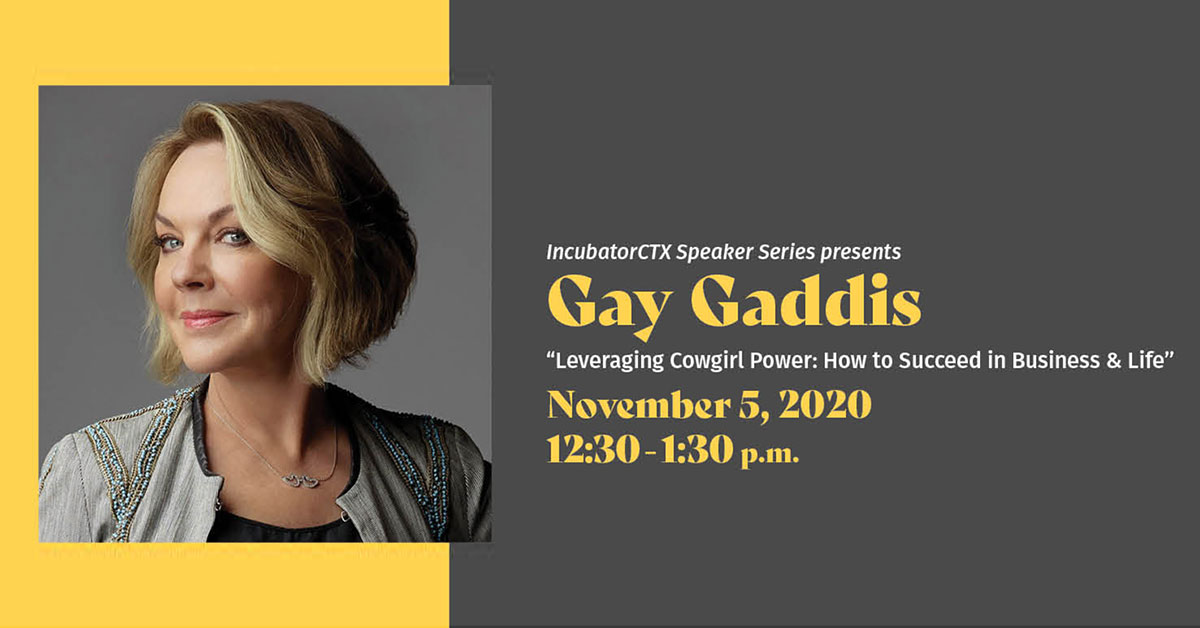 [Written by Kristin Spindler, Director of IncubatorCTX]
IncubatorCTX will host Gay Gaddis, a businesswoman and author, for the November Speaker Series at Concordia University Texas. We invite you to join us via Zoom for the free webinar, where Gaddis will share tips from her book.
Leveraging Cowgirl Power: How to Succeed in Business & Life
On Thursday, November 5, at 12:30 p.m. - 1:30 p.m., Gay Gaddis will share tips on how to succeed in business and life, drawn from her book, "Cowgirl Power: How to Kick Ass in Business & Life."
About Gay Gaddis
Gaddis founded T3, an innovative digital and marketing agency that rose to national prominence under her leadership of 30+ years. In 2019, the company was acquired by the LRW Group. She has received multiple awards, including Fast Company's Top 25 Women Business Builders, Inc. Magazine's Top 10 Entrepreneurs of the Year and The Committee of 200's Luminary Award for Entrepreneurial Excellence.
In addition to her entrepreneurial work, Gaddis is a published author and regularly contributes to Forbes and part of Fortune's Powerful Women Insider Network. She is also an artist, and her paintings have appeared in several prestigious galleries across the country.
She is the first female chairman of the Texas Business Leadership Council, and she serves on the Board of Directors of the Texas Cultural Trust and The University of Texas' alumni association, Texas Exes.
Gaddis and her husband, Lee, own and operate the Double Heart Ranch in the Texas Hill Country, which is a working cattle ranch that sells Texas Longhorn cattle to breeders across the country. Their most recent addition to the ranch is Fossil Ridge Creative Center. The center is a venue for thinking, creativity and collaboration.
Why You Should Attend
You have the opportunity to hear direct insights from someone who is an entrepreneur, author, artist and leader. With 30+ years of business experience and her continual pursuit of creativity, Gaddis will provide you with valuable advice.