Music
,
Academics-Fine-Arts
Inspiring Musical Journeys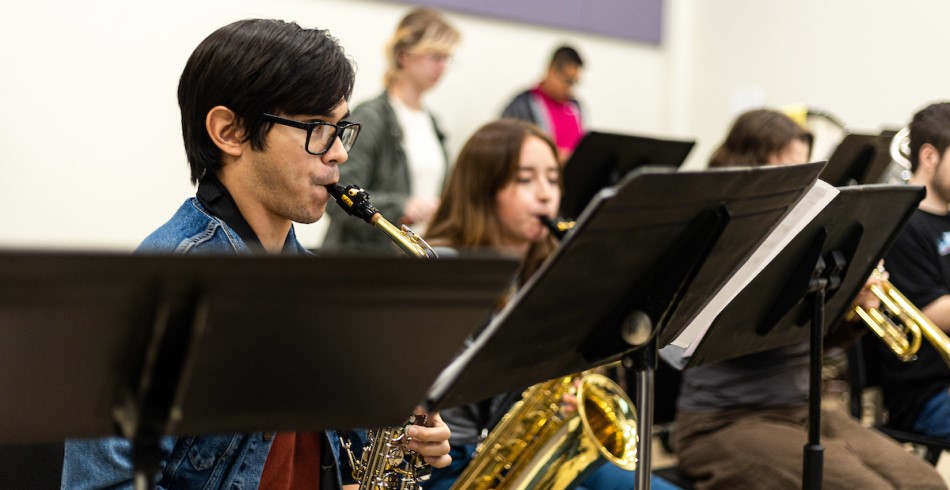 At Concordia University Texas students have the opportunity to take part in a variety of co-curricular activities that shape their college experience. One of those many opportunities is the ability to participate in Concordia Texas's Music Department. Dr. Whitney Crowley leads the music department at Concordia Texas, holding positions as a Music professor, Music Department Chair, and Symphonic Winds Director.
"The Concordia University Texas Music Department empowers students of all backgrounds to think critically, demonstrate compassion, and lead courageously through music and all that creating music entails" Crowley said.
As Chair of the Music Department, Dr. Crowley creates a modern & relevant music curriculum under twenty-first century standards. "My purpose is to show students how music can develop their minds, hearts, souls, and bodies to prepare them for lives of service," Crowley said.
Community Engagement
The impact of Dr. Crowley and the Concordia Texas music department goes beyond the University, seeking opportunities for students to learn from music professionals and bridging the gap between academics and real-world experiences. Students in the music department have performance opportunities throughout the Austin community, across the nation, and internationally.
Christmas at Concordia
Join the community of Concordia University Texas for Christmas at Concordia, celebrating the birth of our Savior through scripture and song. The concert will include a series of scripture readings narrating God's story of salvation, surrounded by the music of the university choral and instrumental ensembles. All are welcome to join us at this annual musical event!
Learn More
Personalized Support
Students in the music department at Concordia Texas enjoy small class sizes, allowing them to develop personal relationships with their professors. In addition to developing relationships, our small class sizes also allow for customizable learning paths for our students. "Everyone learns differently. As a professor at Concordia Texas, I have the opportunity to learn about my students so I can develop a learning path that suits them best. I challenge my students to achieve their goals, but also shape their learning path in a way that students have smaller milestones along the way to the overall goal," Crowley said.
A Tool for Change
Music serves as a powerful tool for change, connecting with an individual's heart, mind, body, and soul. Whether through singing in a chamber choir or playing an instrument, students have the opportunity to express their creativity, share their talents with others, and make an impact on their communities. By participating in community performances, students share their gifts of music with groups across the country and make connections with audiences through music.
The Concordia University Texas Music Department welcomes all students to participate in one of our many music programs. To get involved email music@concordia.edu to set up an audition or to request more information.