Join Us for CTX Town Hall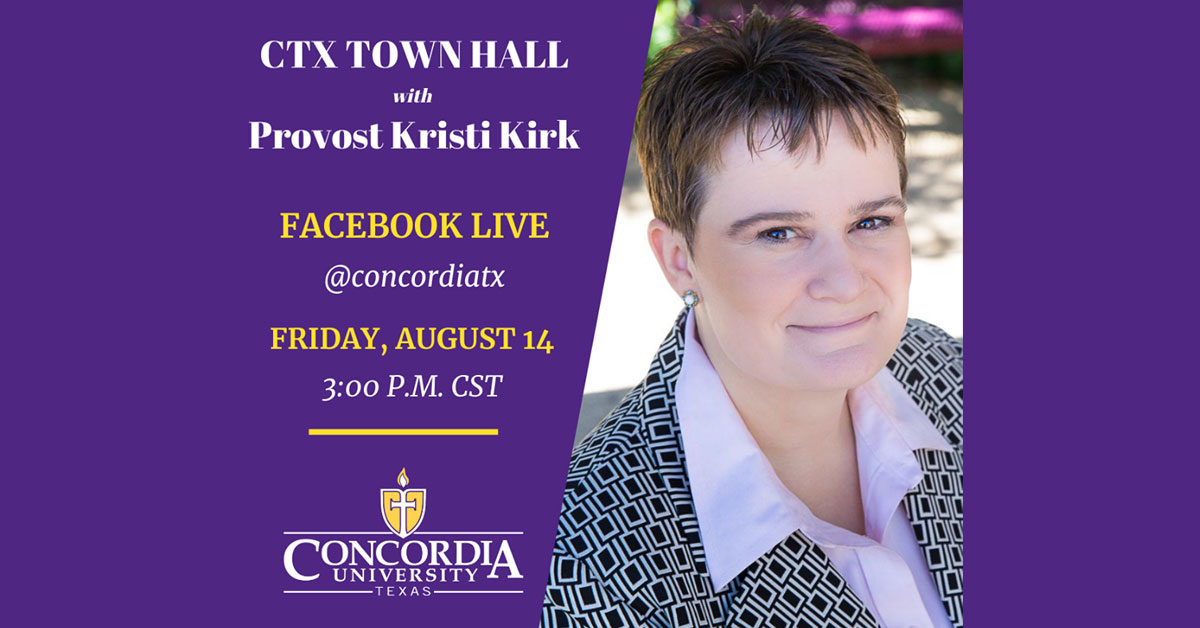 We invite students, parents, families and community members to virtually join Concordia University Texas on Friday, August 14, for the CTX Town Hall. Dr. Kristi Kirk, the provost and executive VP of Concordia University Texas, will host the event and answer your questions.
About CTX Town Hall
When: Friday, August 14
3 p.m.
Where: CTX Facebook Live
This is a wonderful opportunity for you to ask any questions you have about Concordia University Texas and its plans for the Fall 2020 semester. Kirk will address the campus community and answer questions regarding campus updates and changes.
We invite you to participate! Join us on Facebook Live, and simply type in your question during the online event.
Fall 2020 Planning
CTX plans to reopen campus for the Fall 2020 semester while maintaining the flexibility to shift to fully online classes if necessary.
Classes at the 3000 level and above will only meet virtually until Monday, September 14. Classes at the 1000 and 2000 levels will employ the Hybrid-Flexible (HyFlex) learning model, which allows you to choose how you learn in each course — in person or online.
Recommended safety protocols are in place on campus. In addition to increasing the cleaning processes, CTX requires all students and employees (when not alone in their offices) to wear masks, and the classrooms have been reconfigured to allow for social distancing.
Stay Informed with the Latest Information
The University is continually monitoring the developments of COVID-19. The safety of our students remains our primary priority, so we will make decisions that ensure the health and safety of our community with as little disruption as possible to the lives of students.
All of the latest updates and announcements regarding the pandemic's impact on Concordia University Texas are located on the COVID-19 Information page.