Campus-News
The Texas Smoke partners with Concordia University Texas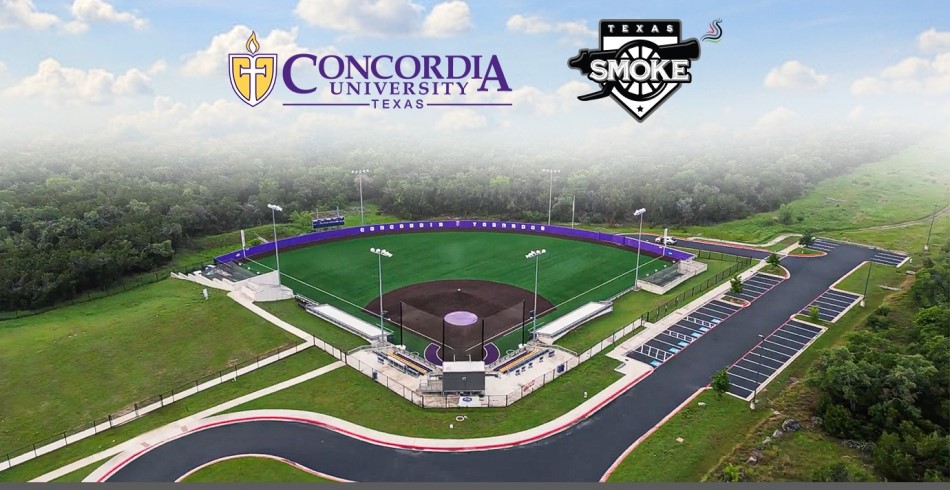 Austin's new pro sports team will play at Concordia's world-class facilities, the Roberts Family Field at Concordia University Texas
AUSTIN, Texas (April 13, 2023) – The Texas Smoke, Austin's newest professional women's sports team, is excited to announce a partnership with Concordia University Texas for use of Concordia's softball field, the Roberts Family Field at Concordia University Texas. The professional women's fastpitch team is eager to kick off their inaugural season at Concordia's high class facilities.
The Texas Smoke and Concordia University's partnership will be highly collaborative, with plans to host joint game day experiences throughout the season, including tailgates before each game. Both organizations are committed to creating a family-friendly atmosphere and welcoming Austin's sports-loving community to their games.
"I knew from the start we needed a top-tier professional facility and environment for our players," says Brandon Phillips, owner of the Texas Smoke and World Series Champion (Boston Red Sox, 2018). "After meeting with the Concordia team, I knew they were the best partner to provide a home for our inaugural season."
"We are thrilled to welcome The Texas Smoke to Concordia University Texas," says Dr. Donald Christian, President & Chief Executive Officer of CTX. "We are proud to support a team providing a platform for professional women's sports. We hope their presence on our campus will inspire our students and the wider community to pursue their passions and break down barriers. We cannot wait to see what The Texas Smoke accomplishes and look forward to cheering them on!"
"We can't wait to welcome the Austin community to our campus to support Austin's new women's pro sports team!" adds Beth Atherton, Sr. Vice President External Affairs.
Starting on June 15, fans can attend The Texas Smoke's home games at Concordia University Austin, located in northwest Austin at 11400 Concordia University Dr. For more information and for the 2023 season schedule, visit www.thetexassmoke.com.
About The Texas Smoke
The Texas Smoke is Austin's second professional sports team in Austin and the fourth franchise in Women's Professional Fastpitch (WPF). Coach Tori Tyson coaches the Texas Smoke. Their current roster includes Janae Jefferson, AnaMarie Bruni, Ciara Bryan, Jordan Dail, Marta Gasparotto, Morgan Howe, Alyssa Rivera, Samantha Show, Shelbi Sunseri and Sahvanna Jaquish. For more information, visit thetexassmoke.com.
About Brandon Phillips and Jade Cargill, owners of The Texas Smoke
Brandon Phillips is a World Series Champion (Boston Red Sox, 2018). He has 17 years of major league experience playing for the Cleveland Indians, Cincinnati Reds, Atlanta Braves, Los Angeles Angels and Boston Red Sox. Phillips is a 3-time MLB All-Star, 4-time Gold Glove winner, Silver Slugger Award winner, 30-30 Club Member, and is currently an MLB Hall of Fame candidate. Professional wrestler and serial entrepreneur Jade Cargill is signed to All Elite Wrestling (AEW), where she is the inaugural and current AEW TBS Champion. Her ongoing reign is the longest reign of any AEW championship over 400 days.
About Concordia University
Concordia University Texas (CTX) is Austin's leading Christian University, offering dynamic and dialogue-centered liberal arts undergraduate, graduate, and doctoral programs in a caring and personalized learning environment. CTX is located in thriving and growing Austin and offers courses online and on its scenic, 400+-acre nature-preserve campus. Concordia is committed to providing higher education opportunities to students of all backgrounds and being a place where the adventure of faith, learning, and life-changing experiences leads to meaningful work.
Media contact:
Shelby Janner
Zilker Media
shelby@zilkermedia.com
512.298.4081 x702
Sponsorships contact:
Nicole Osibodu
Community Factory
nicole@thecommunityfactory.com
619.368.9527