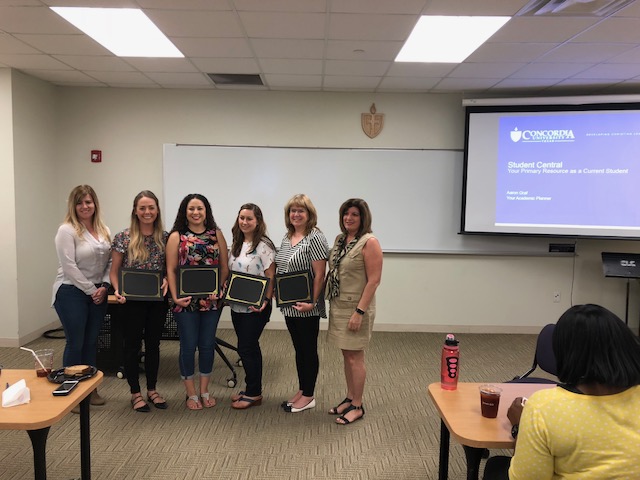 MBA alumna, Missy Pope, funded an MBA scholarship called the Pope Consulting Scholarship for Fall 2018 MBA students enrolled in the School Finance and Operations concentration (SFO).
"In school district business, a degree can get you in the room, but an MBA will help get you heard," Pope said. "The MBA-SFO won't be easy, but I promise you it is worth it."
The four recipients of the scholarship, Morgan Allen, Amanda Mendez, Kelsey Ramos and Kimber Fuccello are grateful for the support.
"I really enjoyed the orientation for the MBA TASBO Cohort program," Mendez said. "It was great to meet everyone that I will be joining the program with, and to interact with each and every one of them. It helped ease my nerves going into the program. I'm also honored to have received the Pope Consulting Scholarship."
Allen, also excited for the aid from the scholarship, is excited to get started on her MBA here at Concordia.
"I am thankful for the orientation because I was able to meet the other students that I will be working and learning with," Allen said. "I am looking forward to furthering our education as a cohort."
The SFO concentration is designed for those aspiring to take on leadership roles in the central office of an educational setting. Aside from the core MBA courses, students take four specialty courses specifically tailored for the K-12 education environment.
Field work components will be embedded into the courses giving students observational knowledge of how school districts function.
An SFO is valuable and marketable as it is recognized in more than 1,000 Texas K-12 school districts. Find out about our MBA events here.
Recent Posts
Join us for the November 2020 Speaker Series, where Gay Gaddis, founder and author, will provide tips on how to succeed in business and life.
Concordia hosted a successful Homecoming and Family Weekend. Get a recap of the festivities.
Join CTX alumna Kassi Kincaid and her Book Days team as they tour the Concordia Preserve.