Register for CTX Homecoming & Family Weekend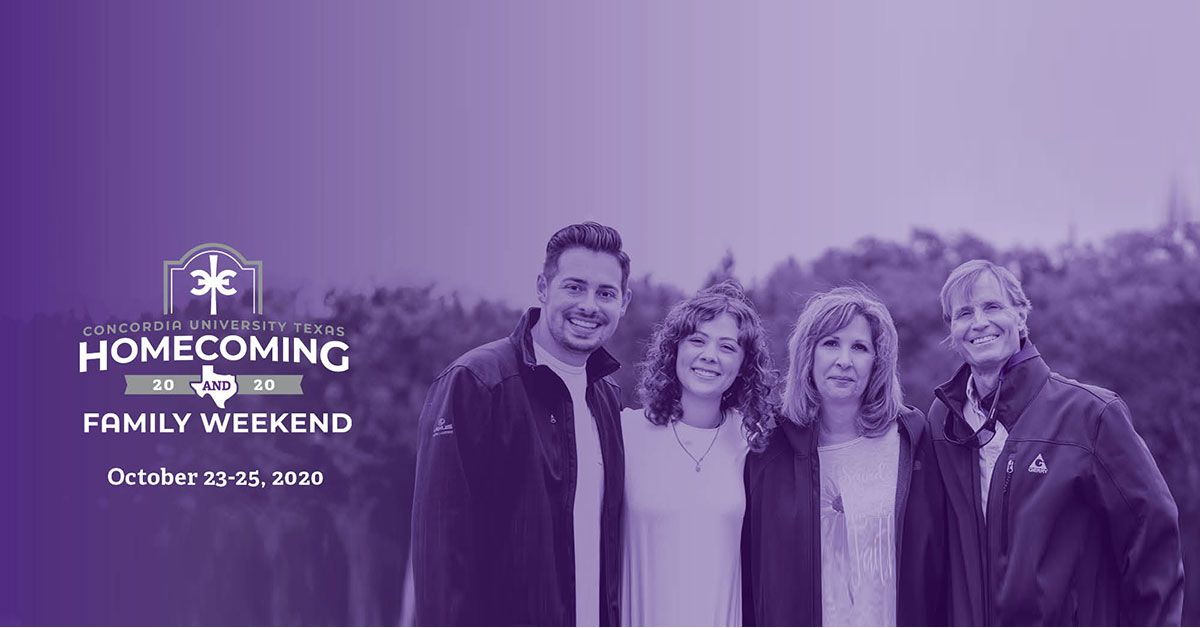 You're invited to join us for the Concordia University Texas Homecoming & Family Weekend. This annual reunion event features fun activities designed for alumni, families, friends, and current and prospective students.
When & Where?
Concordia's Homecoming & Family Weekend begins Friday, October 23, and runs through Sunday, October 25.
Because of COVID-19, events will be Hybrid-Flexible (or HyFlex), combining in-person options at Concordia's campus with virtual components.
Events
There are events designed for everyone during the Homecoming & Family Weekend, whether you join us in person or online.
Day

Events (In Person, Virtual or Both)

Friday, October 23

Preserve Tours (In Person)

Campus Worship (Both)

Pluckers Trivia (Both)

Saturday, October 24

Walk & Woosh (Both)

Trunk or Treat Photo Op (In Person)

Virtual Alumni Mixer (Virtual)

Drive-In Movie (In Person)

Sunday, October 25

Concordia Sunday: Messiah Lutheran Church (Virtual)
Online-Only Events
A couple of the events will be online only: the CTX Basketball Showcase and the Virtual Alumni Mixer.
Tune in to the CTX Basketball Showcase, where the Concordia Basketball team will compete in a friendly three-point shoot-out and dunk contest. There will be opportunities to win prizes, and all Tornado swag will be discounted throughout the weekend at the Concordia Athletics store.
All CTX alumni are invited to log on to the Virtual Alumni Mixer and share memories while learning how to make simple drinks with everyday ingredients.
Founders' Day 2020
Concordia's Homecoming & Family Weekend leads up to Founders' Day on October 26, the day the university was founded. This year, we're celebrating the University's 94th anniversary.
In addition to learning more about the history of Concordia and what makes it so unique, you will learn about the important role of philanthropy.
However you decide to join us, we look forward to seeing you!