Rev. Dr. Ray Martens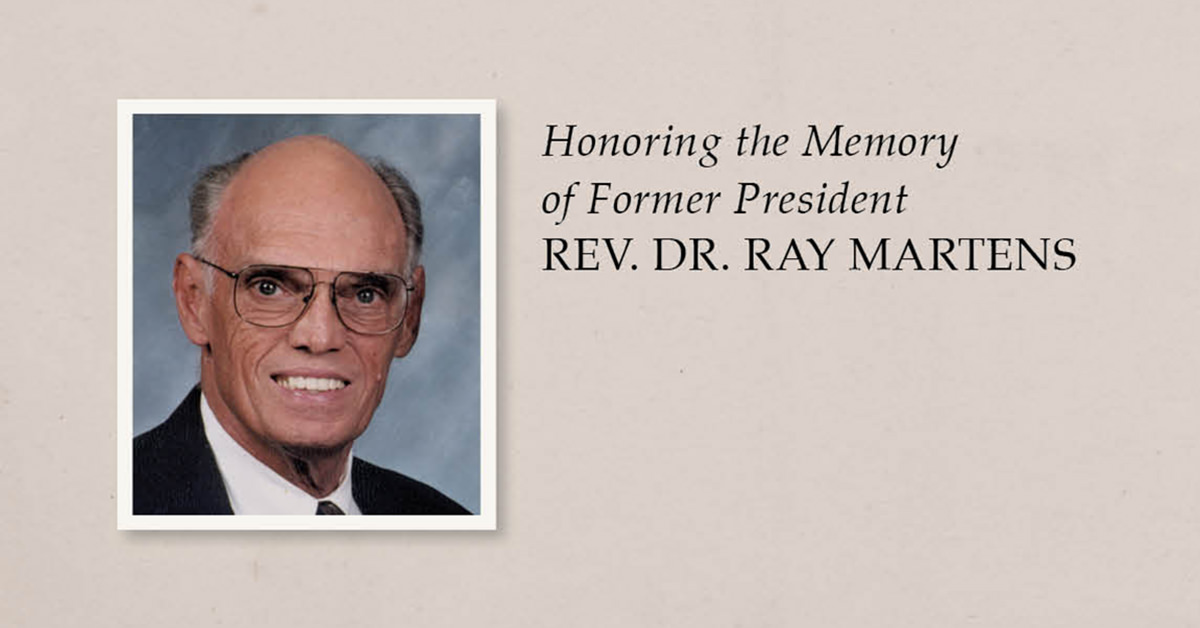 The Rev. Dr. Ray Martens, former Concordia president, passed away on Saturday, October 5, 2019. Martens had a rich history with Concordia, and his leadership continues to impact the University today.
Texas Lutheran Heritage
Martens was born on February 3, 1933, in Hufsmith, Texas. His family has a rich Texas Lutheran heritage with deep roots at Concordia.
His grandfather, Rev. Dr. G. Birkmann, was president of the Texas District twice and one of the first Concordia Seminary students to be honored with a Doctor of Divinity.
He was the namesake for Concordia's Birkmann Chapel on the original campus. His uncle, Rev. Dr. John W. Behnken, was president of the Synod. Behnken Hall, a residence hall on the original campus, was named after him.
From 1945 to 1949, Martens attended Concordia (then Lutheran Concordia College of Texas), which was originally a high school to prepare young men to enter into ministry. He continued his studies at Winfield, Kansas, and then at Concordia Seminary in St. Louis.
The Call to Higher Education
Originally planning to become a parish pastor, God had other plans for his life. He began his career as a professor at Concordia Theological Seminary in Springfield, Illinois, where he taught Greek and New Testament Studies.
Martens then served as the president of Concordia, called Concordia Lutheran College at the time, from 1973 to 1993.
One of his most significant achievements was transitioning Concordia from a two-year institution into a four-year, baccalaureate-granting college. Martens led the way to establish the four-year curriculum, secure the necessary funding, construct six additional buildings and assemble a qualified faculty.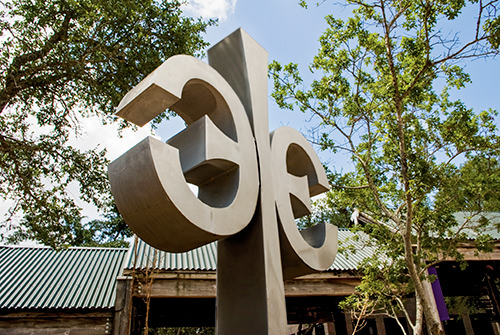 Another of Martens' significant achievements was designing the Cruciform in 1983.
The symbol, which displays CLC for Concordia Lutheran College, was displayed on a tower above the original campus and now sits between Building D and the Dining Hall.
He remained at the University after his presidency to support fundraising efforts. During his retirement, Martens wrote a biography of his grandfather, Rev. Dr. G. Birkmann, which was published by the Concordia University Press.
In 1958, Martens married Jane Winkler, a Giddings native whom he knew from childhood. Jane faithfully supported and served alongside him throughout their 61 years together. They were blessed with three sons, seven grandchildren (two of whom now attend Concordia) and one great-granddaughter.
Martens held many interests, including leading Bible study, stamp collecting, leading dozens of international trips, hunting, following the St. Louis Cardinals, playing bridge and singing with the Austin Saengerrunde. He was a skilled craftsman and avid gardener, and he especially loved attending his sons' and grandchildren's sporting events and activities.
The Martens gave both their time and resources generously to Concordia. We express our deepest gratitude to the Martens family for their service to the University, and we express our deepest sympathies to the Martens family.
Memorial Service
Please join the Martens in celebrating Rev. Dr. Ray Martens' life.
Visitation
October 10, 2019
6 p.m. - 8 p.m.
Weed-Corley-Fish North Chapel
3125 North Lamar Boulevard
Austin, Texas 78705
Memorial Service
October 14, 2019
10:30 a.m. - 11:30 a.m.
Redeemer Lutheran Church
1500 W. Anderson Lane
Austin, Texas 78703