Campus-Ministry
,
Student-Life
Sharing the Gospel Through Music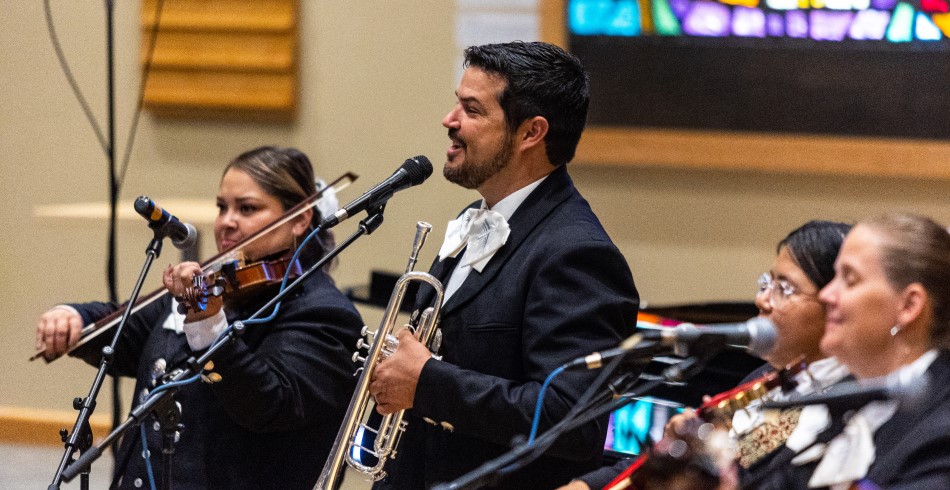 Sharing The Gospel Through Music
As part of Hispanic Heritage Month, Concordia University Texas was honored to welcome Mariachi San Pablo to sing bright music as part of a special celebration to kick off activities during Hispanic Heritage Month. Mariachi San Pablo, originally from El Paso, Texas, travels across the country sharing the message of hope and salvation through its music. This spirit of community, faith, and cultural preservation is embodied through Mariachi San Pablo, an outreach and care mission of Ysleta Lutheran Mission Human Care.
An Innovative Mission
Mariachi San Pablo is a symbol of faith and harmony as well as being a musical ensemble. Their music serves as a vehicle for the Gospel of Jesus Christ, which they passionately share with the groups they encounter. With participants from all ages and backgrounds, they devote their time to learning well-known Christian and Mariachi songs in both Spanish and English, building a link and a bridge of understanding.
Active Commitment
The intensive preparation routine of Mariachi San Pablo's members demonstrates their commitment to excellence and sharing their message with the world. They devote their hearts to honing their craft, meeting once a week throughout the year to grow together, and spending hours throughout the year exercising their skills. Every note demonstrates their dedication to excellence, resulting in performances that engage attendees in meaningful experiences.
Traveling Between States
Mariachi San Pablo has traveled a fantastic path since its founding in 2001, sharing their music and message with a large audience. Their performances have been enjoyed by congregations in 105 cities throughout 105 churches, community events, conferences, and conventions in 18 states. They convey the essence of El Paso and the transforming force of faith with each note they play.
Music Brings People Together
Mariachi San Pablo's capacity to unite people is among its most impressive qualities. They dismantle barriers and create connections by utilizing music's universal language. All who are honored to listen are moved by their performances, which transcend cultural and linguistic barriers.
A wonderful example of music's ability to be a force for good is Mariachi San Pablo. Their music is both motivating and encouraging to see how committed they are to using their artistic talent to share the good news of Jesus Christ. Their songs will leave a permanent impression on the hearts of everyone who hears them, as they continue their tour across the country.
Concordia University Texas Commitment
Concordia University Texas is honored to partner with Mariachi San Pablo during Hispanic Heritage Month in sharing the wonders of faith and culture. As a Hispanic Serving Institution, Concordia Texas is widening the doors to higher education and encourages students from all backgrounds to take their next step at Concordia Texas.
Check out Upcoming Music Events