Academics-Education
,
MEd
CTX | Advancing Your Teacher Career Path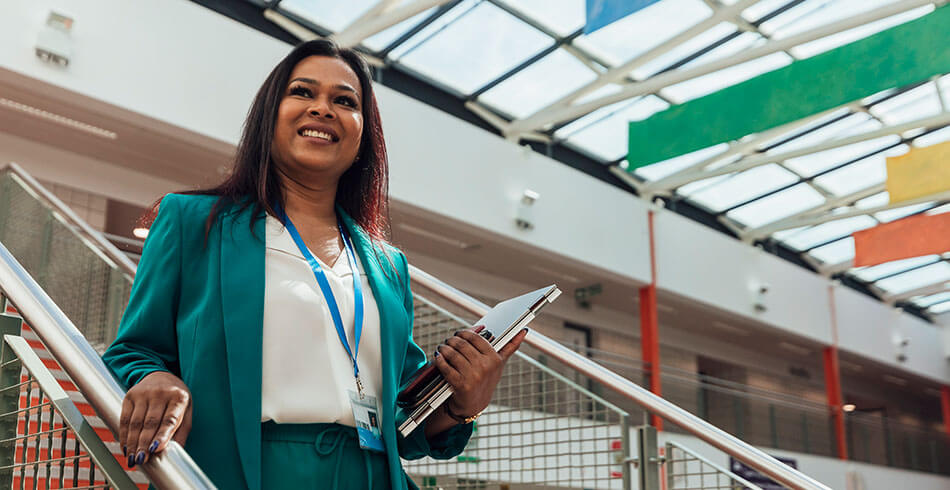 Advancing on Your Teacher Career Path: 4 Opportunities to Consider
It's possible you've always had the intention to pursue advanced career opportunities in the field of education — or maybe you've only recently begun contemplating whether a position outside the classroom could be right for you.
Whatever your circumstances, if you're interested in moving beyond classroom instruction, there are a variety of directions you could take on your teacher career path. Consider, for instance, the following educational leadership roles.
4 Advancement opportunities for teachers
Some educators are happy to dedicate the entirety of their careers to traditional classroom instruction. But, for others, a number of different motivating factors contribute to a desire for advancement.
For starters, salary prospects are higher as you advance in nearly any field — but especially so in education. Data from the Bureau of Labor Statistics indicates that higher educational attainment leads to increased earnings across industries.
Other reasons teachers seek to advance in their careers include an appetite for new and exciting challenges, a commitment to their professional development, and a desire for increased personal fulfillment. If you can identify with any of these motivating factors, it's worth looking into some options for advancing in your teacher career path.
1. Department leadership
Teachers who are particularly passionate about the subject or age level they teach may find opportunities to use their motivation and specialized skills in departmental leadership positions. These can come in the form of the role of lead teacher, grade level chair or departmental administrator.
In addition to maintaining classroom instruction duties, educators in department leadership roles are responsible for offering continued support to other instructors in the form of coaching, mentoring and assessment. They are often also tasked with addressing departmental needs (such as budgets, textbooks and hiring) while acting as a liaison between students, teachers and administrators.
2. School administration
Those who are more drawn to the prospect of transitioning out of the classroom entirely may consider pursuing an administrative role, such as superintendent, dean, principal or assistant principal. Shifting into a school administration role can allow you to broaden your sights by focusing on high-level goals that make an impact across an entire school community.
The core focus of school administrators is to ensure a productive, supportive, healthy and safe educational environment for instructors and students alike. In the case of a school principal, for example, the educational professional is charged with overseeing all school operations, from daily school activities to managing the school's budget, scheduling maintenance and coordinating security procedures.
3. Counselor positions
Educators who have a particular interest in investing in the social/emotional health of young learners may thrive by advancing into a school counseling role. Most educational counselors opt out of continued classroom instruction with the goal of focusing more wholly on supporting the students' well-being.
There are a handful of different roles in this realm, and the specific responsibilities will vary accordingly. Guidance counselors, for example, focus on assisting students in making academic decisions. Meanwhile, vocational counselors work alongside students to prepare for their careers. And school counselors address both academic and social/emotional needs to help remove barriers that hold students back from achieving success.
In these positions, it's expected that educational counselors will work in collaboration with teachers and parents to determine how to best provide assistance.
4. Specialist roles
Finally, there are numerous opportunities to advance your teaching career by pursuing a specialist role. These avenues allow educators to build upon their strengths to provide targeted support to both teachers and students.
Examples of this type of role include working as a literacy specialist, a curriculum specialist, an instructional development specialist or a STEAM (science, technology, engineering, arts, and mathematics) specialist. Some educators even pursue training and development specialist roles in corporate environments, offering support to human resources departments.
Take your next step as an educator
As you can see, your teacher career path can lead you in numerous directions. Whether you're focused on a role in educational leadership and administration, organizational development, or specialized instruction, it's smart to consider pursuing a graduate degree — many of these positions are intended for master's-qualified applicants.
The Master of Education (MEd) program at Concordia University Texas specializes in empowering students to build an expertise in the field of education while also developing the key administration and communication skills that will help them be a successful leader in any setting.
From the dynamic, fully online curriculum to the industry-relevant concentration options, there are numerous reasons educators choose to earn an MEd at Concordia. Learn more about the opportunities that await by visiting the Master of Education program page.