The Life-Changing Adventures of Tom Smith & Joanna Young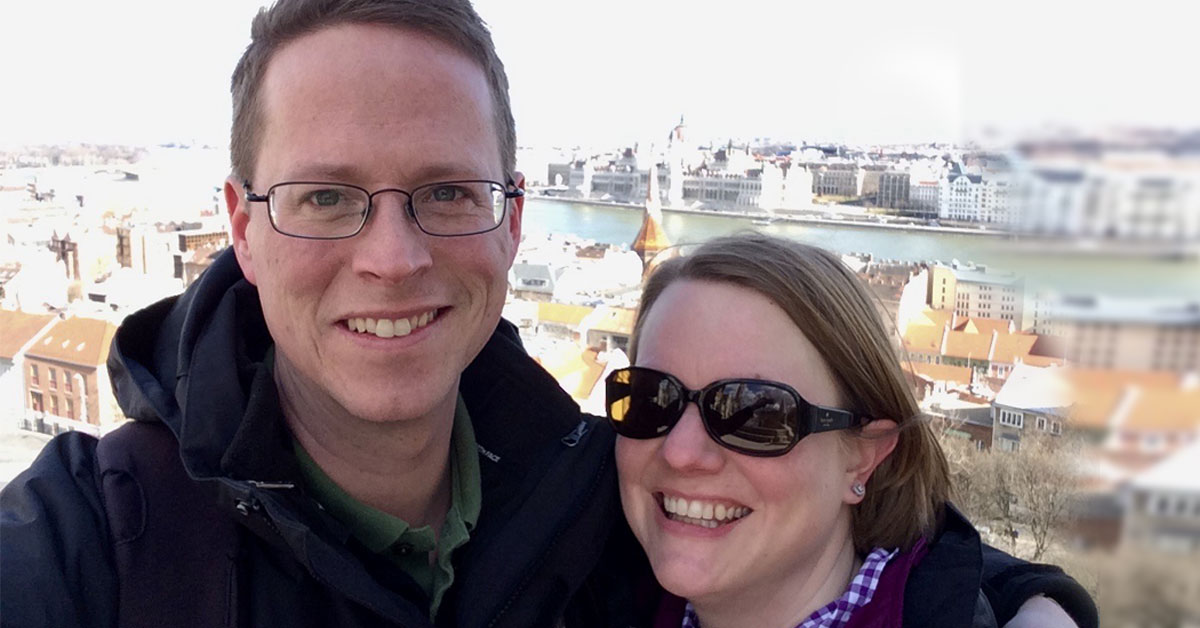 Retired U.S. Navy Cmdr. Tom Smith and his wife, Joanna Young, are alumni of Concordia University Texas who have embarked on a life-changing adventure of international living and travel.
Concordia University Texas
Their adventure began at Concordia Lutheran College (now CTX), which is where they met. Tom graduated in 1995 with a degree in History (part of the University's first-ever class of History majors) and Communications. Joanna graduated in 1997 with a degree in Environmental Science.
"I got a great education at Concordia," Tom explained. "Part of it was due to the small class size, and part of it was because of the quality of professors. I could build a relationship with them, and that was meaningful to me. The great thing about Concordia was that I got her [Joanna] out of it. I couldn't do it without her."
Joanna shared the same views. "It was a small university, but I felt like I got an amazing education," she said. "Everyone was so friendly and welcoming. I wouldn't trade my time at Concordia for anything. One, I met Tom. Two, I met some of my greatest friends."
The Adventure Begins
After earning his Master of Arts in Diplomacy and International Commerce from the University of Kentucky, Tom entered Officer Candidate School while Joanna worked for a government contractor. Beginning in 1999, Tom's Navy career has taken him and Joanna across the world.
First Deployment
In 1999, Tom and Joanna moved to Virginia Beach, Virginia, for Tom's first assignment as an intelligence collections officer and targeteer at Carrier Air Wing Eight, supporting Operations Southern Watch and Enduring Freedom.
He deployed to the Persian Gulf on the USS Theodore Roosevelt in 1999 and USS Enterprise in 2001. The terrorist attacks of September 11, 2001, occurred while he was deployed, and his carrier was the first of four that were sent to the northern Indian Ocean off the coast of Pakistan to support strikes against Afghanistan.
Moving to the Middle East
Tom and Joanna then moved to Manama, Bahrain, which is in the Persian Gulf. Here, Tom served as the assistant current intelligence officer for the U.S. Naval Forces Central Command, overseeing 24/7 intelligence watch operations to support operations in Afghanistan and during U.S. entry into Iraq.
Apart from the incredibly hot climate, Tom and Joanna enjoyed living in Bahrain. In addition to amazing food, the people were very welcoming and hospitable, and the multinational environment enabled them to meet people from around the world.
London Calling
In 2003, they moved to London, England, a stark contrast to Bahrain. Tom served as a liaison officer for the Defense Intelligence Agency at the British Ministry of Defence. They thoroughly enjoyed living in the bustling capital city.
Tom was then deployed to Afghanistan within a special operations task force. It was an eye-opening experience for him in many ways. "I'm in the U.S. Navy, and there's no water," he said. "It was a good professional experience, and I learned a lot about the unconventional side of what the military does."
The Smiths Go to Washington
Tom and Joanna hopped back across the pond and settled in Washington, D.C., where Tom served as the deputy and then the director of the Chief of Naval Operations-Intelligence Plot at the Pentagon.
This was the most challenging role Tom served in because it required him to remain informed about anything senior Navy leaders may need or want to know regarding intelligence around the world. He did this by leading a team of 35 civilian and military personnel conducting 24/7 intelligence watch operations and developing executive intelligence products. Tom also provided daily intelligence briefings to the Secretary of the Navy.
The team he worked with was great, but the role was incredibly stressful and required extremely long hours.
Strategic Studies and R&R in Rhode Island
After spending two-and-a-half years at the Pentagon, Tom went to the U.S. Naval War College in Rhode Island, where he earned a Master of Arts in National Security and Strategic Studies with highest distinction.
Tom and Joanna view this time as the best year in the Navy because they had time to explore the area, catch up on TV shows and travel for fun. Tom also loved studying history and strategy at one of the oldest institutions of its kind in the country.
Deployed from Virginia, Part II
They moved to Norfolk, Virginia, and Tom was deployed to the Mediterranean Sea and the Persian Gulf as the assistant flag intelligence officer for Carrier Strike Group Two while on the first deployment of the aircraft carrier USS George H. W. Bush. In this role, he managed tactical naval intelligence in support of Operations Enduring Freedom, Iraqi Freedom and New Dawn.
London Calling Again
In 2013, Tom and Joanna returned to London, moving in just 30 yards away from where they lived a decade before. Tom was assigned to the North Atlantic Treaty Organization's (NATO) Allied Maritime Command as the intelligence operations officer, helping to establish and later lead the organization's current intelligence capability in support of NATO maritime operations worldwide.
This role allowed Tom and Joanna to travel extensively, both for Tom's work and for personal vacations.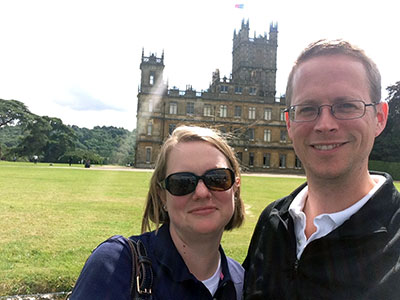 Navigating Naples
In 2016, they moved to Naples, Italy, where Tom was assigned to U.S. Naval Forces Europe-Africa. He led 45 personnel in producing intelligence analysis supporting all U.S. Navy operations on the continents of Europe and Africa.
Tom and Joanna found Naples, Italy, to be a strange but fascinating city, a sentiment the Neapolitans themselves share. Despite the chaos, traffic and cultural challenges, they truly enjoyed living there. "Once you get to know people, they treat you like family," Joanna said.
Following the advice from a friend to live in a building full of Italians, they became acquainted with Italian families and were treated with kindness and open hearts.
Tom's commute provided him a beautiful view of Mount Vesuvius as the sun rose over the Bay of Naples each morning, and they had easy access to incredible European sites. They found the best pizza they've ever had, and their money went much further. Witnessing some of the worst driving they've seen, Joanna is confident she can drive anywhere after learning how to navigate the crazy roads of Naples.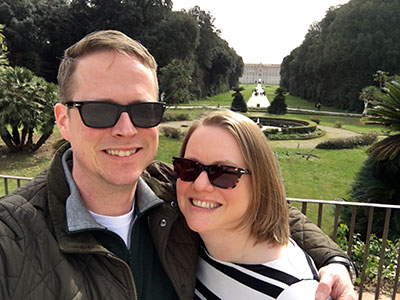 Busy in Brussels
In 2017, Tom was assigned to Brussels, Belgium, for three years, which is the home of NATO's political headquarters. He served with the international military staff as the Chief of Joint Intelligence, Surveillance and Reconnaissance, managing strategic and political-military aspects of multiple programs at senior levels of international military and diplomatic services.
The Next Adventure
Tom officially retired from the United States Military on July 1, 2020. They will stay in Brussels, as Tom has joined NATO as a senior civilian analyst working within the Alliance's Joint Intelligence and Security Division.
Sacrifices for the United States of America
Members of the United States Armed Forces and their families make incredible sacrifices for American citizens, and Concordia University Texas is grateful for all they do. Tom and Joanna view their experience in the military as a series of life-changing adventures.
"We're fortunate to be able to travel and live overseas," Joanna said. "You miss things, but we've had great experiences. The benefits have far outweighed the sacrifices."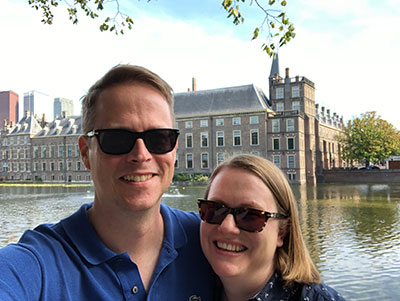 Advice for CTX Students
Tom and Joanna shared valuable tips for how CTX students can make the most of their time at the University.
"You're in a good learning environment and have great professors, so learn," Tom said. "Try to absorb the information and enjoy the academic experience." He encourages students to build a relationship with their professors. You're in a place where there are experts in the fields you're studying, so tap into their knowledge," he stated.
Joanna encourages students to step out of their comfort zones. "Be bold and brave," she said. "You might meet some really amazing people and learn some amazing things. You will learn things you don't think you need to know or think you want to know, and that's part of the great educational experience."
We congratulate Tom on his retirement and pray that he and Joanna enjoy the next part of their life-changing adventure in Belgium.