Academics
,
Online
,
Support-Center
5 Ways CTX Helps Distance Learners Succeed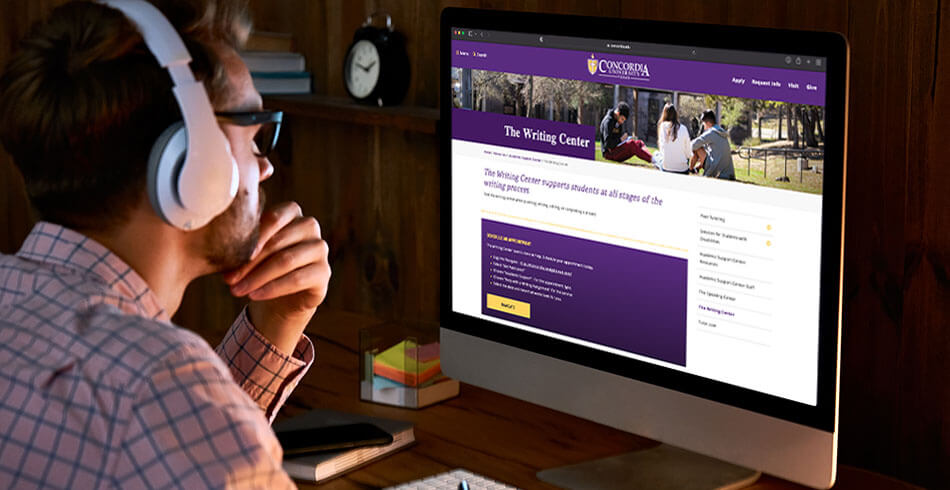 5 Ways Concordia University Texas Helps Distance Learners Succeed
Earning a degree has become more accessible than ever. Schools have adapted to the evolving needs of the student population, offering the flexibility many need with distance learning opportunities.
The National Center for Education Statistics (NCES) reports that roughly 44 percent of all undergraduate students exclusively took distance education courses in 2020. The global pandemic certainly had an impact on these numbers, but even prior to COVID-19, nearly 2.5 million students were studying solely online.
But just because an increasing number of colleges and universities offer distance education learning options doesn't mean all are equipped to guide students through any challenges they may face while learning online. Concordia University Texas (CTX) is prepared to walk alongside you during every stage of your higher education journey — and that commitment to students doesn't change when you opt to learn online.
Join us as we highlight some of the ways CTX helps distance learners succeed.
5 Helpful resources for distance learners at CTX
The faculty and staff at Concordia University Texas are committed to your success, remaining hyper-focused on ensuring all students have what they need to thrive in pursuit of their degrees. Many are accustomed to accessing student support services on campus, but what does this look like for online students?
Check out the following five resources available to those who choose to study online at CTX:
1. Online tutoring
Students participating in distance learning at CTX don't have to stress if they run into academic challenges. Even as an online student, you'll have access to multiple different avenues for virtual tutoring sessions.
CTX offers a peer tutoring option in which fellow students who have successfully completed certain courses can offer tutoring services and teach study skills to students currently in those classes. You can easily schedule online tutoring sessions through the school at no charge.
Students also have access to free online tutoring through Tutor.com, whose Academic Support Center offers 24/7 online services that can quickly connect them with subject expert tutors. CTX has partnered with Tutor.com to offer each student eight hours of tutoring per semester.
2. The Writing Center
If you're planning, writing, editing or completing a project as an online student at CTX, you'll have access to whatever guidance you need through the Writing Center. Whether you're looking for ways to improve a first draft, need some help with proofreading, are struggling with
citing your sources or simply have no idea how to begin outlining one of your assignments, writing and editing experts will be available to help
All appointments with the Writing Center can be scheduled and completed online, in either a synchronous or asynchronous format.
3. The Speaking Center
Many students struggle when it comes to public speaking. If this is something you hope to improve upon, there are ample resources you can tap into through CTX's Speaking Center. This free communication resource offers coaching for all forms of oral communication, including public speaking, panel presentations, group presentations and interviewing.
All CTX students can schedule a coaching session with the Speaking Center online. While sessions can be held on campus, they are also available in a virtual format for online students.
4. The Math Center
Some students excel in subjects like math, while others struggle to wrap their minds around the complex concepts. If you can identify with the latter, you'll be happy to learn that guidance will be available to you at CTX through the Math Center.
Tutors are eager to help students learn new study skills, review course material and make a plan for success as they work their way through their math course(s). The Math Center at CTX is open for virtual and face-to-face appointments every Monday through Thursday from 10 a.m. to 2 p.m. Appointments can be scheduled online.
5. Additional student resources
The various opportunities for support offered to CTX students cover everything from math to public speaking, but you'll inevitably find a need for additional areas of support as you venture through your distance learning experience.
Students are always encouraged to contact their academic advisors with any questions that may come up. But it's also worth noting that CTX regularly updates its Academic Support Center Resources page with a host of different web-based tools that you might find helpful as a distance learner — from study skills and test-taking tips to materials that can help you feel more confident in your knowledge of science and math.
Thrive as an online student at CTX
If you're looking for a flexible online program that offers the same level of student support that we've come to expect from traditional on-campus learning, you'll be pleased with the resources for distance learners at Concordia University Texas. The school's commitment to supporting its online students spans from enrollment to graduation.
Learn more about what to expect from distance learning at CTX by reviewing our Online Undergraduate Programs.