Multidisciplinary
,
Academics
What Should I Major In?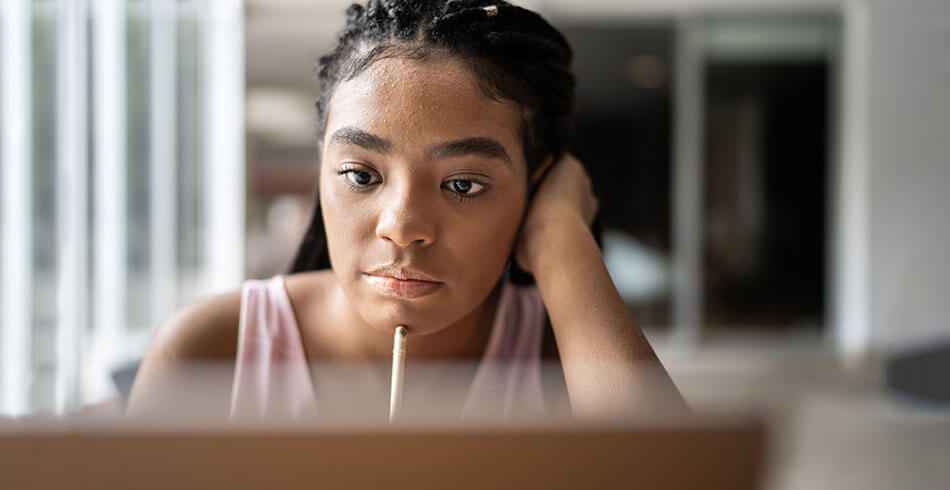 What Should I Major In? How to Discover Your Ideal Degree
Some people have their career goals set in stone at a young age, but that's not always the case. Many struggle when it comes time to choose a major. In fact, approximately one-third of undergraduate students end up changing their major at least once within three years of enrolling.
As you seek to figure out how to choose a major, there are a few things you can do to try to narrow things down. Consider the following advice.
5 Things to consider when choosing a major
While it is possible to enroll in college without declaring a major, it's often in your best interest to have things figured out by the time you start your first semester of classes. Different programs will have varying course requirements — the sooner you can get started on completing those, the less time (and money) you'll spend in pursuit of your degree.
If you're currently contemplating, "What should I major in?" — the following prompts may help you arrive at a decision.
1. Analyze your career goals
Your college major isn't going to secure your place in a particular field of work upon graduation — it can neither predict nor guarantee your future as a professional. But if you do have specific career aspirations, you can use those as a roadmap for choosing a major.
If you plan to eventually earn a professional degree such as a Doctor of Medicine (MD), for example, you'll want to select a program that will enable you to complete the necessary prerequisites. There are also pre-law tracks, pre-veterinary tracks, pre-physical therapy tracks and more.
For career goals that don't align with a specific degree path, you may have to do a bit more research. Tools like the Occupational Outlook Handbook from the U.S. Bureau of Labor Statistics (BLS) can be useful in this process. Simply search for an occupation to learn more about what they do, what education you'll need for that role, the skills required and more.
2. Examine earning potential and growth rates
While your future salary shouldn't be the only factor guiding your decision, it can be helpful to analyze the earning potential of various career paths before you commit to something. This is important information to consider with your area's cost of living in mind.
Do note, however, that looking into median annual wage metrics through sources like the BLS will give you an idea of what you can one day expect to earn. Those numbers don't necessarily reflect the starting salary in your location.
It can also be smart to research the projected employment growth for the occupations you're interested in. After dedicating time, effort and money to multiple semesters of undergraduate study, you want to be sure there will be opportunities waiting for you on the other side. The more detailed information you can uncover about potential careers and their future trajectory, the better informed you'll be when it comes to selecting your major.
3. Identify topics you enjoy
The idea of pursuing what you love may seem obvious, but many forget to prioritize this as they set their sights on jobs with competitive salaries and high growth rates. When all is said and done, however, studying a subject you simply don't enjoy can end up feeling like a chore. Conversely, when you're passionate about the subject matter, you'll be more likely to engage in the coursework and perform well in your classes.
These sentiments will undoubtedly carry into your professional life after graduating. A 2022 Gallup poll has revealed that a staggering sixty percent of American workers are experiencing a lack of job satisfaction. And it's worth noting that this trend was already underway prior to any stresses caused by the COVID-19 pandemic—a Gallup study conducted in 2019 found that more than half of US workers were unhappy at their jobs.
Career dissatisfaction can lead to occupational burnout, but this is something you can avoid if you choose your major thoughtfully.
4. Pursue hands-on experiences
One of the most effective ways to determine if a career path could be the right fit for you is to gather some firsthand experience in the field. This may take the form of internship opportunities, volunteer work or even requesting to shadow a professional.
It could also be useful to conduct some informal interviews with folks in those fields. Not only will this enable you to learn more about their day-to-day experiences, but you can also ask questions related to their work–life balance and general sense of job satisfaction.
5. Look for opportunities to customize your major
If you've explored each of the considerations above and you're still not feeling confident in one particular major, you could be well-served to seek out a school that will allow you to customize your educational experience. Some institutions offer interdisciplinary programs in which students work with academic advisors to design their own course of study, choosing classes they're interested in while also ensuring they meet school requirements.
In other cases, schools take a different approach. Concordia University Texas (CTX), for example, makes a pointed effort to offer a range of different methods for customizing your degree. Many of the institution's traditional majors have a variety of concentration options, allowing you to cater your courses to align with the precise outcomes you're seeking. There are also numerous minors to choose from, a handful of pre-professional programs and additional opportunities for certification.
These various methods of customization can be the perfect fit for students who are looking to maintain the guidance provided by a traditional degree program while also tailoring the experience to their specific goals and needs.
Find programs designed for you at CTX
Choosing a major can be intimidating, but you're now better equipped to conduct some research that will help you make an informed decision. If you're craving a degree program that will provide you with an individualized experience, you may find what you're looking for among the dozens of flexible program offerings at CTX.
Learn more about the majors and programs at Concordia University Texas today.