Alumni
,
Athletics
,
Student-Life
,
Academics-Health
Boys Basketball Camp at Concordia Texas Instills Lessons Beyond the Court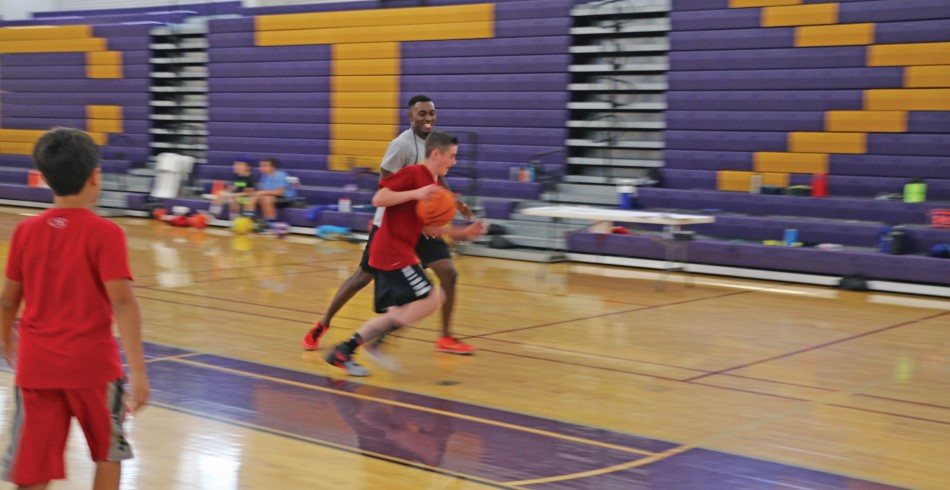 Every summer, Concordia University Texas hosts an exciting summer camp series that provides young basketball enthusiasts with an opportunity to improve their skills on the court and learn other valuable lessons along the way. Known simply as the "Concordia Boys Basketball Camp," this annual event has evolved into an enriching experience for campers, student workers, and the community alike.
Building Character On and Off the Court
The camps aren't just about dribbling and shooting hoops. It is also a space where campers, ranging from 5 to 14 years old, learn about teamwork, good sportsmanship, and improve their social skills.
DeJuan Leffall, a Concordia Texas basketball player who has been involved with the camps since 2021, remembers helping a camper who was particularly shy.
"I made sure to get him involved with the other campers," said Leffall. "On the last day, his mom came up to me and let me know that I had made him more comfortable and confident in himself. We took some pictures and made some nice memories together."
Stan Bonewitz, who serves as the Associate Director of Athletics & Head Coach of Men's Basketball, shares that campers get to learn the balance between competition and enjoyment through various activities.
"Most importantly, they're learning how to compete with the idea of succeeding with the help of a teammate, as opposed to at the expense of the opponent," said Coach Bonewitz.
Leading the Way in Serving
The camps' teachings of leadership extend to the campers as well as to the dedicated people who run them, including coaches, current players, and alumni of the Concordia Texas basketball program. They go beyond providing valuable basketball instruction and pride themselves as mentors and role models for the young campers.
"Organizing the camps has taught me to always lead by example," said Adam Gonzales, Assistant Coach for Men's Basketball. "The kid's safety and the fun they are having come first so I have to be sure to give 100% effort, make sure everybody is safe, and create a no-bullying zone. Also, always having enthusiasm with what we are doing—we cannot set a standard for those things and not display them 100% of the time."
During the camps, student workers can apply their practical leadership skills by overseeing large groups of campers and nurturing positive experiences.
"The camps emphasize that living a life of service means putting the needs of others ahead of our own," said Leffall. "It is about putting in the time, effort, and experience to make a positive impact on our young athletes' lives."
The camps are designed to help kids learn from those who have walked the same path while also allowing student workers and alumni to give back to their alma mater and community.
"When the kids see you having fun and enjoying the game, they follow suit," said Coach Gonzales. "Kids are smarter than people think. They know when the passion is there and when it's not. If you are genuinely passionate about other people's success and happiness, you will prepare and only act on things that fulfill the needs of their happiness and success."
Building Lasting Connections
While the primary focus of the camps is to help kids develop basketball skills, its effects ripple throughout the campus and beyond. Collaborations with local partners enhance relationships and encourage further engagement. Alumni connections are reinforced, and a sense of pride in the university's accomplishments is shared.
Additionally, the camps introduce Concordia Texas to hundreds of families in the surrounding area, leaving a positive impression that could impact future enrollment and support.
Coach Bonewitz recalls the initial modest participation in contrast with the recent success of over 600 attendees across three sessions. "It's great for Concordia Texas to have all those families on our campus. Maybe some of those kids end up growing here and coming to college here."
A Future of Growth
The basketball camps exemplify the power of sports as a catalyst for personal growth and community connection. Beyond the skill-building drills and games, campers learn about leadership, responsibility, and positive interaction. As the camps continue to flourish and attract more participants each year, their impact extends far beyond the basketball court. They solidify Concordia Texas's commitment to fostering courageous leaders who value lifelong learning, mentorship, and serving their community.
Transform Lives through Movement and Science with Kinesiology at Concordia University Texas
Our Kinesiology program is designed to equip passionate individuals with the knowledge and skills to transform lives. With a focus on practical application and hands-on learning, students gain an in-depth understanding of the human body and obtain specialized nationally recognized certifications to enhance their career prospects in fields such as teaching, coaching, sports administration and personal training.
Learn about Concordia's Kinesiology program