7 Presentation Tips for Excellent Virtual Meetings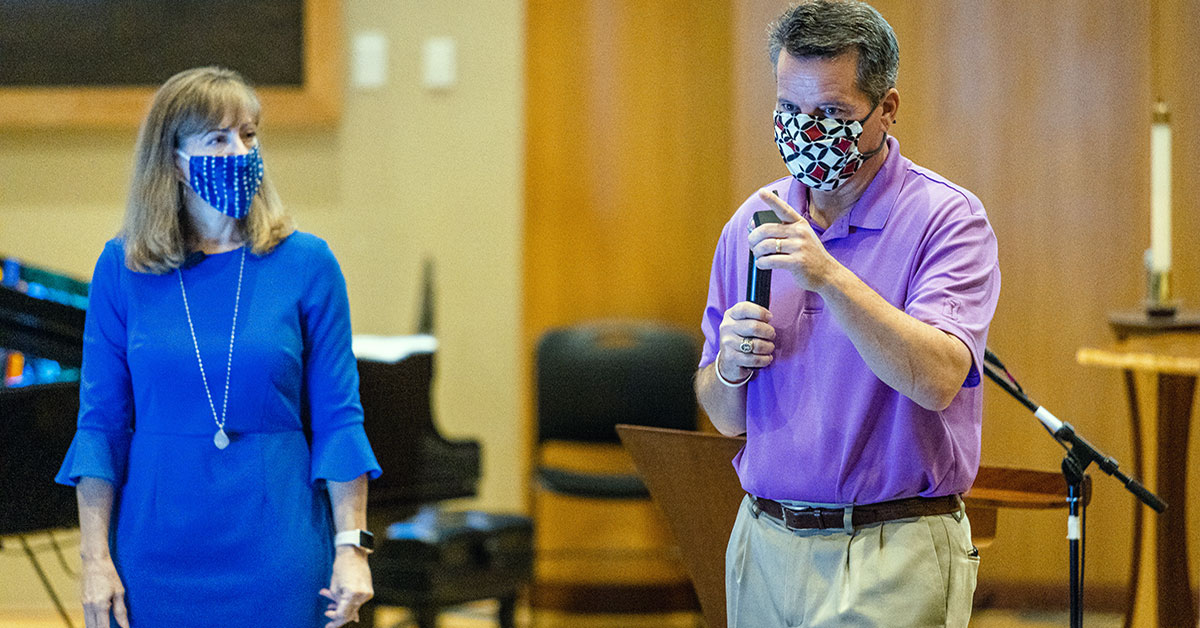 IncubatorCTX, the on-campus entrepreneurial hub, hosted the first edition of the Speaker Series for the Fall 2020 semester at Concordia University Texas. Mike and Kim Barnes, veteran news anchors who have been married for more than 28 years, shared helpful tips for improving your presentation and communication skills on camera in virtual meetings.
Because of the pandemic, virtual communication has become the norm. Whether you're in a meeting, conducting a presentation, attending class or any other time you're in front of a camera, the goal remains the same — to communicate clearly and connect with others.
About Mike & Kim Barnes
Mike Barnes served as a sportscaster with KVUE for more than 29 years, and Kim Barnes served as a news anchor for 15 years, 10 of which she spent at KVUE. Leveraging their wealth of experience, the Barneses now consult with others, helping individuals improve their presentation skills and connect with their audiences.
The Barneses are very familiar with CTX; Kim has served on the advisory board for the Communication Department for more than 12 years.
Tip 1: First On-Camera Impression
Let's complete a quick activity that Mike and Kim Barnes shared at the Speaker Series.
First, take a selfie of yourself without smiling. Take a look at the picture. How do you appear? Do you seem mad or annoyed or mean or tired? This may be what others see on the video.
When you join a virtual call, remember to smile like you would if you were in person. Consider how you want to come across to people.
Another thing to consider is how you begin the call. Many people start virtual meetings by adjusting things around them or fidgeting with their cameras, which can be incredibly distracting.
"You never get a second chance to make a good first impression," Mike Barnes said.
Tip 2: Look at the Lens
Where do you look when you talk in a virtual meeting? Eye contact is an important way to connect with others.
While it's tempting to look at the screen to see the other participants, you must look into the lens to establish eye contact when you're talking.
Although it feels unnatural to look at the lens, those watching will feel like you're talking directly to them. It's okay to look down at notes or to gauge the reactions of others, but remember to spend a majority of your speaking time looking into the lens.
Tip 3: Consider Angles, Background & Lighting
Camera angles, backgrounds and lighting have a major impact on your presentation.
Your camera lens should be at eye level, and there should be more lighting in front of you than behind you. Also, ensure that your background isn't distracting. You don't want other people to be hypnotized by a swirling fan or captivated by a funny dog behind you.
Tip 4: Transform Nerves Into Excitement
Many people get nervous when appearing before a crowd, whether it's in person or on camera. Kim Barnes explained, however, that you experience the same feelings for nerves as you do for excitement, such as sweaty palms, a racing heart and butterflies in your stomach.
"Turn your nervousness into excitement," she said, "to share what you know with others."
There are a variety of methods for calming nerves, but each person is unique, so one method that works for your classmate may not work for you; figure out which method works best for you.
To calm her nerves, Kim Barnes prays that the Lord will bring value through what she says and help her serve in the way she can.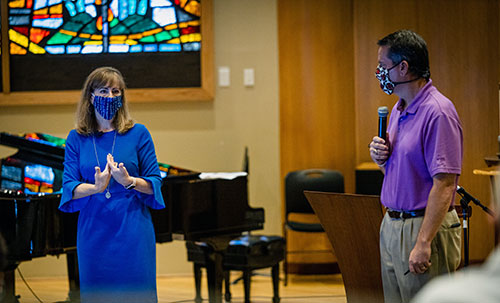 Tip 5: Be Conversational
When people try to memorize what they are going to say, it typically appears as disingenuous, and memorization is a difficult task. Instead of trying to remember every word you want to say, turn your presentation into a conversation that engages others. During their presentation, the Barneses invited the audience in the room and the audience watching on Zoom to engage in discussion.
"Remember that you know what you're talking about," Mike Barnes said. "Be confident, because no one knows you're nervous."
"They don't know what you're planning to say," Kim Barnes stated. "If you say something different than you planned, it's okay, as long as you get the gist across."
Tip 6: Avoid Using Crutch Words
Many of us resort to using "crutch words" (e.g., like, um, so, etc.) if we lose our train of thought or can't think of the right word. This can be incredibly distracting and hinder the ability of those listening to maintain focus.
Instead of using crutch words, simply pause. It may feel like hours upon hours of awkward silence to you, but it's much less noticeable than you think and much less distracting than using crutch words.
Tip 7: Laugh at Your Blunders
Even the best orators are prone to stumbling over words or making other presentation mistakes. Instead of beating yourself up, take the opportunity to laugh and learn from your mistakes.
Kim Barnes shared a story about one of her on-camera blunders. She has lived in Texas since she was four years old, which means that, like any classic Texan, she has eaten a lot of Mexican food.
However, one day, the word "tortilla" appeared on the teleprompter while she was reporting live on television, and she could not pronounce the word. She laughed through it on the broadcast, but Kim said it was incredibly embarrassing.
Mike Barnes also shared an on-camera blunder. The year is 1990, and he was reporting live at a University of Texas at Austin baseball game. It was a doubleheader, and it was time to show highlights of the first game.
The engineer helping him was holding a small television for Mike to see the footage he was supposed to be discussing. However, the engineer accidentally changed the channel to a competing sports broadcast. Mike told the crew to toss it to the highlight reel, and then he signaled to the engineer to change the channel back to his news station.
Unfortunately, the director didn't go to the highlights immediately, and Mike was seen on air for 15 seconds wildly signaling to the engineer.
Neither Mike nor Kim Barnes let these incidents discourage them. They learned from them and went on to achieve successful careers as news anchors.
The next time you're on a virtual call, remember these helpful tips so that you can communicate well and connect with others.