Accelerating Entrepreneurial Learning
IncubatorCTX helps students with entrepreneurial dreams learn how to take an idea from concept to implementation. IncubatorCTX, housed in the university's College of Business and Communication offers exciting opportunities for students to learn or grow the skills needed to develop, organize, launch, run, and grow a business. The Incubator hosts events, webinars, competitions, and training seminars to help students jumpstart their ideas. Students in the Incubator are also put in contact with professionals who are already running successful startups, leading organizations, and being recognized as industry experts.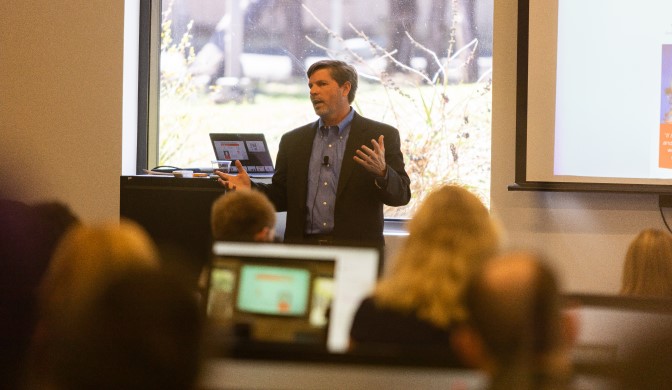 Speakers Series
The Speaker Series invites experts from around the world to discuss their experience and the nuances of their fields. Students are encouraged to join and explore the frontiers of leadership and innovation.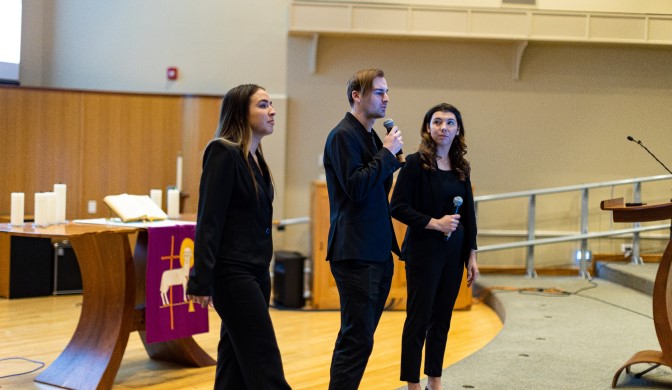 Pitch Perfect
The IncubatorCTX Pitch Perfect competition offers students a chance to compete with peers for MBA scholarship funds. Participants will pitch ideas to a panel of experts and one team will emerge as the winner.
Pitch Perfect
If you're an entrepreneur or business leader and you want to share your knowledge with Concordia students, contact us at incubator@concordia.edu and we'll get in touch with you as soon as possible.
Contact
A PLACE TO FOR INNOVATION AND IMPACT
IncubatorCTX has roots as a small business and entrepreneurship accelerator that offered co-working space, mentorship connections, and learning opportunities to local startup. Now, IncubatorCTX exists to foster and support the entrepreneurship passion of Concordia University Texas students as they pursue their goals to launch and operate successful businesses.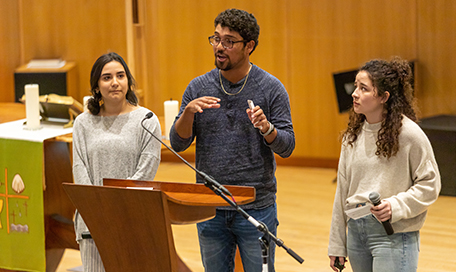 Gain Practical Experience
Programs like the Pitch Perfect competition offer students a way to practice real-world skills like writing, speaking, and presenting. Find out if you are ready to thrive after school.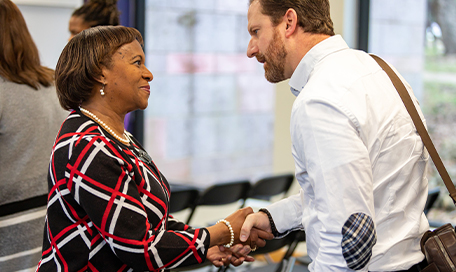 Learn from Professionals
Find your new favorite author and ask your burning questions at Speaker Series events. Concordia University Texas aims to promote a lush environment for discourse and ideas; the Speaker Series helps us build such a habitat for students, by putting them face-to-face with industry leaders.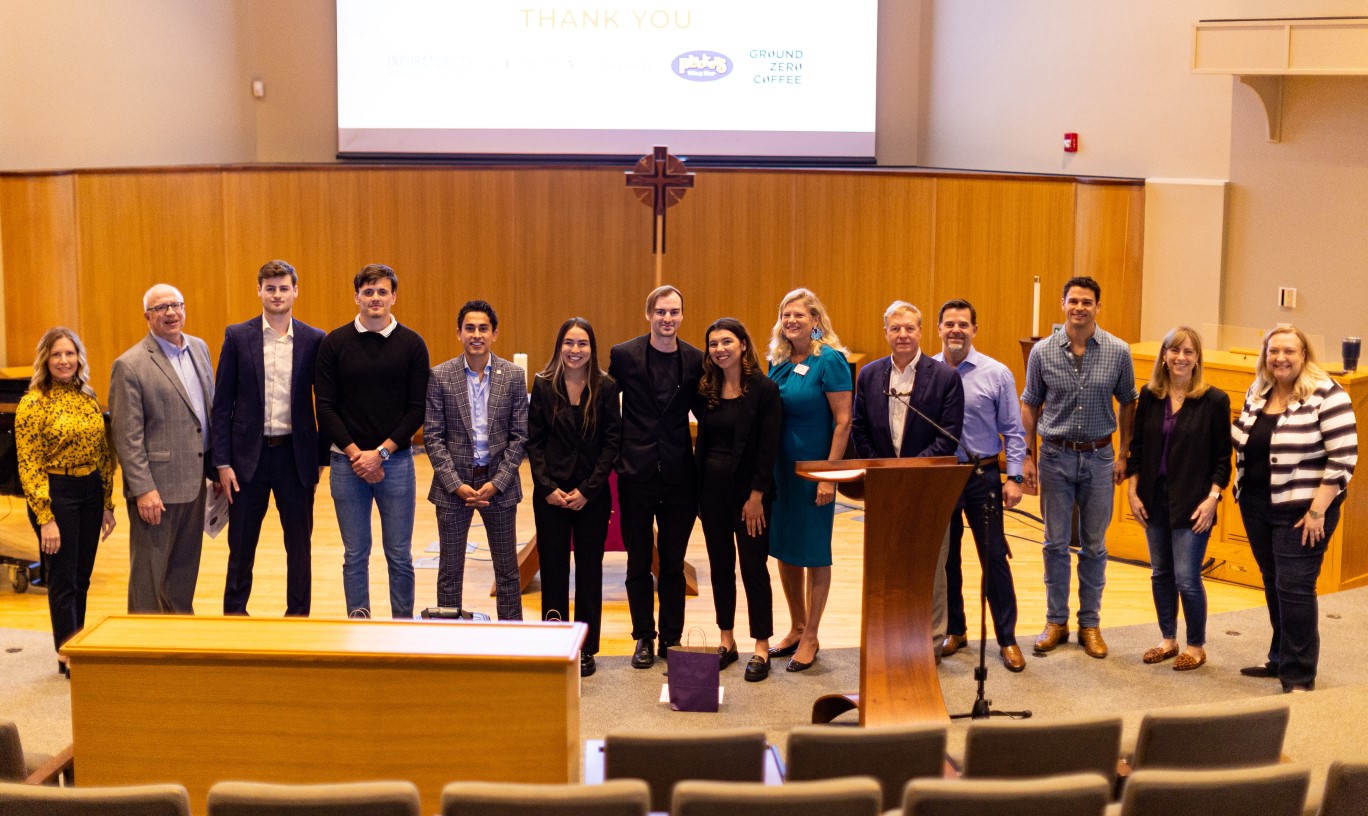 Collaborate with Peers
Learn to compromise and share ideas in the Pitch Perfect competition. The academic combine highlights challenges of cooperation and creativity. Do you have what it takes to be Pitch Perfect?
Career Outcomes
Business Owner
Management
Business Consultant
Sales
Marketing Manager
Recruiter
Non-profit Executive Director
Director of Philanthropy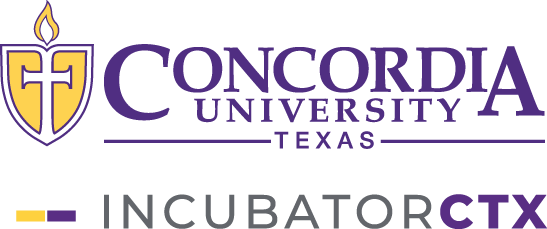 Get to know the Incubator
How do I get involved with IncubatorCTX as a student

There are several ways to get involved with IncubatorCTX as a student, primarily through our signature events.

IncubatorCTX Speaker Series: Business and entrepreneurial leaders speak monthly on a variety of topics during the academic year, typically on the second Thursday or the month from 12:30PM-1:30PM. These events are open to all students. Some professors build these talks into their class syllabi. For more information about IncubatorCTX Speaker Series and to RSVP email incubator@concordia.edu
IncubatorCTX Pitch Perfect: Every February, Concordia students teams of 2-4 students present their startup business ideas to a panel of judges to win prizes including partial scholarships to Concordia. Coaching and mentoring are available to help students prepare their pitch according to the following framework: Problem, Solution, Market, Business Strategy, Competition, and Team. Concordia undergraduate and graduate students may apply, regardless of field of study. Scholarship winnings can be applied the following semester for undergraduate studies, the on-ground MBA program, and the M.Ed. program. This is a great opportunity for students to gain confidence presenting in front of peers and business leaders. All students are welcome to attend to support and cheer on their friends.
Workshops: IncubatorCTX partners with Career Services to bring students workshops on special topics such as "how to improve your resume," "dress for success," and "International Woman's Day Panel & Networking."
Work/Internship Opportunities: There are opportunities for students to work on a paid basis for entrepreneurial startups, particularly for students who are proficient at social media, website design, and content writing. Some students count this work for their required senior internships. Other volunteer opportunities such as working at SXSW during Spring Break are also options for enterprising student entrepreneurs who seek to gain exposure to Austin's startup scene. Please contact Career Services or incubator@concordia.edu for more details

How do I support IncubatorCTX as an entrepreneur or leader

Speakers for IncubatorCTX Speakers Series: IncubatorCTX is always looking for innovative entrepreneurs and business leaders who are excellent public speakers to present as part of IncubatorCTX Speaker Series. We plan our calendar of events during the summer for the following academic year. If you are interested in speaking as part of our Speaker Series, please contact incubator@concordia.edu

Guest Speakers: Professors in the College of Business and Communication frequently seek guest speakers for their classes.

Sponsors: IncubatorCTX Pitch Perfect has corporate sponsorship opportunities available.

How does IncubatorCTX connect to the College of Business and Communication (COBC)?

Embedded into Curriculum: IncubatorCTX experiential learning opportunities are embedded into the curriculum of many COBC programs including the Bachelor of Business Administration (BBA) and Master in Business Administration (MBA 4+1) programs. Classes such as Introduction to Business and Entrepreneurship, Strategic Management, Digital Marketing, Business and Community, and Life and Leadership often include IncubatorCTX learning experiences as part of their coursework.

Entrepreneurship Micro Concentration: Concordia University Texas offers a micro-concentration in Entrepreneurship. A micro-concentration is an optional program offered to BBA students. Micro-concentrations appear on transcripts and allow students to explore a different area of business without committing their entire major to it. Requiring just three upper-level classes, micro-concentrations are a great way or students to enhance their degrees and develop additional competencies. Learn more about the Concordia University Texas BBA program.