Angel Investors: Expert Insights for Entrepreneurs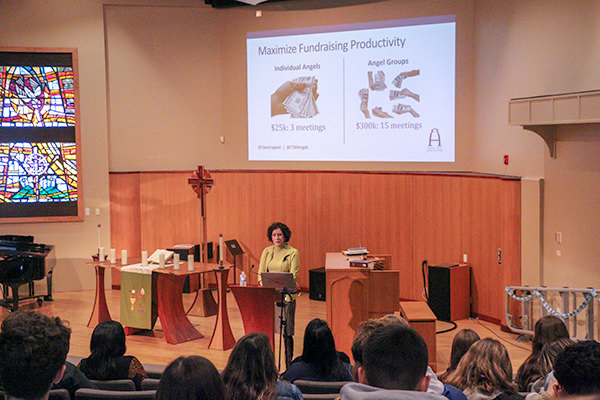 On Nov. 14, the IncubatorCTX for Innovation and Impact hosted Claire England for a session on angel investment and entrepreneurial funding. Claire England is Executive Director of Central Texas Angel Network (CTAN), one of the largest, most active angel investing groups in North America. During her session, she provided some insights for entrepreneurs on how to approach and cultivate angel investors. The breadth of expertise in any entrepreneur's team is vital to fundraising success. On the flip-side, angel investors are also better served by joining investment groups to widen the scope of their industry knowledge.
"Some of us know a lot about one or two areas of business," England said. "But who knows well about five different areas of business? No one does! That's why it is important to surround yourself with people who have expertise in different areas."
According to England, the majority of investment for start-ups comes from ventures rather than angels. Angel investors have $6.7 billion invested in start-ups, compared to $84.2 billion from venture firms. The difference between these two types of investments is in motive and level of risk. Only the top 15 percent of deals from angel investors generate a positive ROI, with the figure being much higher for venture firms. The average ROI for angel deals is 27 percent. So why do angels take on higher levels of risk with their investment? Opportunities to mentor young entrepreneurs and connect with the next generation of talent were highlighted as prime motivators for angel investors.
Among the attendees for Wednesday's event were special guests from the Vandergrift High School Incubator Challenge, a Shark Tank style pitch competition for young entrepreneurs. The Concordia MBA 4+1 program was also featured during the program. The MBA 4+1 is a new program that affords incoming business students at Concordia the opportunity to complete both their bachelor's and master's (MBA) degrees in five years, instead of the standard six. Junior-level undergraduate 4+1 students at CTX will start enrolling in MBA classes next Spring. MBA 4+1 students will also be taking advantage of Incubator events such as the session that featured England.
England ended her talk with five important tips for entrepreneurs targeting angel investment:
Seek counsel first, not money
Look close to home: geography matters
Be transparent, memorable and consistent
Follow up and send monthly updates to prospective investors
Share your passion—angels buy into your 'why' not your 'what'
Want to watch the full recording of Claire England's talk on "Raising Capital from Angel Investors?"