Academics-Nursing
,
DNP
Why APRN is Perfect for RNs Who Want More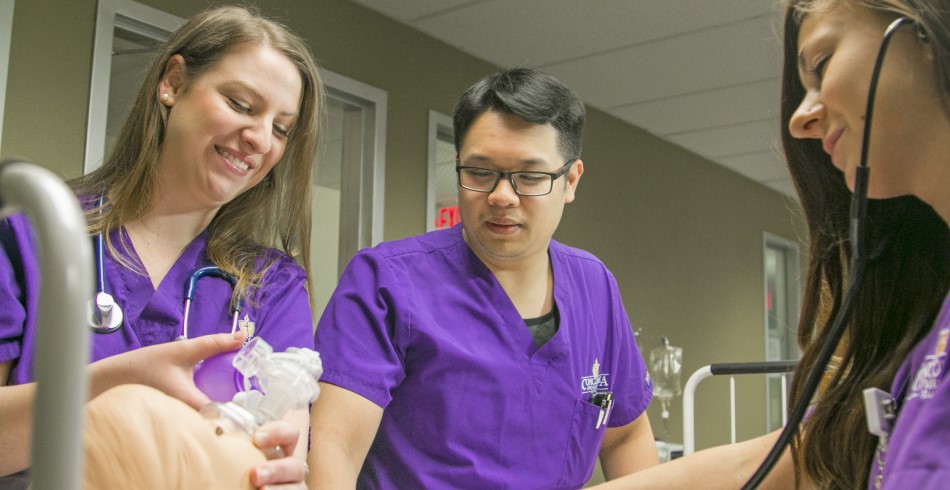 And How a DNP Degree Can Help You Get There.
Becoming an Advanced Practice Registered Nurse (APRN) is a great career choice for registered nurses (RNs) who are looking to take on more responsibilities and advance their careers. APRNs are highly skilled healthcare professionals who provide advanced clinical care, including diagnosis, treatment, and management of chronic illnesses. Here are the steps to become an APRN:
Earn a Bachelor of Science in Nursing (BSN) Degree
The first step to becoming an APRN is to earn a BSN degree from an accredited nursing program. This degree program typically takes four years to complete and includes both classroom and clinical components.
Concordia's BSN program
Obtain a RN License
After completing a BSN program, you must obtain a RN license by passing the National Council Licensure Examination for Registered Nurses (NCLEX-RN). Licensing requirements vary by state, so be sure to check your state's requirements.
Gain Clinical Experience
APRN programs typically require candidates to have at least one to two years of clinical experience as a RN before applying. During this time, you will gain valuable experience in patient care and develop clinical skills that will be essential for your APRN role.
Choose a Specialty Area
APRNs can specialize in a variety of areas, including family practice, pediatrics, women's health, mental health, and acute care. Choose a specialty area that aligns with your interests and career goals.
Earn a Graduate Degree
APRNs must earn a graduate degree in nursing from an accredited program. There are two types of graduate degrees that prepare nurses for APRN roles: a Master of Science in Nursing (MSN) degree or a Doctor of Nursing Practice (DNP) degree.
Concordia's DNP program
Get Certified
After completing a graduate program, APRNs must become certified in their specialty area by passing a national certification exam. Certification requirements vary by specialty, so be sure to check the requirements for your area of interest.
Becoming an APRN requires a combination of education, clinical experience, and certification. APRNs are highly skilled healthcare professionals who provide advanced clinical care and play a critical role in improving patient outcomes. If you are a RN looking to advance your career, becoming an APRN is an excellent option that can lead to a rewarding and fulfilling career in healthcare.