Concordia Crossing 2020 Recap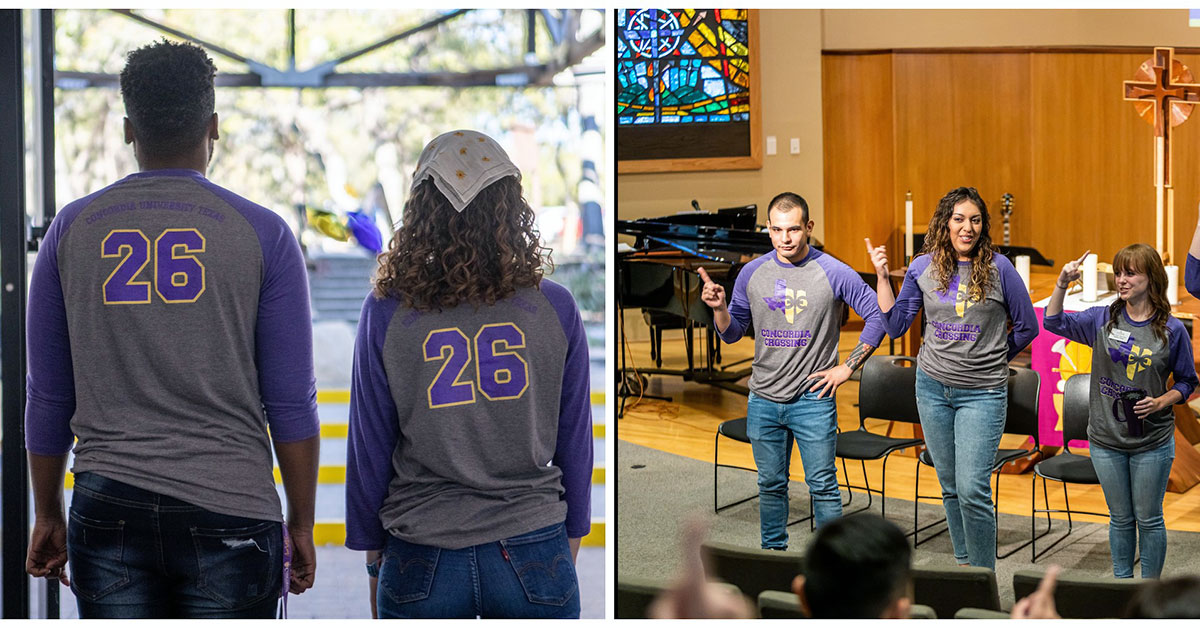 Concordia University Texas hosted another successful Concordia Crossing, which is our annual homecoming weekend. A shared love for the University brought together students, families, alumni, faculty, staff and the greater community to celebrate all things Concordia. Attendees enjoyed lots of laughter, moving stories of Concordia's impact and fellowship.
Thursday, March 5
During our annual career fair, students networked with more than 40 organizations. Businesses of all sizes were represented, from local and statewide organizations, like Leander ISD and the Texas Department of Public Safety, to major corporations, such as AT&T and Dell.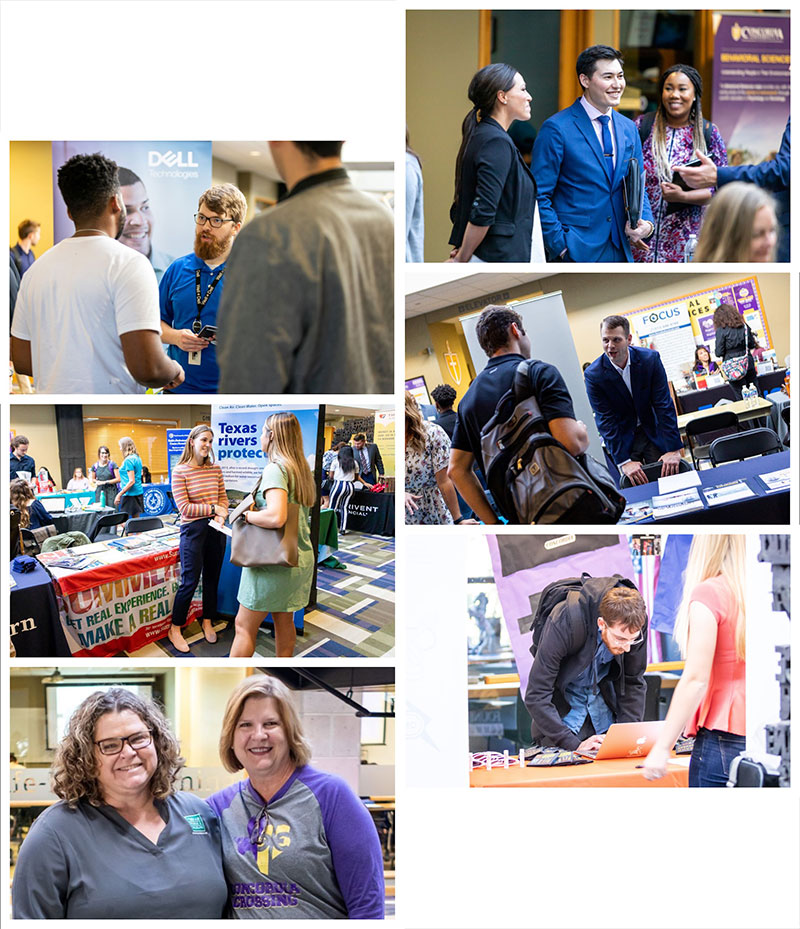 After an afternoon of forming valuable connections, students joined others for Concordia University Texas Theatre's opening performance of Little Shop of Horrors by Howard Ashman. Others spent the evening putting their trivia skills to work at Pluckers.
Friday, March 6
Explore CTX, our campus preview event that allows future students to experience Concordia, kicked off Friday's events. Throughout the day, prospective students visited campus to experience CTX and get their questions answered. Our admissions team and a group of current students spoke to the possible future Tornados, and they taught them how to woosh!
The community then gathered in the Chapel for the Meaningful Work Seminar. Tanja Horan, a global product executive with 20+ years in the tech industry, spoke to students and the community about the importance of technology in every field.
Horan isn't new to Concordia. She currently serves as an adjunct MBA professor and consults with the University. She previously served as executive director of Tech Ranch, a venture accelerator. Tech Ranch partnered with the University to launch IncubatorCTX, which is an entrepreneurial hub that helps startups and early-stage companies grow and succeed.
"Technology is no longer just functional," Horan explained, "but also strategic, purposeful, and integrated into daily life regardless of your calling."
Saturday, March 7
A majority of the events took place on Saturday. VorTex was ready to welcome everyone to campus!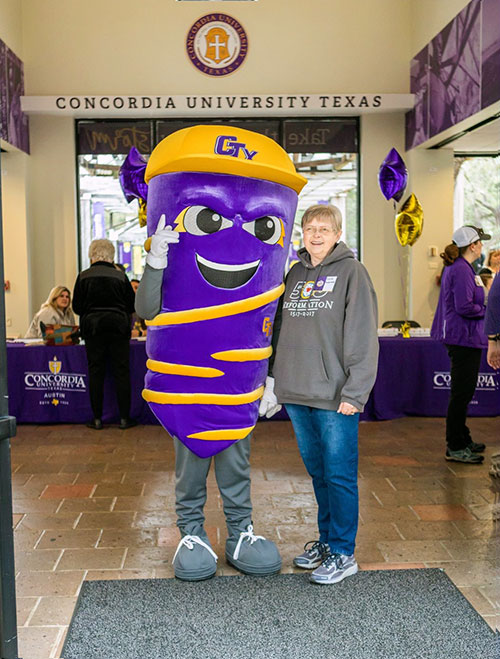 The day began with the Church Worker Breakfast, where Dr. Hannah Meineke, assistant professor of education and coordinator of placements, led a panel discussion about serving in Lutheran education.
At the same time, a group of guests joined Zach Stark, the director of environmental stewardship, Dr. Jennifer Hofmann, biology professor, and Dr. Sam Whitehead, professor of environmental science and conservation, and for a tour of Concordia's 250-acre nature preserve.
The group then joined the rest of the community in the Chapel for campus worship. Rev. Lonnie Gonzales, a 1995 CTX alumnus, delivered an inspiring message about the blessings God has given Concordia.
Gonzales is the city director for LINC Ministries in Houston. He previously served as the associate pastor of Gloria Dei Lutheran Church for more than 13 years. He also recently retired from his eight-year role as a military chaplain in the United States Army Reserve, deploying to Kuwait, Qatar and Iraq. Gonzales and his wife, Joy, have been married for more than 28 years. They reside in Houston and have three grown children.
Community Reception
Everyone braved the cold and convened in Luther Park for the community reception, where they heard from Concordia's president, Dr. Don Christian, the provost, Dr. Kristi Kirk, and the dean of teaching and learning, Dr. Jeffrey Utzinger.
Utzinger shared memories of his and his wife's time as students at Concordia Lutheran College. Kirk, who has served Concordia for 25 years, shared reflections of her experience at Concordia, both as a student and as provost.
Dr. Christian then encouraged attendees to mark their calendars for the Concordia University Texas Centennial Celebration in June 2026. He also took time to recognize alumni who graduated 50, 25 and 10 years ago — the classes of 1970, 1995 and 2010.
Significant events occurred during all three of these years:
1970

Concordia Lutheran College was now two-year junior college

High school program was fully disbanded in 1969

Dr. Paul Elbrecht became fifth president

1995

Concordia Lutheran College became university during Rev. Dr. David Zersen's presidency

Name changed to Concordia University at Austin

Joined Concordia University System

Mascot changed from the Stags to the Tornados (Woosh!)

Adult Degree Program launched for working adults

2010

Name changed to Concordia University Texas during Dr. Tom Cedel's presidency

University relocated to new campus in Northwest Austin

Many '10 alumni spent two years on historic downtown campus and two years on new campus

Programs, delivery modes and campus sites expanded
Additionally, Christian mentioned that this year marks the 65th anniversary of the first coeducational class at Concordia.
After the community reception, Mrs. Jane Martens and two of her three sons, Steve and Dave Martens, joined her for a picture in front of the Cruciform, a symbol synonymous with the Martens family. Jane's husband, the Rev. Dr. Ray Martens, served as the University's sixth president for 20 years, and he is responsible for designing the Cruciform.
Tailgate
Many people gathered at Tornado Field for the tailgate, where they enjoyed delicious food, fun games and great conversation. The ice cream taco food truck was a big hit.
Many stayed to cheer on the Concordia Softball team, which played a doubleheader against Schreiner University. Alexis Lynn, the head coach of Schreiner's softball team, is a double alumna of Concordia (BS '14, MEd '16), who played all four years on Concordia's softball team and served as a graduate assistant for two years. She threw the ceremonial first pitch.
The Concordia Tornados won the first game four to two. They fell to Schreiner in the second game three to six. However, the Tornados won their first game against Schreiner a few days before Concordia Crossing, so CTX still holds a 2-1 season lead.
Game Show
Dr. Utzinger hosted this year's CTX Game Show in the Chapel. Competitors and audience members learned fascinating CTX trivia and enjoyed lots of laughs. A team of students battled a team composed of alumni and a Concordia history professor.
This year, the team of current CTX students won the game, taking home an assortment of prizes, including a pint glass with the Concordia and a gift card.
Celebrate Concordia
On Saturday evening, the community gathered for Celebrate Concordia, our annual scholarship fundraising event. After enjoying hors d'oeuvres in the Welcome Center, everyone gathered in the chapel for the program.
To begin the celebration, Dr. Christian shared many of Concordia's recent accomplishments:
Graduated first class of students from the Doctor of Education program in December

Will graduate 200 nursing students in April 2020

Revamped Concordia's Computer Science program to emphasize communication skills

Began the Joining Jesus on His Mission discipleship program founded by Greg and Susan Finke

CTX Board of Regents approved third residential hall and expansion of athletics facilities

Friesenhahn Cave & Preserve Council established to manage, preserve, protect and learn from the San Antonio site
Four individuals were then honored with three prestigious awards. Rev. Ted Doering, a 2010 CTX graduate and an alumnus of Concordia Seminary, St. Louis, was given the Emerging Leader Award for his Christ-centered leadership in the community. He and his wife, Chelsey ('10 alumna) launched Narrative Church, an LCMS church plant in Round Rock, Texas. They also wrote a book together, Myth of the Millennial: Connecting Generations in the Church, which was published by Concordia Publishing House.
Melissa Knippa served on the Board of Regents when the University welcomed a new president, Dr. Tom Cedel, and moved from the historic downtown campus to the new campus in Northwest Austin. Before joining Concordia's board, Knippa served Austin ISD in a variety of ways, including two terms as a member of the AISD Board of Trustees. Because of her commitment to improving education across the state and for CTX students, she received the Rev. Dr. George Beto Leadership Award.
The Christo et Ecclesiae Award recognizes individuals who demonstrate a high interest in advancing Christian education by using the talents with which the Lord has endowed them.
Rev. Dr. Ray Martens was Concordia's sixth president, and he helped Concordia grow in many ways, including transitioning Concordia from a two-year junior college into a four-year, baccalaureate-granting college. Martens went home to glory in October 2019. In honor of Martens' incredible legacy of using his God-given gifts to advance Christian education, the Christo et Ecclesiae Award was officially renamed the Rev. Dr. Ray Martens Award. His wife, Mrs. Jane Martens, faithfully served alongside him for 61 years. She was honored during the program.
Peter and Suzann Hames had the honor of receiving the first Rev. Dr. Ray Martens Award for their continual support of CTX. They began to support the University when their daughter, Ginger, attended ('95 alumna), and they have continued to support Concordia ever since.
Suzann served as a surgical nurse for more than 40 years, and she now volunteers at their local hospital, logging more than 9,500 hours. Peter worked in the maritime industry for more than 50 years and now serves as a member of Concordia's Board of Regents.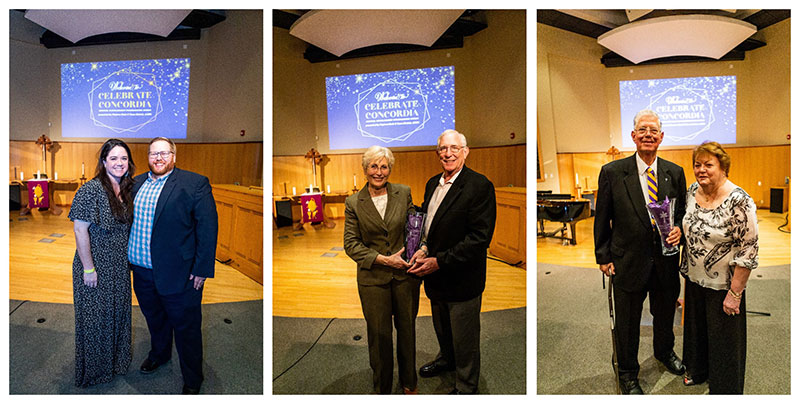 Concordia University Texas congratulates all of the award recipients, and the University thanks the Celebrate Concordia sponsors for making this celebration possible:
Title Sponsors: Regions Bank and the Texas District LCMS

Champion Sponsors: Collegis Education and Robyn & Alan Roberts

Patron Sponsors: Eileen & Quentin Anderson, Sodexo, Twin Liquors and UFCU
Sunday, March 8
Rev. J Brown, the director of church relations and the pre-seminary program, joined Christ Church Austin for Concordia Sunday, where he shared about the church work and ministries at Concordia.
The weekend concluded with Noon Ball (pickup basketball), CTX Theatre's final matinee performance and the soccer alumni game.
Concordia University Texas expresses sincere gratitude to everyone who helped make Concordia Crossing 2020 a success and to everyone who supports the University through their prayers, time, gifts and other resources.
Mark your calendars for Founders' Day to celebrate Concordia's 94th birthday in October!