Concordia Students Present Entrepreneurial Ventures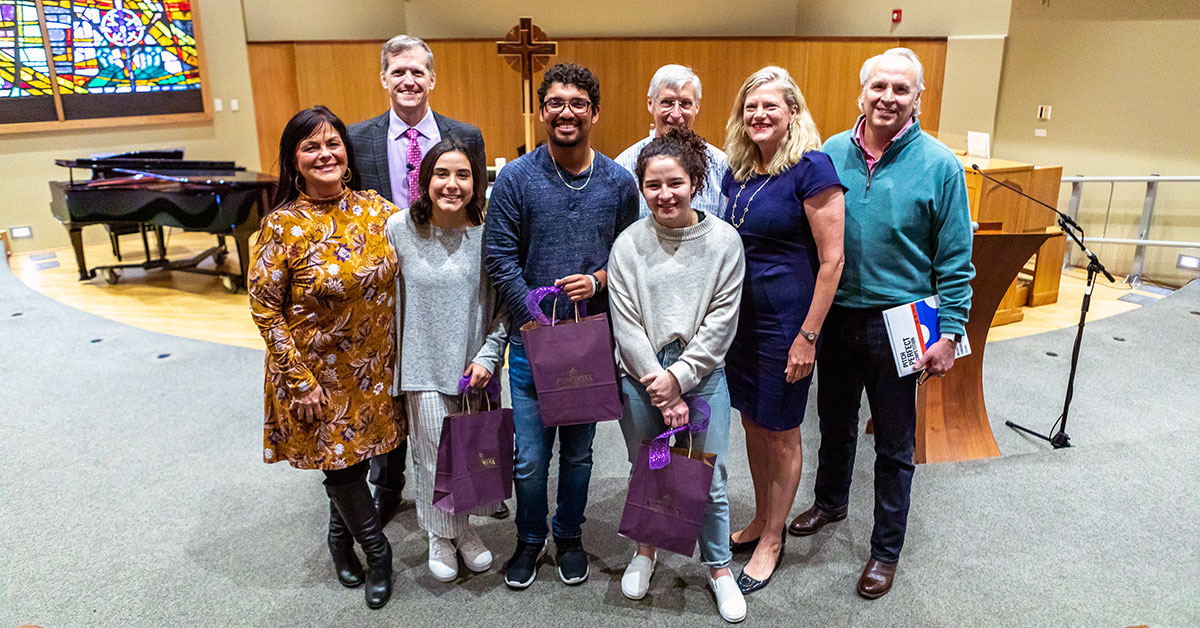 On February 20, four teams of Concordia University Texas students took part in the first annual IncubatorCTX Pitch Perfect competition.
Teams had five minutes to present their ideas and five minutes to answer questions from the judges and the audience. Each winning team member was awarded a $200 scholarship, a six-month membership at IncubatorCTX and a significant scholarship toward the Concordia MBA.
Meet the Judges
Students presented to a panel of three judges who have entrepreneurial experience.
Liz Atherton is the founder of EANK, Inc., which is an enterprise business-to-business system that incorporates CastVoices and CastActors. The organization connects the right actors to the right voiceover and on-camera projects.
Bob Bridge is the founder and executive director of the Southwest Angel Network, which connects investors with social impact startup ventures. He is also a mentor for IncubatorCTX.
Rudy Garze is the founder and managing partner of G-51 Capital Management, which is a partner of IncubatorCTX and exists to help startups accelerate growth by connecting the ventures with strategic partners, advisors and investors.
Meet the Teams
Four teams of Concordia students presented their innovative ideas to the judges.
Perfectly Prepared Pod
Talia Freeman, Madyson Milliorn and Kelsey Rodriguez explained their idea for integrative podcasts that further support student learning outside of the classroom.
Essential Success
Adrian Guerrero, Katarina Mattheis and Abbey Whatley shared their plan to develop a program through which college students receive boxes of essential supplies on a recurring basis.
KEM Time Caps
Marco Punzo, Karen Rivera and Emily Sanchez described how they would revamp time capsules and offer customers a unique experience.
FoodMood
Benjamin Balen, Christian O'Connor and Hannah Watson demonstrated their idea for a new app that connects people with the best restaurants in the Austin area.
And the Winner Is
KEM Time Caps! Punzo, Rivera and Sanchez won the competition with their idea for revitalizing the concept of time capsules.
Thank You to the Sponsors
IncubatorCTX would like to thank Concordia University Texas (platinum), Alamo Drafthouse Cinema (gold), Napa Flats (gold), Rocketdollar (bronze), and Moviehouse & Eatery (bronze) for sponsoring the first annual Pitch Perfect competition.