CTX 101: Navigating CTX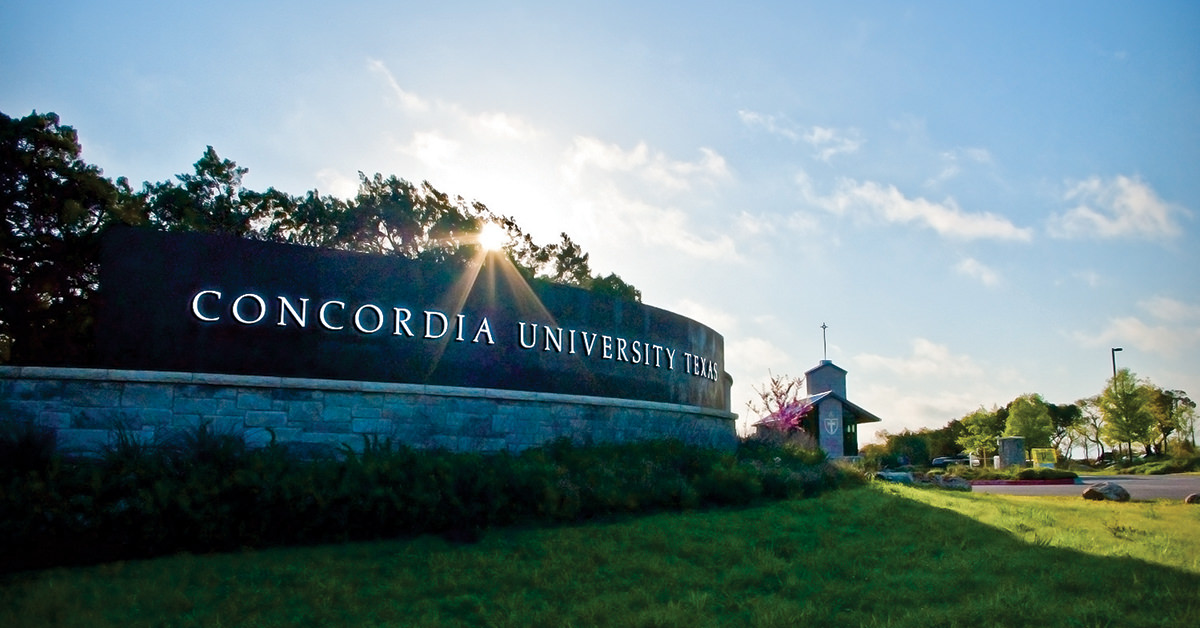 Navigating college can be challenging, especially when you're on a new campus. But don't worry! We've put together this guide to help you know where to find what you're looking for on campus.
Guard Station
The guard station is the first building you encounter at Concordia University Texas. If you're a visitor, pull into the left lane, and one of our security guards will issue you a visitor's pass. If you're a new student, enter the right lane, and use your student ID to open the gate.
Building A
Building A is where you will find the newly revamped Welcome Center, Chapel and all admissions staff. Join us each weekday at 10 a.m. for Chapel. Additionally, if you have any questions about your application or admission, this is the place to come.
The Luther Annex is connected to Building A and has just been renovated to serve as an event space.
Building B
This building is home to many important spaces. Grab your favorite Starbucks drink in the UFCU Student Center, buy Concordia gear in the Bookstore, collaborate with teammates at IncubatorCTX or catch a play in the Black Box Theater. This building also houses the Department of Music and Department of Art.
Cedel Hall

A majority of Cedel Hall is dedicated to classrooms and offices for faculty and staff. Student Central, your one-stop shop for every question you have, is located on the upper level of Cedel Hall. There are exciting, new additions to the building!
The Concordia Esports Arena, completed this summer, is located on the lower level of Cedel Hall and features top-level gaming equipment. The new Academic Support Center is located on the second level and now houses the Math Lab, Student Success Center, Speaking Center and Writing Center. This is the place to go if you need help with anything concerning your studies.
Building D
Most science classes are held in Building D, which is where you will find all science and computer labs. Like Cedel Hall, there are also offices for faculty and staff.
Building E
Whenever you're hungry, head over to Building E, the cafeteria. We offer a special every weekday in addition to buffet-style options.
Need to take your food to go? Don't forget to bring your reusable container!
Building F
The library is located in Building F. Here, you will also find Tornado Prints (printing services), Service-Learning (community service projects) and a computer lab with a printer. Right outside of Building F is The Backyard, which has a sand volleyball court and hosts many events throughout the year.
Residence Halls

Two apartment-style residence halls on campus backup to a beautiful nature preserve. Each dorm room features a microwave, mini-fridge, storage and a private bathroom. The residence halls also provide students with free laundry and a mailroom.
Watch a game with your friends on one of the TVs, play pool in the common area, or enjoy a cup of coffee whilst overlooking the Concordia Preserve.
Field House
CTX has excellent athletic facilities, including the Field House (Building G) that has a fully-equipped fitness center, a basketball court and classrooms. The baseball field, known as Tornado Field, and softball field sit behind Building G.
We are excited to welcome you to campus, whether you're on your first visit, beginning your first semester or finishing your final semester. Woosh!