CTX Celebrates Church Work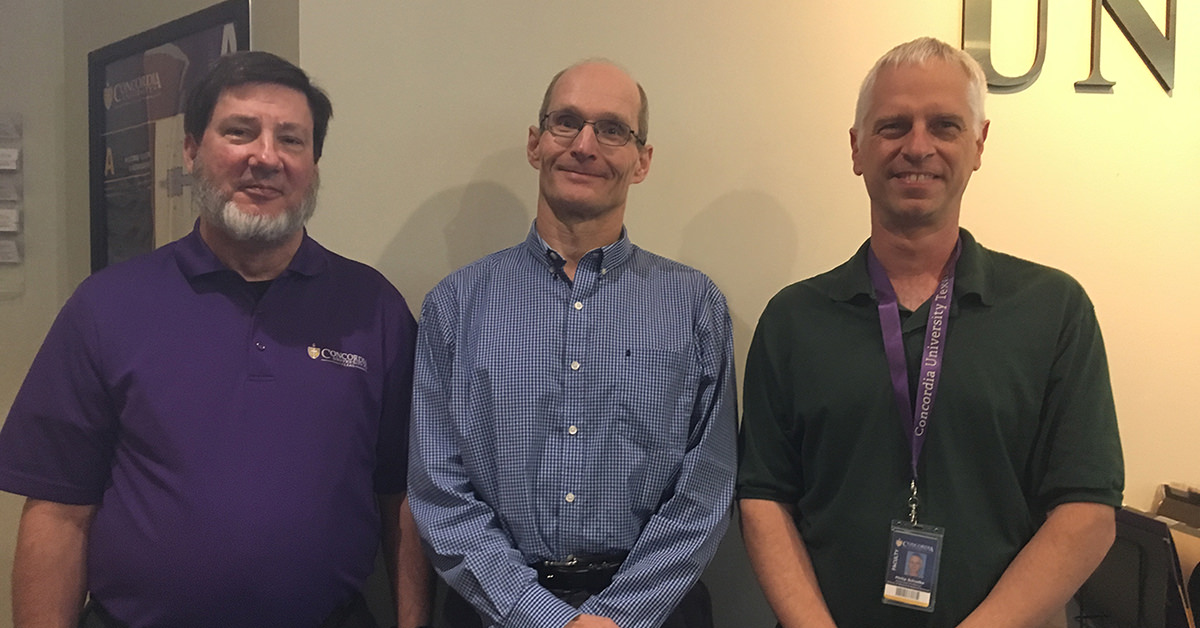 Concordia University Texas is rooted in the Lutheran tradition and aligned with the Lutheran Church-Missouri Synod (LCMS). CTX alumnus Reverend J. Brown ('05), the director of church relations and pre-seminary studies, leads our efforts to support and serve LCMS churches and congregations.
Rev. Brown and Concordia University Texas have many recent accomplishments to celebrate!
3 CTX Faculty Recognized
Three CTX faculty members, all of whom are LCMS clergy, were recently recognized for their work and great commitment to the church.
Rev. Dr. Paul Puffe recognized for 40 years of service in the LCMS
Rev. Dr. Curtis Giese honored for 30 years of service in our church body
Rev. Dr. Philip Schielke acknowledged for 10 years of ministry
"Concordia University Texas and our church as a whole are blessed to have these three fine individuals as voices of God to the community and mentors in the classroom to our students," Rev. Brown said.
Concordia Sunday

Each year, congregations in the synod take a day to celebrate CTX or the entire Concordia University System. The Texas District of the LCMS assigned April 28, 2019, as this year's Concordia University Texas Sunday.
Rev. J. Brown joined Hosanna Lutheran Church in Kerrville, Texas for this year's celebration. He shared all about CTX and the important Christ-centered work done here. He then preached the Good News while Pastor David Bass led the liturgy.
Alumni Updates
Many of our CTX alumni are faithfully serving the church in various ways. Recent accomplishments include:
Rick Black ('96) to be ordained July 21 at Trinity Lutheran Church in Amarillo, Texas
Tim Handrick ('04) accepted call to serve as DCE at St. John Lutheran Church in Ocala, Florida
Rev. Dr. Chris Kennedy's ('04) Ancient Truths for Modern Times: What Christians Believe and Why It Matters recently published
Rev. Duane Meissner accepted call to serve as director of Belize Mission Society in Houston, Texas
Rev. Walt Waiser's ('69) Chaos to Hope to Healing: Trusting Jesus in Turbulent Times recently published
We congratulate the CTX faculty, staff and alumni on their achievements that support the spread of the Good News in Christ!