CTX Students Taking Science by Storm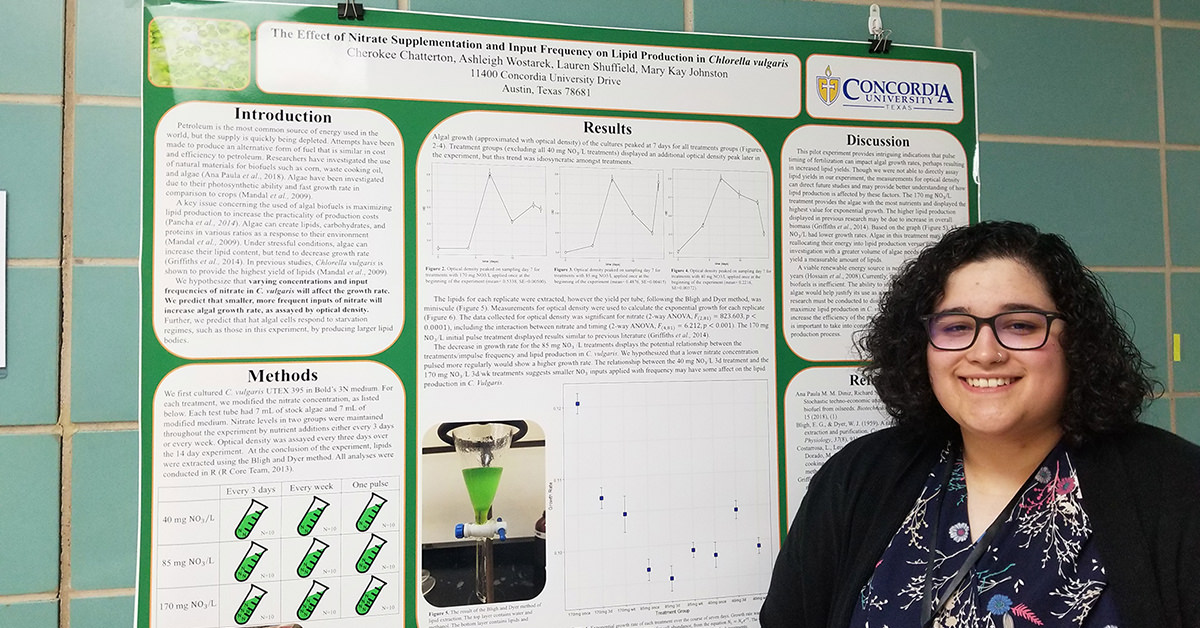 Concordia University Texas students are taking the science world by storm.
Under the leadership of Dr. Mary Kay Johnston, CTX students Cherokee Chatterton, Ashleigh Wostarek and Lauren Shuffield recently presented their scientific research at two annual events during the Spring 2019 semester.
Presentations
In March, Catterton represented the team and presented their research to other students and faculty in the undergraduate poster competition at the 122nd annual meeting of the Texas Academy of Science.
The academy publishes a peer-reviewed journal and provides funding and grant opportunities for students. The meeting was held on the Howard Payne University campus in Brownwood, Texas.
In April, Chatterton and Wostarek presented a poster of their research at the Undergraduate Research Day in the Texas Capitol Rotunda. A total of 68 research projects were presented by students from public and private institutions.
The event, which is coordinated by the Council of Public University Presidents and Chancellors (CPUPC) and the Independent Colleges and Universities of Texas, Inc. (ICUT), featured a wide range of topics, from biology and physics to economics and psychology.
Students attended researcher panels on graduate school and career guidance. Additionally, they were given wonderful opportunities to network, take a tour of the Capitol, and meet with state senators and representatives.
Research Abstract
"Effect of nitrate supplementation and input frequency on lipid production in Chlorella vulgaris" by Cherokee Chatterton, Ashleigh Wostarek, Lauren Shuffield and Mary Kay Johnston
The production of algal biofuels depends on the extraction of lipids from algae and removing glycerol from the lipids by transesterification. Previous research indicates that nitrogen limitation increases lipid production in Chlorella vulgaris. We propose that nitrogen limitation in conjunction with altering the frequency of nitrogen inputs will increase lipid production.
We assessed how different nitrate concentrations (40mg/L, 85mg/L, 170mg/L) and input frequency (once every three days and weekly) affect C. vulgaris growth and lipid production over a two-week period. For each treatment, algal abundance peaked at day 7. Our results show that algal growth rates significantly vary with nitrate concentrations, and there was a significant interaction effect between nitrate concentration and timing of nitrogen supplementation. Additionally, lipid yielded from our strain of C. vulgaris (UTEX395) was similar to literature values.
We congratulate these researchers on their accomplishment!