CTX English Students Pursue Meaningful Internships with Texas Mamma Jamma Ride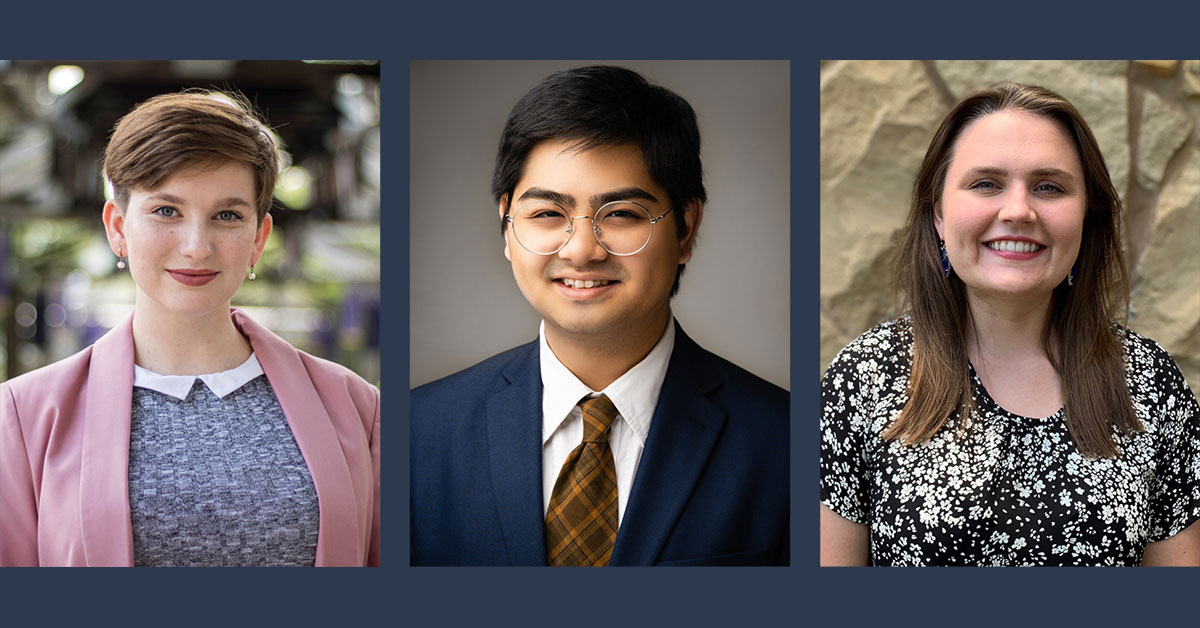 Concordia University Texas offers students life-changing opportunities, and the Department of English is no exception. English majors have the exclusive opportunity to intern with Texas Mamma Jamma Ride, which is a nonprofit that helps people in the local community facing breast cancer.
Another factor that makes this internship unique? Both Jo McIntosh, Department of English instructor, and the department chair mentor support students throughout the entire process.
Collaborating for a Cause
Texas Mamma Jamma Ride hosts an annual bike ride to raise funds for eight local support programs and services that serve breast cancer fighters and survivors and their families in Central Texas.
As a leading participant in the rides, McIntosh worked with Marion Martin, executive director of Texas Mamma Jamma, to determine a way to support the nonprofit while simultaneously providing meaningful work experience for CTX English majors. They found the perfect contribution: rider profiles.
Rider Profiles
The rider profiles for Texas Mamma Jamma Ride highlight individuals who participate in the annual ride and explore what motivates them to ride in support of the organization.
"The internship is ideal for English majors because of the way they approach things and infuse emotion into their work," McIntosh said. "Our English students are not selling a product; they're sharing a mission, and that takes a special skill set."
Brooke McMillan, the founder of Social Llama Consulting, handles all of the nonprofit's digital assets, including social media, the website, newsletters and more. She publishes the rider profiles to the Texas Mamma Jamma blog and shares it across the nonprofit's social media accounts.
She has witnessed the significant impact Concordia's English students have made on Texas Mamma Jamma's fundraising efforts. "These stories help put a face on the mission and remind readers why they participate," McMillan said. "The engagement the rider profiles produce is a game-changer," McMillan explained.
Three CTX English majors have interned with the nonprofit and have produced multiple rider profiles. In one of her profiles, Alexandra Keefe interviewed a two-time survivor who teaches first grade. Sabina Conditt (current intern) wrote a profile about a breast cancer survivor and former Texas Mamma Jamma Ride board member.

Transferable Skills
Employers are seeking job candidates with strong skills in the humanities. The English program at Concordia University Texas equips students with these high-demand skills, including critical thinking, analysis and writing, all of which are essential to nearly every role and industry.
Each CTX English major who interns with Texas Mamma Jamma will further hone their existing skills and develop new ones.
Persistence Via Cold Calling
Once Martin connects the CTX intern to potential candidates for rider profiles, the intern is responsible for following up with these candidates to secure interviews.
"The interns discover that people don't respond right away," Martin explained. "It's challenging to have the gumption to reach back out, but you have to keep going back. Persistence is probably one of the most valuable things our interns learn."
Building Relationships
Whether the interviewee is an individual or the representative of an organization, Concordia's interns have the opportunity to learn how to network with people and build relationships with them.
The quality of the content an intern receives relies upon the level of trust an intern builds with the interviewee.
Conducting Interviews
Breast cancer is a sensitive topic, especially when asking people to describe how it has impacted their lives. Interns learn how to respectfully navigate personal stories and relay them to readers in a way that honors the interviewee, their families and the mission of Texas Mamma Jamma.
Reaching Different Audiences
Each rider's story is unique, and so is the audience it targets. CTX interns work to identify the right audience and cater the content to them.
Internship Designed for CTX English Majors
Concordia's small class sizes enable McIntosh to interact with every student. Because she takes the time to get to know each of her students, she selects the ideal English major for each semester-long internship.
The Texas Mamma Jamma Ride internship offers English majors a variety of benefits. Students work remotely in the time frame that accommodates their life while gaining real-world experience, and they have tangible products that can be included in their portfolio. Additionally, Martin offers interns a professional reference, and McMillan offers students a professional connection.
Perhaps the greatest benefit for English majors is the opportunity to utilize the skills they have developed at Concordia to participate in meaningful work.
"Each experience has been phenomenal," Martin said. "The interns produce impactful, well-researched stories. Each story is such a gift. It makes our association with Concordia so special."