Vocation-and-Professional-Development
,
Career-Advice
Guide to Employers in Austin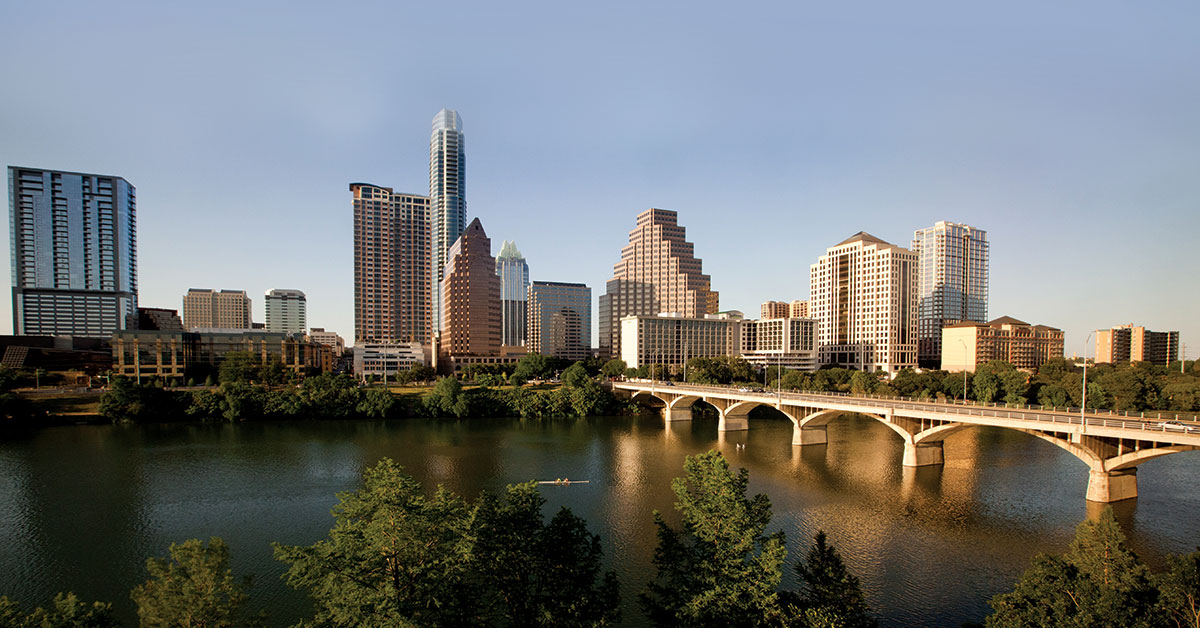 Concordia University Texas sits on 437 acres of beautiful land in Northwest Austin. Students at Concordia get the best of both worlds - a personalized, meaningful education at a small school and all the resources of a big city.
According to the Austin Chamber, the Texas capital is the fifteenth fastest-growing metro in the country in regards to job growth, adding more than 22,000 net new jobs in the past year. Concordia's location in this rapidly expanding city provides students with abundant opportunities for internships and jobs with employers of all sizes and industries.
Here are some of Austin's top employers.
Note: Employment numbers are based on reports from the Austin American-Statesman's Top Workplaces.
5,000+ Employees
A majority of the employers in Austin with more than 5,000 employees are large corporations.
Apple
It's estimated that Apple employs around 7,000 people. The company recently broke ground on a $1 billion campus in the city, which will bring more jobs (and traffic) to the area.
Dell Technologies
Headquartered in Round Rock, Dell Technologies is a public computer and technology solutions company. The tech giant employs around 13,000 people within the Greater Austin area.
Read about a CTX grad who just earned a full-time role at Dell.
H-E-B
The Texas grocery store chain employs about 13,000 people in the Austin area, with positions ranging from store bagger to eStore Vice President.
IBM
The information technology company employs 6,000 people around the Austin area.
State of Texas
As the capital of Texas, Austin is ideal for those looking to work for the State of Texas. The state employs more than 62,000 people within the area.
Other companies with more than 5,000 Austin-area employees include Samsung Austin Semiconductor, St. David's HealthCare Partnership, and many more.
500 – 5,000 Employees
In addition to the following organizations, many employers fall within this range, including Accenture, Austin Community College, Keller Williams Realty, Leander Independent School District, National Instruments, NXP Semiconductors and Oracle Corporation.
AT&T
It's estimated that the wireless services company provides 2,800 people with jobs.
Austin Regional Clinic
Committed to providing comprehensive healthcare services throughout the Greater Austin area, Austin Regional Clinic has 25 locations across central Texas, providing primary and specialty care. The medical group employs around 1,900 people.
Charles Schwab
The Charles Schwab Corporation is a financial investment management organization that offers banking and stock brokerage services. The company employs more than 2,100 people.
Indeed
The popular job search site has more than 2,400 employees around Austin. The company is co-headquartered in Austin, Texas, and Stamford, Connecticut.
General Motors
The automobile company employs around 2,800 people. Austin is home to the company's largest innovation center.
Q2 Software Inc.
Q2 Software provides digital banking solutions for banks and credit unions around the United States. The organization employs more than 800 people in Austin.
Silicon Labs
The global technology company makes semiconductors, other silicon devices and software. Silicon Labs employs around 700 people in the Greater Austin area.
Whole Foods
Founded in Austin in 1980, the now Amazon-owned supermarket employs more than 2,600 people in the area.
<500 Employees
While these employers have fewer number of people in Austin, they still offer great opportunities.
Consider applying to Concordia University Texas! View our current job openings.
Austin Recovery
The South Austin nonprofit has been serving the community since 1967, providing affordable addiction recovery services to men and women. The organization employs just under 100 people.
Bartlett Cocke General Contractors
The construction company, which is headquartered in San Antonio, employs more than 150 people in and around Austin.
CBRE
CBRE Group Inc. is an American commercial real estate firm, and it's the largest commercial real estate services company in the world. The organization employs around 200 people in the area.
Re/Max 1
Beginning with a team of four people, Re/Max1, located in Cedar Park, has grown to more than 100 real estate agents in the Greater Austin area.
RetailMeNot
The company owns multiple websites that offer customers savings through coupons, codes and cash-back offers. More than 350 people in Austin work for the organization.
Are you ready to apply for a job? Visit Concordia's Vocation & Professional Development center, located in C244, for help with your resume, interviewing tips, job search assistance and more.