IncubatorCTX Fall 2021 Speaker Series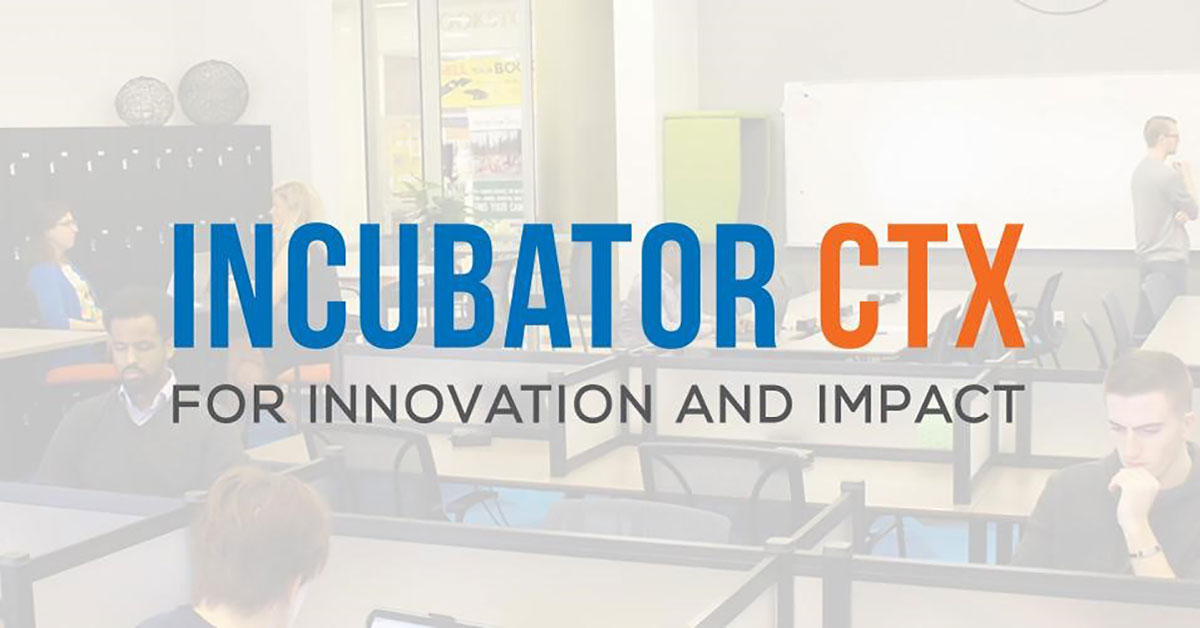 [Written by IncubatorCTX]
IncubatorCTX, located on the beautiful campus of Concordia University Texas in Northwest Austin, helps startups and early-stage businesses.
The entrepreneurial hub also hosts the IncubatorCTX Speaker Series, where industry experts share their advice and insights. The free event is open to the community and presents a wonderful opportunity for students, faculty, staff, and the greater Austin community to network with business and community leaders.
You're invited to the IncubatorCTX Fall 2021 Speaker Series.
How Authentic Personal Branding Led to a COVID Gift
September 9, 2021 | 12:30-1:30 p.m.
Grace Lanni is an executive producer from Austin, Texas, currently working on her new docuseries "4 Days to Save the World," set to premiere on Labor Day. She continually stretches the cutting edge of personal and professional branding via television, radio, and social media.
Lanni trained as a bio/electrical engineer, and her first CEO venture was for an online software solution. Venture funded at the multi-million-dollar level in 2000, Lanni was featured in the Austin Business Journal and on KEYE. She also won the KPMG Stand-Out Startup Award. She is now focused on intersecting entrepreneurship and television as an executive producer.
She then became a managing partner of RSE Consulting LLC, an organization that supports channel sales and marketing organizations. Lanni launched All About That Brand in 2016, a personal and professional branding consulting firm. January, February, and March 2020 were banner months for her firm, but then COVID hit.
In April 2020, she decided to start something new. She ran a campaign on LinkedIn, which captured the attention of a television show producer. Although she was unfamiliar with the entertainment industry, the participants in the planned production were entrepreneurs who were ready to solve a social problem. In a matter of 12 months, Lanni went from associate to executive producer.
During her presentation, Lanni will share more about her journey combining entrepreneurship and entertainment in addition to the importance of branding yourself.
This talk is for you if:
You're not sure how to approach social media and your career.

You want to start something new, but you're not sure where to begin.

Television is a medium that interests you.
Register for the IncubatorCTX event.
Corporate Social Justice: The Next Chapter of CSR
October 14, 2021 | 12:30-1:30 p.m.
Encast boosts culture, brand, and connection by bringing organizations closer to their most important asset: people. Encast is the world's first transaction-free donation platform for causes. One hundred percent of every donation goes to charity. A single year-end tax receipt makes it convenient to give securely, anytime and anywhere.
Corporate social responsibility (CSR) often evolves when the world goes through a philosophical shift. The current environment surrounding COVID-19, the economic recession, and global civil unrest makes one thing clear: it is the age of "corporate social justice," as Lily Zheng says in the Harvard Business Review. Zheng defines "corporate social justice" as a reframing of CSR that centers any initiative or program on measurable, lived experiences of groups harmed and disadvantaged by society.
In this talk by Leo Ramirez Jr., you will learn to:
Identify the disadvantaged groups that your company can credibly support.
Build programs through channels in the ecosystem surrounding those groups.

Articulate how these new initiatives play a role in your broader CSR strategy.
Register for the IncubatorCTX event.
Developing Resilience: Use Your Brain to Master Your Day and Supercharge Your Life
November 11, 2021 | 12:30-1:30 p.m.
Dr. Robert Carter is a U.S. Army Colonel and an expert in integrative human physiology and performance. He has completed military assignments in Germany, France, Afghanistan, Washington, D.C., and the White House as a military social aide for the Obama administration. He currently holds an academic appointment in emergency medicine at the University of Texas Health Science Center at San Antonio.
Carter holds a doctorate in biomedical sciences and medical physiology and a master of public health in chronic disease epidemiology. He received his postgraduate training in environmental epidemiology at Harvard School of Public Health. He serves on several scientific editorial boards, is a reviewer for 14 scientific and medical journals, and is a fellow of the American College of Sports Medicine and the American Institute of Stress.
He has published more than 100 peer-reviewed articles, book chapters, abstracts, and technical reports. Carter is also the author of the book "The Morning Mind."
Register for the IncubatorCTX event.